​Internship Diaries: ​The Girl In The New City Of Mumbai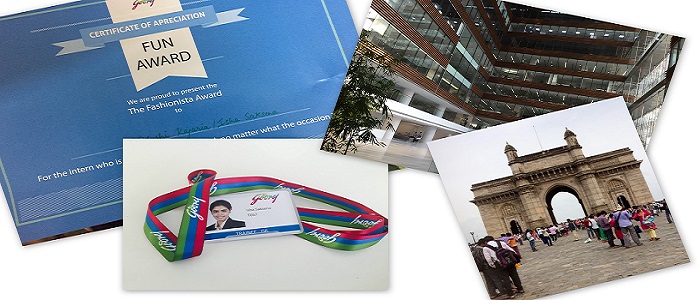 This April, when I packed my bags for Mumbai, little had I known that the coming months would give me memories that would last a lifetime. I was going to spend a summer at Godrej, as part of 'Gurukul'- the summer internship program of the organization. I looked forward to several things: experiencing my first corporate stint as an HR, living the Mumbai-life and checking out the several offerings of the city of dreams!
On the first day of the internship, upon reaching the Godrej One Headquarters in Vikhroli, I was overwhelmed by the sheer magnificence of the building : a staggeringly beautiful glass structure which emphasized the organization's focus on transparency, trust and integrity. Gurukul began with a two day induction where the interns got an opportunity not only to understand the business and interact with the leadership at Godrej, but also connect with each other.
Each day into the internship, I realized the magnitude of investment the organization had made in each of its interns. The overall objective of Gurukul was to bring about holistic development and learning for each intern. I was pushed outside my comfort zone which really helped me expand my horizon and bring in a sense of practicality in my approach. All of the interns had been placed under the able guidance of a mentor and also had a buddy whom we could reach out to. Soon, I got into the groove of corporate life – with meetings, reviews, focused group discussions and team gatherings taking place every week.
The weekends were a chance to take a break from the rigour and I looked forward to these with much enthusiasm. Mumbai is a tourist's delight with a little bit of everything to suit every taste. I spent my
Friday
 nights experiencing the nightlife of the city; and the lazy weekend mornings and afternoons trying food at the glorious cafes and eateries that the city is generously sprinkled with. A few of my recommendations would be: a slow evening at Candies, sumptuous English breakfast at Aromas, a night out at the iconic Leopold Cafe, kebabs and rolls at Bade Miyan and sinful brownies at Theobroma. The shopaholic in me had a great time splurging on the exquisite street shopping at Colaba and Linkin Road. Being the Bollywood buff that I am – I spent one weekend celebrity home spotting in Bandra and Juhu! Also, any mention of Mumbai would be incomplete without making references to the beauty of Marine Drive and the Gateway of India.
As I look back at my wonderful Gurukul journey, I feel truly thankful for getting this opportunity and amazed that I was able to accomplish so much in a span of 8 weeks. Cheers to great learning, lasting relationships, new and old friendships and new experiences!
———–
About the author:
Isha Saksena
Intern – Godrej (Gurukul)
Xavier Institute of Management Bhubaneswar
Xavier Institute of Management, Bhubhaneswar is one of the most coveted B-schools in India. Established in the year 1987, XIMB is known for quality education in the field of Management and creation of future entrepreneurs. XIMB offers to its students three prestigious programmes; Business Management, Global MBA and Executive-MBA. 30 years and still going strong, XIMB strives to achieve its mission of making managers with a human face.