10 Guidelines To Follow In The Last 15 Days To CAT 2018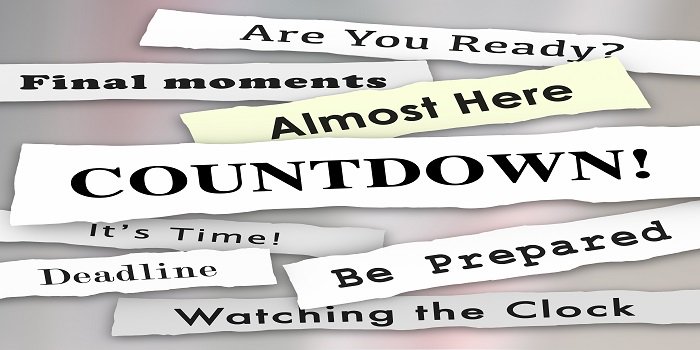 The countdown has begun. You are now only a few days away from CAT 2018. The countless hours you spent poring over notes and giving mocks to prepare for the exam are finally about to fructify. There are bound to be butterflies in your stomach as exam day approaches. However, you should not let your anxiety get in the way of your final preparation phase. It is important not to lose focus and stay motivated so that you can deliver your best on the D-day.
Now that there are hardly two weeks left before CAT, it can be assumed that your basic preparation is over by now and you are advised to make optimum use of your time to rest and revise. Therefore, I am writing this article to share with you the guidelines for the final lap of preparation and how best to motivate yourself and utilize the remaining days to CAT 2018.
Don't Start Any New Topic: Firstly, you need to accept that it isn't possible to redo whatever studying has been done in the earlier months. Don't try to make up for lost time by trying to learn new concepts.
Take Mock Tests: Taking regular mock tests should be your thumb rule now but don't take more than two or three tests in the week. But try to give mocks at the CAT time slot which is allocated to you. It is crucial that you analyse the tests that you have taken as it will help you to gauge your current preparation level and make sure you update your test-taking strategy accordingly.
Finalize Your Test-Taking Strategy: With a standard number of mock tests, you must have recognized the strategy or the test taking methodology which suits you the best. Stick to the same, as it best suits you and avoid reading numerous articles that talk about strategy for the test, or exam plan, etc. They will only increase your confusion.
Smart Revision: While revising during the final lap of preparation, don't study basic concepts all over again as an overdose of revision will create stress. Just go through the formulas and tables that you are well aware of or flashcards (if any) you have. You can also go through the previously solved mocks or sample papers and identify the questions that you were unable to solve previously, (due to time constraints or difficulty levels) and try to solve them. You can also look at the ones that you managed to solve. See if you can use other methods to solve the same questions in less time
Visit CAT Website Regularly: Visit regularly to the official website so that you do not miss out on any important information or update on CAT 2018. Go through the guide that the IIMs have provided for a better understanding of the test as well as the test centre.
Stay Motivated To Be Active: Keep your mind active by solving puzzles like Sudoku or reading books/newspaper articles. Reading motivation articles, self-help books can also help you stay calm. Channelize your energies into some extracurricular activities so that you are not bogged down with CAT apprehensions. Yoga, meditation and breathing exercises will help you stay calm and active.
Stay Fit Stay Healthy: This is the time when you have to stay fit both physically and mentally. Hence you must eat healthily and avoid junk food from outside eateries as you can't afford to get sick during the last lap of preparation. This tip though seems obvious is often overlooked by students.
Adjust Your Sleeping Routine: Majorly while preparing for the exam, most of the students developed an irregular and weird sleeping schedule. So, this is the appropriate time to correct it. Sleep at least eight hours every day at regular hours. Practice staying awake and active at the CAT time slot which is allocated to you. For example, if your test slot is afternoon one and you tend to take a nap during that time, these last days before exams would be ideal for you to change that habit.
Engage in Stress Buster Activities: You can play sports or engage in other hobbies. Listening to music will also act as a stress reliever. Relax your eyes, don't spend long hours in front of the television or computer.
Visit Exam Centre Before D-Day: Last but not the least visit the exam centre once before the actual CAT exam. This will help you save time and energy on exam day.
Don't underestimate yourself or set very high expectations. Trust your preparation and give your best shot.
All the best!
Jeetesh Varshney
Jeetesh Varshney is currently a student of the PGP 2018-20 batch of IIM Udaipur and a member of the InsideIIM Student Team and representative of Placement Preparation Committee of IIMU. He has previously completed his Computer Engineering from Harcourt Butler Technological Institute, Kanpur and has work experience in software development. He is an avid reader and loves travelling and exploring new places and cultures. He is someone who learned a lot from InsideIIM while preparing for his management entrance exams and now writing stories on InsideIIM to share his experiences for the benefit of the future aspirants.