100 Smart Cities Mission – The Government Of India Project And Bosch's Role In It – DMSIIT-D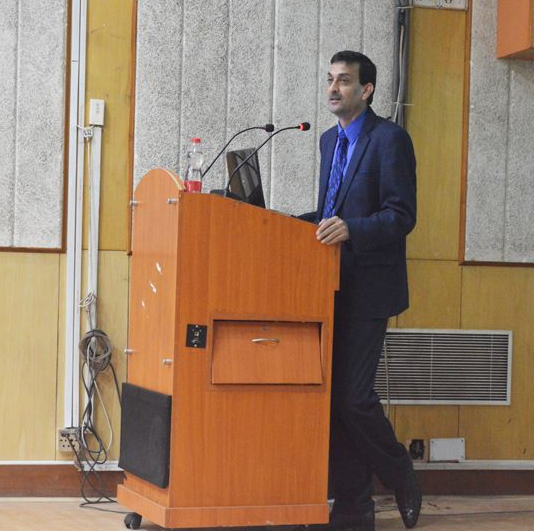 Since 1997, the Department of Management Studies, IIT Delhi, has been organizing 'Business Leaders Lecture Series.' As a part of this flagship event, we had the privilege of hosting Mr. Dhiraj Wali, Vice President, Robert Bosch Engineering and Business Solutions, on our campus for an enlightening session focused on the topic "100 Smart Cities Mission : A Government of India Project and Bosch's role in its implementation".
Mr. Wali initiated the discussion by speaking of the various projects launched by the government of India, including Digital India, Make in India and Swachh Bharat. Amid those numerous initiatives taken by the government, is the '100 Smart Cities Mission', launched in 2015.
To present a better understanding to the audience, Mr. Wali cited real life examples of what can be classified as 'smart;' How traffic can be avoided or how a citizen can be made aware if a parking slot is available; whether we can provide a green corridor to ambulances or how effectively the security of public transport can be enhanced. Such are the aspects which will form a part of smart cities with information being the key to implementation. Quality and sustainability are the essential pillars for every smart city where various departments like energy, healthcare, transport and real estate stand integrated to uphold them.
Moving on, Mr. Wali touched upon the mega trends in a fast changing world. He illustrated how mobility, urbanization, IoT ( Internet of Things), resources and connectivity are evolving with the changing world and stated that these trends have resulted in huge amounts of data being generated. There is a growing need to store and analyse this data and use it to enhance customer experiences and shape up concepts like Smart Cities.
Mr Wali reiterated the underlying message of technological intervention to make existing infrastructure and services better. He then elucidated on various components of a smart city, including smart grid, smart buildings, smart urban mobility, renewable energy, smart solid state waste management, smart safety and security and e-governance and citizen services.
Our guest further explained how the implementation of Smart Cities is focused on an area-based approach. Elaborating on the various methodologies, he spoke of the 'Greenfield' approach where a small area is revamped starting from scratch; the 'Retrofit' approach where an area is improved; 'Redevelopment' which involves rebuilding of an entire area and the 'PanCity' approach holding the entire city at once.
Implementation of Smart Cities is where Bosch Engineering and Business Solutions come into picture. Bosch provides smart solutions which can convert mundane problems like traffic into exciting opportunities to change the world. Bosch solutions are already being implemented across the globe and are now looking at changing the Indian landscape.
The first solution offered by Bosch is of Intelligent Traffic Management in which cameras, installed at traffic light junctions, are used for monitoring purposes. It comprises video based detection of violations as well as automatic generation of e-challan using smart number plate recognition. This solution not only offers an efficient traffic management system but also security as an entailment.
Another solution being offered by Bosch is the Intelligent Transport System for fleets like DTC (Delhi Transport Corporation) which gives them a complete control over tracking buses, routes, estimated time of arrivals and additional features such as panic buttons for emergency situations. Intelligent Parking is yet another innovative solution being proposed by Bosch. Using cameras, electromagnetic sensors, and automatic number plate recognition, it would enable citizens to know if a parking slot is free and help them book the same. The solution can also be used to charge them for using the slot.
To integrate all the data generated by such Smart Solutions, it will be required to have an ICT (Information and Communication Technology) platform. Being a proactive industry leader, Bosch is already conscious of this need and offers facilities for data storage, analysis, APIs and dashboards for authorities.
Having talked about Smart Cities and Bosch's role in it, Mr. Wali further enlightened the students about the benefits of such progress. He spoke about how safety for pedestrians and public transport users can be increased and pollution can be decreased through improved monitoring. This will further lead to a 15% reduction in accidents and 25-30% lesser time wastage thereby creating efficient citizens.
The floor was then opened for questions. Having exhaustively covered and exquisitely explained the topic, Mr Wali enthusiastically answered all the queries raised by the students. DMS, IIT Delhi would like to extend a heartfelt gratitude to Mr. Dhiraj Wali for sparing his valuable time and visiting us. We look forward to having many such sessions by him.
Media Cell DMS, IIT Delhi
The Department of Management Studies is a result of the evolutionary process of growth of an idea floated in 1963. What was then a seed, gradually came to life and in 1974, IIT Delhi set up an internal committee to scrutinize the functioning of the management area in the institute. In 1975, an expert committee was setup to formally examine the possibility of launching this area in a more sustained fashion. The result was an M.Tech programme in "Management Systems" in the School for System Studies, (subsequently renamed School for Systems and Management Studies). The year 1978 saw the setting up of the Management Core Group and the core inputs to a full time Management Education at IIT(D) were reconfirmed by an Advisory Committee constituted by the representatives of the Academia and the industry. Since then, there has been no looking back. The School for Systems and Management Studies became the Centre for Systems and Management Studies. This was subsequently renamed as the Centre for Management Studies. In 1993 the Department was brought into existence by amendment to IIT (D) statutes. Clearly, the Department responds to a felt need of the Indian Industry and derives satisfaction from its heavy field orientation in all its curriculum activity. In response to the feedback from the students, alumni and industry, the Department of Management Studies launched MBA programmes in 1997. The department currently runs a two year full time MBA programme (General and with focus on Telecommunication Systems Management) and a three year part time MBA programme (with focus on Technology Management). MBA program in IIT Delhi is designed keeping in mind the changes in business environment and the need of the industry. Our academic program is comparable to the best that are available in the world class business schools for creating managers to face the new challenges of the ever changing market environment. The entire course aims at creating holistic managers trained by a very eminent faculty, which is also supported by the experienced professionals as external faculty from India and abroad. The students are admitted through a rigorous screening process that includes CAT score, group discussion and interview. IITD MBAs are known to do well.