30 Days At DoMS IIT Roorkee – Freshman Diary By Jeel Shah
Department of Management Studies, Indian Institute of Technology Roorkee, is the milestone appended to my timeline of life on 13 July 2017. This day marked the first day of my two-year journey in MBA at IIT Roorkee.
As a glimpse of my timeline, back in 2013, a studious, hardworking girl landed up with getting a decent score in competitive exam JEE – mains. I was bestowed to be at among top three positions at my school in HSC board examination. With this, I got into a college named G.H. Patel college of engineering and technology, affiliated with Gujrat Technological University at Anand. GCET, that's the pioneer of Information Technology at Gujarat University.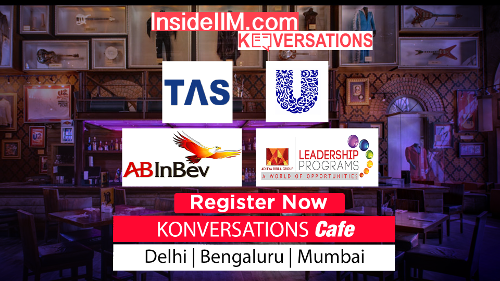 As an urge to learn business aspects of the corporate world, I decide to pursue a full-time course in management. To mark the beginning of my journey, I started preparing for CAT along with my UG studies. After a lot of struggle, I succeeded in getting admission to one of the prestigious colleges of India, DoMS IIT Roorkee.
It's already one month into the MBA program. I feel blessed to be a part of the institution that has its wings spread across a land of 365 acres and has outreach across the globe glorifying its 170 years of legacy! DoMS IIT Roorkee has a synergistic combination of a great teaching program and an overwhelming infrastructure with world class facilities.
MBA life at DoMS! It all started with orientation from the director and head of the department. He empathised on the importance to keep a balance between studies and extra-curricular activities to be successful management. Then came a task by seniors meant to interact with seniors. A task that really served its purpose and helped us to break the ice between seniors and juniors. It was followed by multiple tasks to get comfortable with the MBA environment.
Next came one of the challenging part of any MBA program – the selection process of clubs and committees. The process included tasks, quizzes and midnight interviews. Talking about the experience at DoMS, it comprises of facilities and trainer to groom in each sport i.e. name a sport and you will find it here, it has one of the best central libraries. It provides a challenging environment for a student to muster their strengths and grab all those opportunities to be a leader in the corporate world.
DoMS IIT Roorkee is a platform which aims to provide the budding cocoons wings to soar high in his life and wings to your aspirants. I want to make the most of my experience here by having endless learning from amalgamations of class lectures, live projects, guest lectures, clubs/committee work industrial visits, internships, and a plethora of knowledge and practical experience.
_________
About the Author:
Life for Jeel is like an ocean. It can be calm or still, and rough or rigid, but in the end, it's always beautiful. She is a strong-willed person. Her determination to thrive and keep moving will carry her very far in her life.
Born and brought up in Vapi, Gujarat. She has completed her schooling from there itself. She has completed her under graduation course in computer engineering from Gujarat Technological University. Apart from curriculum studies, she has a soft heart for the society, she has been part of a NGO that's works for imparting knowledge and educating suburbs students. Her hobbies include listening music, craft work, and skating.
"Do things you are afraid of doing, after all, you are only young once." – life motto of Jeel Shah.