5 TAKEAWAYS From My Last 6 Months As a PGDM Student – SCMS Cochin School of Business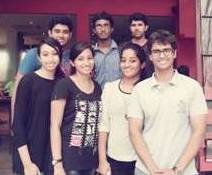 Thazni Siar
Born in Trivandrum, Kerala and moved to SCMS Cochin for her Post Graduate Diploma in Management
PGDM- post graduate diploma in management, the word itself is a mystery, I had a lot of questions before joining this course like what would they be teaching, the method of study, as the course and syllabus don't come under any university-my level of curiosity went on getting multiplied. After joining the course and experiencing it, I can now share what to expect from your PGDM experience at SCMS.
So here are my five major takeaways since I started the journey at my Bschool:
Punctuality:
As a Manager, one should be punctual in every work they have being assigned. The course pattern is designedin ways where ones sense of Punctuality is primary. There is no scope for mistiming as the course itself is tightly packed.  I believe no other course, which comes from management studies, would give such importance to Time Management. SCMS Cochin School of Business takes great care in planning and organizing the timetable to ensure that each one of us learns the value of Time.
Integrated Management Learning Program (IMLP):
Stage fear is a very common feeling. Unfortunately, managers can't afford to give room to this particular fear.The PGDM at SCMS Cochin School of Business has IMLP helping students overcome this fear. Young managers are encouraged to face an entire class of 130 students and present on various topics (twice) on a term basis. They also need to take questions from the audience on the topic they present and ideate-debate constructively.
Parivarthana:
SCMS Cochin School of Business' socio-awareness program or its annual CSR activity is an impacting exercise for bringing meaningful changes in the society.  Each year, the School selects a very pressing social issue and addresses elementary schools and educate the young minds to battle those challenges.I am learning the importance of being socially connected and staying socially responsible.
Shikar:
Shikar is the annual management fest of SCMS Cochin and is quite an awaited event in the southern part of India.Being completely student driven, this management fest is the particular platform where the students get real life experience of managing, organizing and co-coordinating various events.  Each and every member work in teams and I feel Shikar can be a very interesting takeaway from the PGDM course I am attending.
Mentoring/ mentor groups:
For proper guidance and for giving every individual student equal attention, a group of nine or ten students is assigned to a particular faculty. The events and activities held at the school are then streamlined as per mentor groups. This also enhances team spirit and coordination for each individual. A mentor would help his/her mentees with ideas and concepts which can be related to subjects or co-curricular activities.