8 Reasons NMIMS Is Unique: Navya Banga, First Year – SBM,NMIMS Mumbai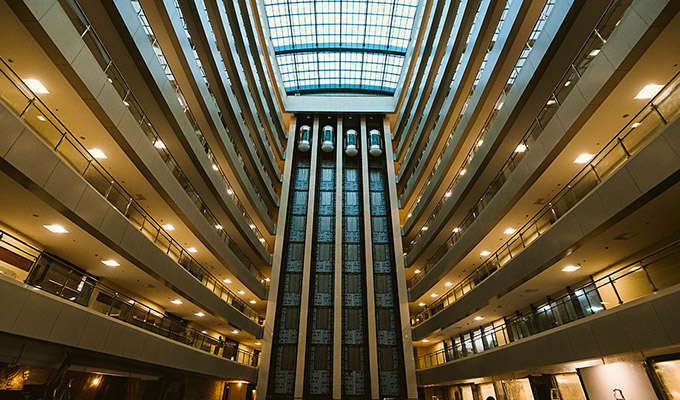 "A thousand words full of worth; Time spent appreciating earth, Clouds, sunshine, or even on a rainy day; My admiration for you will never go astray, Academics are important but never forget to live life, It's easy to feel lost; But now I can say that I am found."
And, I have found this at NMIMS- My Campus is unique in its own ways.
1. The best of locations in the country:
NMIMS School of Business Management was established in 1981 in the heart of India's financial capital, Mumbai. Built in one of the most prime locations of the city, the college boasts of being one of the most important centres of education and excellence. Located in the hub of Vile Parle (W), With famous hangouts like Prithvi café and the Juhu beach around the corner, and flanked by the legendary Mr. Bachchan's palatial houses. NMIMS definitely has one of the best locations to write home about!
2. The extravagant infrastructure:
If the college infrastructure were to be described in one word, it would be: LUXURIOUS! Located in the heart of the beautiful city of dreams, NMIMS stands tall, and happens to be an important landmark to reckon with. Enabled with world- class infrastructure, equipped with AC classes and rooms, a library that houses a plethora of books and a repository of knowledge, NMIMS can truly boast of a campus and environment that has the best of all worlds. Extremely lavish and truly professional, designed intricately and exquisitely, the campus has been lauded by all our guests, dignitaries and students alike.
3. The Industry Interactions:
Mumbai is best known as the city of dreams, is also, quite ironically, that never sleeps. It teaches you important life lessons and makes you ready for the corporate hustles! And NMIMS capitalises on just that, and its geographical advantage to ensure that it exposes its students to the rich interface that it can leverage, given the proximity to the corporate headquarters and hubs.
On the similar lines, Aditya Birla Group sells in-house and other branded apparel via brick-and-mortar and online stores, such as Louis Philippe, Allen Solly, Peter England and People via their individual brand stores and through other multi-brand outlets. It also operates a multi-brand fashion retail chain Pantaloons. I would like to work for the branded apparel sector, due to its unique and creative designs.
4. Our rich Alumni base:
Since we are talking about one of the premier B Schools in the country, how can we not mention the laurels that our Alumni have brought to the institution?! NMIMS graduates have made an indelible mark wherever they have gone and have kept the flag flying high with their achievements. It is proud to be the education centre for leaders of the likes of:
5. Our victorious students:
When it comes to carving a niche and establishing ourselves as a budding and young professional of credibility and innovation, NMIMS leads the way like none other! From L'oreal Brandstorm to HUL Carpe Diem, Marico Over the Wall to RB Mavericks, from SAB Miller to Mahindra War Room, our students have established themselves as winners and achievers everywhere they have ventured.
6. The Mumbai Darshan experiential learning:
NMIMS believes in the holistic and balanced development of its students. And as part of that, what it gives to its fresh, new batch every year is a flavour of the city our students call home for their MBA stint. In an intricately designed induction and orientation week, the Student Council at NMIMS organises a cultural and experiential learning activity for the batch that steps into college, by exposing them to what Mumbai city has to offer! Planned out and executed as a timed race, the Mumbai Darshan seeks to expose the students to the city and its cultural heritage, giving them the chance to experience Mumbai like a true locality.
7. Our own student- managed mutual fund- Samriddhi:
Samriddhi is the investment arm of Finomenon – The Finance Cell at NMIMS, Mumbai. The idea behind Samriddhi is to provide a real-world portfolio management and security analysis experience to the students of the college. The fund works under the guidance of the HOD – Finance and an advisory board comprising of people from leading business houses in the financial services sector. In a unique and exemplary endeavour, this initiative of a student-managed mutual fund gives our finance whiz-kids an edge over the others with an unmatched experience and first-hand learning opportunity.
8. Our grand star-studded fests:
Last, but definitely not the least, NMIMS is one B School which works hard but knows how to celebrate every day even harder! Our B School fests- Paragana: the flagship Business fest and Euphoria: the flagship Cultural fest, have been star-studded events, with renowned artists and Bollywood stars performing for the massive crowd! We have had performers and artists like Benny Dayal, Nikhil D'Souza, Kanan Gill and Biswa Kalyan Rath, EIC, DJ Shadow and Bollywood stars like Alia Bhatt, Sidharth Malhotra and Fawad Khan come for our fests. With a line-up like that, a fantastic time is guaranteed!
You know your college is special when Sidharth Malhotra tweets and Instagrams about your fest.