8 Weeks Of Internship Experience – A Lifetime Of Learning At Landmark Group, Dubai
There are not many management institutes in India, who sends its students for immersion in the Middle East. US is popular, Europe is a fish market, ANZ and Africa are rarely heard of. IMT DCP is one such crafted program, creators of which saw opportunity in Dubai.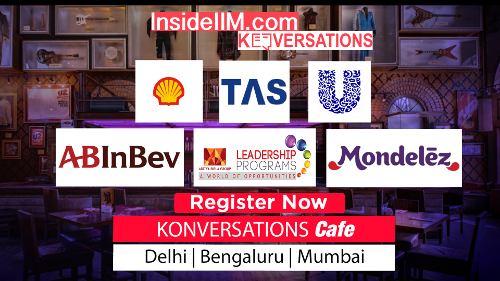 Though UAE boasts of hosting people from around 200 nationalities (80% of UAE population is expats), people in Dubai; aren't evolved technologically, don't possess a good linguistic skill (Arabic in UAE is as quintessential as French in France), and like to keep things privy to only them. BUT, 'Emirates' is damn good at one thing, risking huge. Eventually, it grants them a better chance of more gains. Palm Islands, Burj Khalifa, Ferrari World, Dubai Creek, World Expo 2020, etc to name out a few of their high-risk high gain projects.
Part 1: The Dirt
An internship during your management studies takes your classroom learning to a business level. My summer internship at the Landmark Group in Dubai was an opportunity which made me realise that every manager in an organisation is important as a member of a pit crew to an F1 roster.
I had a flamboyant work experience post my graduation, and I thought I had seen enough of the corporate industry. I thought I had figured how life would be when I'd be facing managerial decision making, tough working hours and strict deadlines.
And I was right (just about the rough parts, cherries are royal red). Management can never be a cake walk. And being a management executive is not for the faint-hearted. The reason why I'm focusing on 'management' is because I got the opportunity to see both sides of a business. The Owners and the management. Stakeholders (Board of Directors) and the Executives (CXOs).
I spent 8 weeks of this summer, reporting directly to the Group CFO of the Landmark Group, Rajesh Garg.
Sometime back, it hit me. I'm the pit crew. It's a bloody metaphor. Rajesh is driving the car. And the Jagtiani's own the damn thing. The success of an Organisation is driven by the hard work and willingness of its management. You cannot neglect or choose not to do something just because it seems tedious.
Lesson 1: Get your hands dirty. Exhaust yourself, learn something new, devote yourself to the work, whatever it takes.
Part 2: The Cherry
My efforts with the Corporate Finance team paid off well. I can now boast that my work is now live on the smart devices of the 10th richest family in India. I spent 8 gruelling weeks to develop a technological forefront of their reporting systems and monthly review process. Understanding how such a big retail power house works and collating its financial data into meaningful insights for the board as well as Rajesh, Vipen (CEO, Landmark Group) and other CXOs, was the challenge. And boy, I did well.
Get the idea of how juicy the cherry was?
Lesson 2: Enjoy recognition
Part 3: Flair
Time and again, my mentor kept emphasising on the importance of flair, aesthetics, and simplicity of design. He taught me that these are things, that one might feel irrelevancy of it, but actually, gives you an edge. Landmark previously spent a huge chunk of money on developing such a technology before, but it failed because of the aesthetics and flair. There were times when I was absolutely irritated by the minute details of it, but Lesson 3: Flair + aesthetics = sell out product.
Part 4: Risks
I completely enjoyed my experience in Dubai. I had to conclude on risk, I spent almost half of my stipend for a skydive, paid round trip expenses to Dubai again to write my CFA, ended up spending more than I got. But it was worth it. I believe I could see things the way 'sheikhs' of Dubai do, you got to take risks and you'll come out shining.
Here's a sneak: