9 Life Lessons That You Can Learn From Travelling – Travel Diaries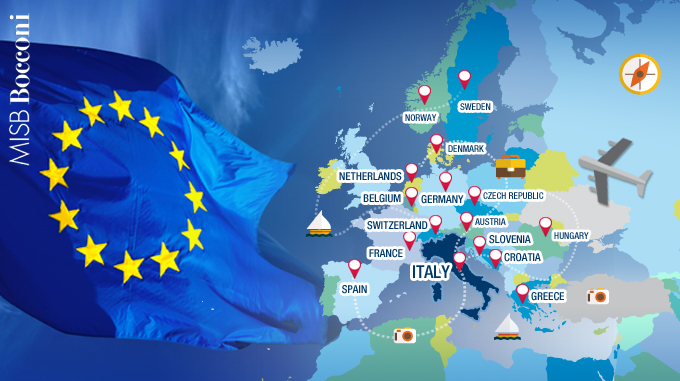 My Second year at Bocconi gave me plenty of opportunities to explore the world. First up was the Campus Abroad Program at the iconic UC campus at Los Angeles. California is a beach boy's dream and living there for a month taking a course on Entrepreneurship, working with colleagues from across the world including Imperial College – London and Bocconi – Milan was a lesson in embracing diversity. Spending evenings at the beaches of Santa Monica and Malibu, checking out eateries at downtown LA, partying in Hollywood, travelling to other cities in the US, it was an experience of a lifetime.
Next up was the exchange semester in Italy. Italy really is a beautiful country, similar to India and the parallels to the Indian culture and people are many. Very family oriented and diverse. University was a big part of our Italy experience and it was amazing to attend a university of the repute of Bocconi. The opportunities that Bocconi gives you in- Italy, there's nothing like it and during my short stint at Bocconi, it was evident.
Travel was, of course, a very big part of our Erasmus plans. Ryan air's cheap fares were the best thing that could happen to us and we set out to explore Europe almost every other weekend. I visited 17 countries, covering about 35 odd cities. Here's a tiny peek into what went down during those four months.
Western Europe – Paris, Amsterdam, Belgium, Switzerland, Spain, and Germany – These countries had the most to offer from a tourist's perspective. SUPER PRICY! But how can you miss the Eiffel beaming her metallic smile or the Arc de Triomphe on the grand Champs-Elysees? The Louvre (Mona Lisa's Abode), the canals, windmills and beautiful farmlands of Amsterdam (plus all the otherwise illegal stuff that's legal there), the snow-capped mountains, serene lakes and natural beauty of Switzerland, the nightlife of Barcelona, Berlin and Munich (special mention to the Oktoberfest), and lastly the waffles and chocolates of Belgium (nothing touristy to see, but eat you must) – are all a must visit/must-do before you die.
Greece requires special mention –it was an amazing Mediterranean experience. From the sunsets at Oia, the food & nightlife at Fira to the ruins of Athens. Greece mesmerises you with its history, culture, diversity and beauty. None of us wanted to leave.
Slovenia with its underground caves and castles, Prague – Czech Republic, Budapest – Hungary, and Warsaw- Poland are top destinations in Eastern Europe. Amazing nightlife, amazing people, and it's really easy on the pocket too! Budapest was my favourite destination. Cheapest destination, great food, good infrastructure…almost like a mini Paris but with really friendly people and how can I forget.. The thermal baths were a treat in the cold winter. They also have pool parties (the project X kind at these baths). MUST VISIT!
Finally, I decided that I had to see the northern lights. Wandered to Denmark, Sweden, and Norway – Tromso and it was one of the best decisions I've made. Watching the glorious northern lights in all its splendour was almost like a life changing experience.
Vatican and San Marino are two countries to visit within Italy, not to forget Venice, Florence, Trieste, Rome, Turin, Naples and the Amalfi coast… all beautiful places to see. Many of my colleagues also visited Finland, Austria, Croatia, and Romania. Special mention to Plitvice lakes National Park in Croatia.
What has travel taught me?
Learning from other cultures – Behaviour, choices and lifestyles you come across while travelling in the local metro, watching a football match, shopping at the supermarket, roaming the streets or even having a meal or browsing a library will be extremely different from what you witness back home. Adopt the good!
Empathy – You understand the pains of others and the problems we often think are non-existent in "developed" countries. You learn to empathise.
Patience – funny story, we waited four hours (12 AM to 4 AM), freezing in the cold, outdoors, on the streets of Paris waiting for our bus to the airport.
Being bereft of social media and connectivity – I am usually a sucker for WiFi and travelling detaches you from connectivity and helps you realise that the digital world isn't the real deal.
Others are not so different – Although people are from different races, ethnicities, and cultures, they are inherently the same, similar emotions and thought processes, ambitions, and goals. The end goal is always peace of mind, happiness, and sustenance. We're all the same!
Capabilities – It empowers you to know that you are capable. Capable of making new friends with complete strangers being an introvert, managing conflict and unruly behaviour, managing language barriers, managing finances, providing for yourself and learning that you are capable of being independent.
Value of home – Being away you understand how much you sometimes undervalue your country, your loved ones and the comfort and care of home when you're around.
Humility – Travel makes one modest. You just begin to see what a tiny place you occupy in the world.
Living in the moment – Forget the past, stop worrying about the future and enjoy what's going on!
Enough Gyaan I guess, Gooo! Book your next vacation. Happy Travels.
About the Author:
Written By John Jacob, PGPB Candidate 2015-17
This article first appeared on MISB Bocconi Blog
SDA Bocconi Asia Center
SDA Bocconi Asia Center is the Pan Asia hub of SDA Bocconi, Italy. In Mumbai, we deliver our flagship program, IMB - International Master in Business, which is a 22 months program of 2 modules of 11 months each. In the second module, students get an opportunity to complete their specialization in our Milan campus at Bocconi University for 4 months.