A Girl In A New City, Again! – Ankita Padhi's Internship Experience At UnitedHealth Group – XIMB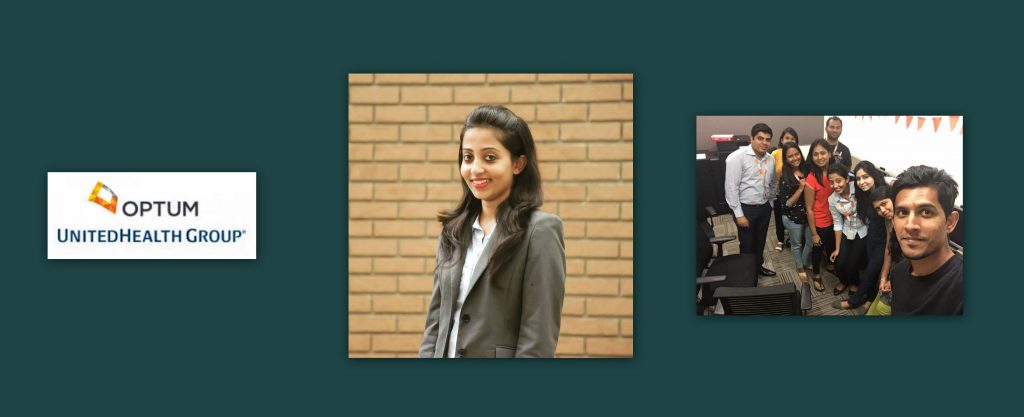 Ask any student what is the first thing that comes to his mind when he comes across the word 'summer', and the usual reply would be – vacation, holidays, enjoyment and likewise.
Indeed, summer is the time when we need a little break from our usual schedule, a bit of refreshment to rejuvenate us and keep us going against the scorching sun. The summer brings up the excitement in us.
However, we, the members of the MBA fraternity, enjoy the summer in a different way. It's not summer, but summers (that we use as an acronym for Summer Internship Project) for us. This internship gives us a real world perspective we won't get anywhere. Classes just give us a theoretical approach, but hands on experience is equally important.
After completing a successful stint with Infosys, I was super excited to be able to have a corporate life again with UnitedHealth Group, one of the Fortune 6 companies and one of the best healthcare companies to work with. My happiness was double as I was selected the day just before my birthday. Couldn't have asked for more!
When I got my joining in Hyderabad, I was happy and sad at the same time. I will explain to you why! When I bade farewell to Bangalore a year back, I had convinced myself that I would come back to the Garden City by next summer during my internship. Now that I was going to Hyderabad, I wouldn't be able to go back home and hang out with my old pals.
But then, very soon the challenge seeking adventurist and the travelling freak within me took over.
Candid Confession: Being a defence BRAT- Born, Raised and Transferred, I have grown up in 13 different cities.
A girl in the new city, again? Well yeah, I am kind of used to that. For Hyderabad too, I was already looking forward to living the life in the new city, making new friends, new memories, new challenges and adding some Hyderabadi colour to my life.
Before joining UHG, I had mixed feelings, pre-corpo jitters. I was provided accommodation in a luxurious hotel for a fortnight. I just didn't want to leave it, even though it cost me a heck to travel daily to office.
I felt a bit lonely when I got to know that I was the only B-School intern at their Hyderabad office. But then I had got an amazing set of colleagues to work with (at UHG) and fellow interns from XIMB (at Hyderabad), because of whom the stay was never dull.  
UHG which has been rebranded to Optum (Parent company still being UHG), is a health services and innovation company. In India, the Optum global solutions (OGS) team, is powering modern health care to create a healthier world. It has been using data analytics in all its divisions like pharmacy care services, population health management, health care delivery and health care operations.
A usual week of work was filled with huge chunks of data, research reviews with mentors-managers, discussions, calls, meetings and presentations. I was pushed outside my comfort zone which really helped me expand my horizon and bring in a sense of practicality in my approach. My initial assignments were intended to provide me with the knowledge about what the campus team does, how things function. Initially, I faced many challenges, in understanding the organisational structure and the eight different businesses that UHG has. Gradually I learned the way these businesses work.
During this entire tenure of 2 months, campus team helped me a lot as they have a lot of experience and they have obviously made it in that particular field. It was because of the challenges that I was forced to put on my thinking caps and come up with new ideas, which helped me networking and improvising my presentation skills, in a concise yet impactful manner. Well, it would be totally wrong to not mention about the team and frequent get-together sessions. It helped me bond faster with everyone and it would be an understatement to say that they just helped me with my project work. I spoke to an array of people working there. I took all their suggestions which helped me a lot to prepare for the final review. It also taught me multitasking, as I had to struggle with multiple projects, training, social life, and other work; all at the same time. As I was constantly being looked at and reviewed, I felt like an important part of the team. Everything I do was important to really showcase the best skills that I have so that Optum is confident with what to offer. As they say, 'All's well that ends well', I was appreciated by the top management for the work done and for the recommendations given.
Having just a year full of learnings on human resource management, it helped me narrow down my goal, in which division of HR I want to see myself; it helped me realise campus recruitment is one of the best fields to start my career with. But that doesn't close my doors for other divisions. I would always look forward to working in diverse areas at Optum.
Having an office schedule till 8.30 pm, weekends were the only get away and I looked forward to these with much enthusiasm. From savoring the amazing Bawarchi, Shah Ghouse and Shadab biryanis to dining out in some of the best eateries like Karachi Bakery and dessert places like Churrolto and Cream Stone, from authentic Indian restaurants like Bhojanam, Rubaiyat to some cool cafes and pubs like Heart Cup, Turning 21, from visiting Ramoji film city to Hussain Sagar, this city will never let you run out of options.
Summing up my 2 months stay – it has been really great and amazing.
—————
About the Author:
Ankita Padhi
MBA-HRM batch of 2018
XIMB-XUB