A Pre-Placement Talk To Remember! – Marico At IIFT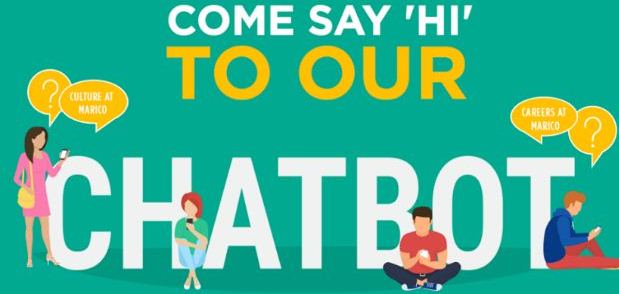 In a situation when you are attending numerous presentations by various prospective companies during the campus summer placements, there are some which clearly outshine others in terms of the way they present themselves and how they choose to interact with the batch. One of these was certainly Marico.
The PPT started with a question to the batch on what was their perception of Marico as a company. The interesting part was that we were given the creative liberty to answer the question in our own witty way. One of our fellow batch-mates answered the question by comparing the company with Virat Kohli, who is the same age as the company and his leadership qualities and other traits with the FMCG giant. Marico rewarded the most creative answers with some lovely goody bags! "At Marico, we have no employees, only members", is still the single most powerful proposition that any organisation could make to its prospective summer trainees.
The batch was also shown various advertisements of Nihar Naturals and how they have been successful with their precise brand positioning. The subtle transformation of the brand, Set Wet was also an interesting story which was put forth by Ms. Ankita Bharadwaj, its brand manager. One very unique aspect of the culture showcased by the company was the Espresso Sessions that are part of the STAMP program, wherein the interns at Marico are encouraged to have open discussions with the CXOs of the company over a cup of coffee.
Have you interacted with Marico ChatBot?
So, Marico is one of the first companies in India to use ChatBot, an Artificial Intelligence Entity, to enable campus pre-placement talks and to answer the questions posed by prospective summer trainees through ChatBot conversations on Facebook Messenger. We personally felt that it was a revolutionary idea put forward by an Indian company, a simple idea which would strike a chord with students and prospective employees and get them acquainted with the company and everything and anything they want to know it. So, even if someone feels shy about asking questions in public, they needn't be worried. All they have to do is log on to Facebook and get their queries solved through the ChatBot.
Simply asking questions is not enough; it is important to ask the right questions, around topics such as job role, key learning areas etc. Marico's Chatbot successfully covers all important aspects of this, presenting three umbrella topics of information – "Marico as a company", "Culture at Marico" and "Careers at Marico", which put together, enable a user to know everything they would want to know about the company. Facebook ChatBot is a great initiative by Marico to engage with the student community and its consumers and sharing information about the company. In line with their core value of "Making a Difference", it is indeed really nice to see Marico make a difference on Social Media as well. Marico has always been the front-runner in leveraging social media to develop higher engagement with the student community and its user base, which is really inspiring.
For those of you who haven't tried Marico's ChatBot yet, all you have to do is go to the 'Marico Campus Connections' page, drop them a "Hi" in the Facebook messenger window and get going. Know everything about careers and culture at Marico instantly; no more waiting.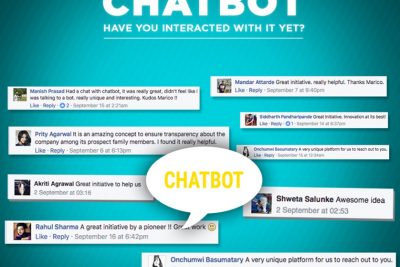 The presentation ended with a very interactive Q&A session and by the end of it, the whole batch was feeling vibrant and energetic and had an urge to join this fabulous company and work for it.
Screenshots: