Aerie Is Cashing In On The Discontent With Victoria's Secrets – Strategy With RS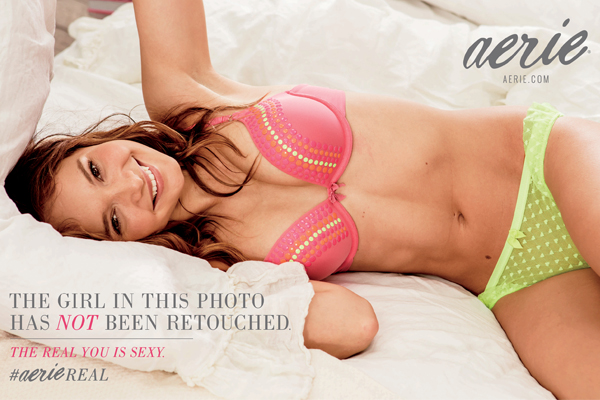 Victoria Secret's is facing the wrath of its customers because of its ''Perfect Body' campaign. (Refer to my earlier post on this issue). Today's customer will patronise brands which they can trust & relate too.
Victoria Secret pays scant heed to this 'insight' & gets perfect model – 5'9" with desired measurements of 34" – 24" – 34" to model for it . And the hilarious part is that even these models are not real. They have to be retouched to get them into 'perfect' figure. Victoria Secret appears neither trust worthy not relatable & hence is alienating its customers. Result: Sales under pressure.
To cash on this discontent among women a new brand of lingerie, Aerie, has been launched powered with 'real body' campaign as opposed to the 'perfect body' campaign of Victoria Secret.
In its 'real body' campaign Aerie feature 'real' women complete with tattoos & beauty marks. And they proudly & boldly proclaims this virtue in there campaign – 'The girl in this picture has not been retouched'. Rest of the women are able to relate to Aerie's model & therefore to the brand. Result: soaring sales.
Business lessons for us: Create brands which customers can trust & relate too. Then they will seek out your brand, pay a price premium for it & also metamorphosis into your brand advocate. Could you ask for more?
Questions we need to ask ourselves? Are our brands perceived as being trustworthy & relatable in the eyes of our customers? If not what steps are we taking to make them trustworthy & relatable?