For all the students of IIM Ranchi, the wait finally got over as it once again welcomed its Management Fest -AGON. Ever since its inception last year, AGON had generated great interests and garnered participation from B School from around the country. This year too, registrations poured in as one by one teams from all across India began to arrive in Ranchi. There was an air of excitement as students readied themselves to battle it out not only for the exciting prizes on offer but also for the prestige that comes along with victory in an AGON event.
On 3rd September 2016, AGON was inaugurated by the chief guests of the event Dr Amarendu Nandy and Dr Sasadhar Bera by lighting a lamp in presence of all the students and participants. With its inauguration, the very first day of the two-day Fest began. The main sponsors for Agon were Vedanta, Spykar, CURE surgicals, JM Baxi Ltd, People Matters and EIH Ltd.
Day 1 started off with Vorstand 3.0 – the flagship event of HiRe, the HR club of IIM Ranchi. It was a case study and boardroom simulation event sponsored by DS Group, Sparkspot, Circular Angle and People Matter. Student teams from IIM Ranchi as well as teams from colleges like XLRI Jamshedpur, Delhi School of Economics, SIMS Pune and Amity Noida participated in the event. While Team Militarium of IIM Ranchi emerged as the winners, Team Hope from XLRI secured the second position. Those who didn't win too put up a strong case and showcased skills that could be said to befit a budding manager. The judges from the event were Ms. Simin Askari VP Corporate HR, DS Group and Mr Kaustabh Hazarika Management Associate,DS Group.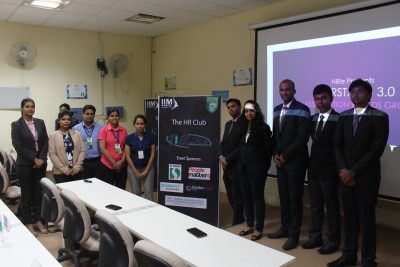 Biszim- a business simulation event organized by Sankriya the Operations Club of IIM Ranchi had teams from colleges like IIT Kanpur, IIM Raipur and IIM Ranchi. It was a game based simulation event where the participants were given a chance to put to test their decision making skills. They were given a chance to forecast demands, set up a factory and compete in a market by introducing new production techniques and new products. After four rounds of brainstorming and strategizing, team Hoplites from IIM Ranchi emerged as the winners.
Finesse – The Finance Club of IIM Ranchi conducted Open Outcry – a floor trading event in which students tried their luck in trading the traditional way. Through the event, the students were given a chance to experience the trading practice of the olden times where one had to shout out loud to buy and sell orders. Students from XLRI Jamshedpur, Prin. L. N. Wellingkar Institute of Management Development and research, NMIMS Bangalore, IMI Delhi and IIM Ranchi participated in the event. Students had a lot of fun trading on the open outcry platform. A student from IMI Delhi shared his experience telling that this was his first experience trading and that he enjoyed as well as learnt a lot from the event. Team from IIM Ranchi won the event and team IMI Delhi secured second position.
With Bosch India as its sponsor, Marcase - the flagship event of Marquess – The Marketing Club of IIM Ranchi began. It was one of the most popular event of the day with more than 900 registrations, the maximum number of participation among all the events in Agon, to its credit. It was a case study competition designed to sail through one's holistic knowledge and creativity. It gave each participant a chance to display marketing cognizance. In this event teams from IIM Ranchi, IMT Ghaziabad and VGSOM IIT Kharagpur participated with Team Oreo from IIM Ranchi emerging the winner. Mr Ragavendra Prabhakar, Chief Strategy Officer ,Besirk, Bosch Platform was the judge for the event.
The flagship event of consulting club, Symvoulous, was a case study competition sponsored by Free Spirits Green Labs Pvt Ltd. Team Hakuna Matata from IMT Ghaziabad were the winners of the event. Encase, the flagship event of E-cell was a start-up case study competition sponsored by Zestech. Eight finalists from various prominent B-schools participated in the event. Team Complimentary from IIM Ranchi were the winners of the event.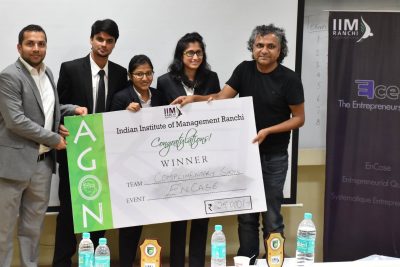 Sab Bikta Hai was another event organized by Marketing Club in which all the students were given interesting products to sell. From Loudspeakers to Acting Classes, everything was sold as the students came up with interesting marketing strategies. Team A Cube N and Apple from IIM Ranchi were the top teams followed by Team Budweiser from K J Somaiya Institute.
Finance club also organized Fin –O- Surge. It was a quiz with a twist divided into 3 rounds. The first round was an elimination round after which 10 teams got selected. In the second round the teams had to bid to answer the questions. For the final round five teams were selected. After a round of rapid fire and guesstimate, two teams from IIM Ranchi and one from NMIMS Mumbai emerged as the joint winners of the event.
The Day 1 of IIM Ranchi was a day packed with exciting events. The second day is eagerly awaited with more challenging and engaging events in the offering.