All You Need To Know About Marketing, Media, Advertising And MICA – LIVE Chat Transcript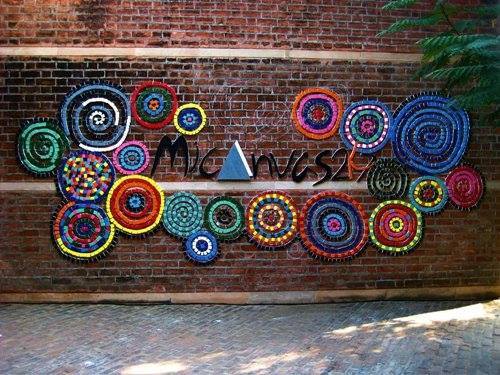 Do you also have questions about MICA? What is a career in strategic marketing and communication like? What kind of jobs are offered at MICA? What will be my career graph? What does a MICAN learn during the 2 years? These and many such questions to be answered in this live chat by Dr. Preeti Shroff the new Academic Dean at MICA the country's premier institute in Strategic Marketing and Communication.
Here are some excerpts from the live chat:
MICA: Greetings all, look forward to connecting with you and responding to your queries.
Shreya Sharma: Ma'am I want to shift from Market Research (currently working in IMRB) to FMCG executive- on-the-ground roles..can you please tell me how education in MICA will help that transition and what will be the major changes in my roles and functions? Thank you so much for taking this up!
MICA: MICA is a unique business management institution that combines specialisation in strategic marketing, communication, digital platforms and strategies, media management, and social development impact. Studying at MICA will give you the broader leadership, management, and strategic skills required in a globally evolving digital world that all FMCG companies have to deal with. We also focus on engaging students with industry leaders and MICA alumni especially women who can also guide you in how to develop soft and hard skills for leadership in FMCG executive roles. MICA is the only institution that also places students for rural immersion to understand rural markets and communication strategies for FMCG companies.
Dhruv Sharma: Hello Ma'am, I'm currently working in Infosys Limited as a Systems Engineer. However, I wish to shift in Marketing. What do you suggest I should do to improve my profile?
MICA: Hello Dhruv, we at MICA always feel excited with engineers who come to expand their profile for positioning in strategic marketing and communication. We have over 50% engineers who come to MICA and excel especially in creative and strategic thinking in management and marketing. It would be critical for you to build on your IT and digital platform work experience and expand to learn more about brand design, marketing, brand positioning, consumer insight mining, luxury branding, sports marketing, semiotics, FMCG branding, digital marketing along with all business management courses in economics, finance, sales etc.
Pranav More: Good Evening Ma'am, I am really weak in quant and as there is sectional cutoffs in MICAT so wat should be a safe score in quant just to clear the sectionals?
MICA: Hello Pranav, since we have relative scoring, it all depends upon the cohort that takes the exam along with you. Put in your best effort for the MICAT 2 and all the best.
Shreya Sharma: Ma'am what are the major differences in the roles and functions between Market research and FMCG?
MICA: Market research encompasses understanding of consumer behaviour, data analytics, brand analysis, brand positioning and marketing strategy for a range of industries including FMCG sector. It is important to study the differences for strategic marketing for various industries.
Pranita Nagrale: Ma'am what does mica particularly look for in a candidate?
MICA: Hello Pranita, MICA looks for smart, sensible next generation leaders. We have over 50% women students. We emphasise left and right brain capabilities, that combine social science and science subject knowledge and expertise. We highly value creative professionals, problem solvers, innovators and people who believe in themselves and are passionate about creating new ideas for sustainable enterprises. We invest in developing next generation leaders and managers for a global world.
Aprajita Kapoor: Good Evening ma'am, I want to know is it fine if the story written in the descriptive part is very imaginative or unreal? Or the story should be practical relating to the real world?
MICA: Hello Aprajita, be yourself and do not hesitate to tell your story. All imaginative stories always reflect your real world experiences and struggles. We are interested in learning more about your life challenges and what is your passion that guides you. Any story you write will capture this. Good luck.
Sushant Bhagwat: How much does it matter an MBA in Marketing from MICA or any other big school like IIMs, FMS, or JBMIMS?
Fiona P: Hello Miss Shroff, would you enlighten me as to how pursuing an MBA in marketing from MICA would be different than one from say an IIM?
MICA: Hello Sushant and Fiona. I'm combining responses for you both because they overlap. MICA is a unique business management institute that specialises in strategic marketing and communication. This means we offer marketing courses in both years of PGP studies while other management institutions offer only a few courses in marketing. Also, we are the leading strategic marketing institution and therefore industry leaders in marketing come to MICA first for recruitment. Wishing you a great future. Hope you join MICA.
Chavi Malik: Ma'am. To what extent do internships and undergraduate scores matter for admission to MICA?
MICA: Hello Chavi, any and all internships and work-related experiences are as important as your undergraduate scores. These will help build your profile and help you score better in the selection process, that includes the CAT/XAT/GMAT, MICAT, as well as the GE/PI.
Jyoti Pravat: Good evening madam, what are the positions usually offered to a MICA graduate?
MICA: Hi Jyoti, industry leaders offer positions in digital marketing, site merchandising, sales and marketing, strategy and consultation, brand management, product management, corporate communications, media planning and strategy, research analyst, business consultant, business development, consumer insights and strategy, account planning and strategy, campaign managers, category managers, content manager etc.
Pradeep Kumar Ramakrishnan: Hi Ma'am. I am working in IBM as a Business Analyst. I have 3 years of work experience as of now in IT and have a strong penchant for making it to the FMCGs. I am planning to make my career shift from IT to Marketing with a good CAT score eventually studying it in a good b school .how is the relevance of experienced candidates in the regular 2 year course placement-wise. There are rumours that experienced guys who change stream after 3 or 4 years might be given step-motherly treatment? So how far does this hold true and please correct me if am wrong here.
MICA: Hi Pradeep, you are doing great work and your IT experience with IBM as a business analyst will give you great strength as a potential MICA student as well as a candidate for placement with national and international recruiters. Generally, any candidate with higher years of work experience will attract more attention from recruiters due to the knowledge and skills based on your work experience. However, when you change from IT to FMCG sector, job opportunities, exploration there will be a gradual career path development. In the long run, you will emerge as a stronger manager and executive positioned for combining digital world and FMCG expertise.
Vaishnavi Pai: Hello Madam. Could you please enlighten me in how a marketing degree from MICA may help a second generation entrepreneur, whose firm is completely into customised industrial works.
MICA: Hello, it is exciting to see your second generation entrepreneurial background. Given your interest in industrial works, courses in B2B marketing, customer insight mining, strategic marketing, product management, principles of marketing, business forecasting, sales and distribution management, quantitative research methods and data analytics, pricing, return on marketing investment will be critical for you. Keep up the entrepreneurial spirit and hope to see you at MICA launching many more startup initiatives.
Monica Ashwini: Hello Ma'am. Is there a specific set of candidates that MICA is looking for? I had a good score in MICAT 1. However, I couldn't clear the psychometric test. What skill set is required for MICAT Psychometric test?
MICA: Hello Monica. The psychometric section is about being honest about yourself and being reflective about your life experiences. This test is a combination of aptitude and personality tests. This also combines intellectual and emotional intelligence competencies, especially how you approach life and solve problems.
Kshitija Nagarkar: Hello Ma'am, Which exam scores are accepted at MICA?
MICA: Hello Kshitija, MICA accept the CAT/XAT/GMAT (2013 onwards) to be eligible for the MICAT. Final admission is done on the basis of your performance in the MICAT, GE and PI.
Rohit Joshi: Good evening Ma'am, it's a pleasure to chat with you. I have done my B.Tech from VJTI and also have a 2 year experience in Product marketing within the financial services industry. Could you throw some light on Marketing Analytics as a part of the PGDM-C program? P.S : scored a 36.25 in MICAT-1 but could not finish the psychometric test.
MICA: Hello Rohit, you have a great profile that combines engineering, product marketing and financial services industry management. Taking marketing analytics related courses such as big data analytics, quantitative and online research, consumer insight mining, multivariate data analysis will help you sharpen your knowledge and skills for marketing research, data analysis, brand trends study, brand strategy development, marketing campaigns and strategy impact analysis.
Pranav More: Ma'am, I have a drop year, so in any case would that affect my selection? 2. Ma'am do we compulsorily have to write a story in descriptive writing? can't we write an essay sort of thing or a social message?
MICA: Hi Pranav, your drop year won't hamper your selection chances. The story writing section is all about your life experiences and can certainly include a social message.
Rishav Raj: Ma'am, can u suggest small internship programmes which we can join as of now to maximise the chance of our selection in MICAT during the interview stage.
MICA: Hello Rishav. Internships with any industry will enhance your skills, knowledge and experience. Choose internships with an industry that you would like to select for your career path and further your subject interests.
Chavi Malik: Is a career in Corporate communications and public relations achievable through MICA? I have heard that MICA is getting away from the communications centric image so corporate communications will not be given equal importance.
MICA: Hello Chavi. Great question. MICA specialises in strategic marketing and communication. We are not shifting or getting away from communications. We are expanding our communication area to include corporate communication, creative communication, crisis management communication, cultural communication, and strategic leadership communication. So this will be an exciting area for your career path. Communication is everything in today's world and MICA is the leading institution in this area.
Krish Punmiya: Good Evening madam, hope you had a great day! I am a fresh IT engineer. Can I pursue my career in the field of Media? I am very confused thinking whether my education will help boost my career in Media. Also, if there are opportunities, can you please mention different roles I may fit in? Thank you so much.
MICA: Hello Krish, I had a busy day thank you. Media management is one of the fastest growing global industries and India is a leader, so you are making the right choice. MICA has just launched digital platforms and strategies specialisation and will launch a media and entertainment study center. The elective in media and entertainment management will combine formal education in the IT sector with business management in media. You will be positioned very well to be a leader and manager in the media industry. MICA also collaborates with media industry leaders for course teaching, summer internships, and final placements. Many MICA alumni are in this area.
Rishabh Sharma: Hello ma'am, I have a job experience in a market research firm and a penchant for the same. I want to work in the following side but I am also open (with slight less but corruptible inclination) to all opportunities which will be extended to me. Can you please state how a degree from MICA would help me in this domain.
MICA: Hello Rishabh. Very interesting question. All corruptible inclinations are great for career inspiration. At MICA, you will be able to focus on marketing research and analytics, strategic marketing, advertising and brand management, digital marketing strategy, account planning, consumer insight mining, data analytics, quantitative and qualitative marketing research, communication strategy for brand positioning and advertising research. All subjects now include digital platform and strategies learning which is a unique advantage for all MICA students.
Aprajita Kapoor: Ma'am, I am a Mechanical Engineer with no work work experience. Will my good performance in MICAT be sufficient to get selected or not having a relevant work experience will be a problem for me?
MICA: Hello Aprajita, your academic background in mechanical engineering is a great start at MICA. Your summer internship and engagement with industry faculty will strengthen work related real life experience. Currently, we have 43% freshers as MICAns, so you are in the great company of smart people. All the best.
Jyoti Pravat: Ma'am, My current job is MIS in a construction major with 2 years of planning and operation experience. I seek a industry switch post MBA. Will my profile be suitable for MICA? How degree in MICA will help my career aspiration.
MICA: Hello Jyoti. Very interesting profile. Management information systems background combined with construction will position you well for digital platform and marketing studies, data analytics, strategic marketing, strategic communications and quantitative/qualitative research methods across industry and sectors. Your profile as a manager and leader will be appealing for marketing and data analytics positions which are rapidly growing.
Angela Verma: Ma'am, I have scored 78 percentile in CAT. Will doing well in MICAT ensure a call?
MICA: Hello Angela. Your CAT score accounts for 2% of your final selection so focusing on doing well on your MICAT will definitely aid your chances of getting a call from MICA.
Rohit Joshi: Could you guide on the approach to MICAT and some of the industry roles after MICA?
MICA: Hello Rohit. The MICAT has been designed as a comprehensive test to assess analytical and verbal ability, logical reasoning, divergent thinking, written communication skills, creative potential and general awareness about contemporary social and industry related issues including areas covering media, marketing, advertising and business. We expect our prospective candidates to be well-read, innovative and intelligent with an analytical bent of mind. A regular habit of reading newspapers and practice in analytical and creative writing would be useful. Earlier I mentioned the following: At MICA, you will be able to focus on marketing research and analytics, strategic marketing, advertising and brand management, digital marketing strategy, account planning, consumer insight mining, data analytics, quantitative and qualitative marketing research, communication strategy for brand positioning and advertising research. All subjects now include digital platform and strategies learning which is a unique advantage for all MICA students. So you can expect roles in these areas.
Poorva Bajaj: Hello ma'am. How much of the graduation score is considered during the final stage?
MICA: Hello Poorva. Your graduation scores do not impact your ability to write the MICAT, or be called for a GE/PI. However, your knowledge of the various subjects and skills acquired during your graduation will be reflected in how well you perform. All the best.
Shashi Kant: Hi, I got 91%ile in CAT. Can I apply with CAT score to MICA this year? And what are my chances with a decent profile and 2.5 yrs of work experience?
MICA: Hi Shashi. Congratulations on the good score. Yes, you can definitely apply for MICA this year. Registrations for the MICAT close on January 31. Your work experience will enhance your study experience at MICA and classroom learning. We will help you connect with relevant industry positions for placements.
Ankita Daniel: Hello Ma'am, I am a mass communication student and recently applied for MICAT II. In these three years of Bachelor's course we did not have a single session of mathematics. But in MICAT, we also have quant section. As I was a Science student till 12th, I am left with a very basic knowledge of Maths. May I know what is the weightage of the quant section in particular? I am trying my very best to study as much as I can. But it'll be a great help if I can get a slight clue of how to deal with this.
MICA: Hello Ankita, your background is very relevant for the MICAT. Be confident about responding to questions in the quantitative section. MICA has a great number of students with mass communication backgrounds and they do very well in their studies and placements.
Rishav Raj: Ma'am, what approx could be a safe score in MICAT for a GD/PI call?
MICA: GD/PI calls will be announced after the score card of the MICAT 2 is released. Sectional cutoffs are relative so it depends on the cohort you appear with.
Pranav More: Ma'am are there any courses for developing writing skills in MICA? can we do these courses along with the normal degree at MICA?
MICA: Hello Pranav. MICA focuses on hard skills as well as soft skills development that includes critical thinking, writing, professional presentations, networking and interpersonal skills for enhancing next generation leaders and managers' ability to work with global and national institutions. Courses such as semiotics, imagining India, corporate communication, PR, professional conduct and career planning will enhance your writing skills. We also have a Knowledge Exchange and Information Center on campus that is open 24×7 and enables students to research, read, and write anytime while on campus.
Krish Punmiya: Do you think I should pursue MBA in Marketing to yield better results for a career in Media?
MICA: Hello Krish, if you're looking to enter the media industry, MICA will give you a platform that combines business management with media management which will create a great career path for you ahead. Also, consider digital media and entertainment management career opportunities.
Monika Ruhil: Hello Ma'am. I'm currently doing my graduation from Hansraj college in B.A (prog) . This is my final year and I shall give MICAT next year. I haven't done any Internships during my graduation also as I would be taking up a drop after my graduation. What all can I do to improve my profile?
MICA: Hello Monika, any internship programs will enhance your industry experience and abilities. So spend your drop year taking up internships in industries of your interest and ones you wish to further your career in. All the best.
Chavi Malik: Is it true that recently there have barely been a few companies hiring for corporate communications?
MICA: Hello Chavi, corporate communications is a rapidly growing global and national sector with multiple industries. MICA will be inviting a range of communications industry and leaders on campus for teaching and placements.
MICA: We'll be concluding soon. Thank you for very thoughtful and critical questions. I wish you all the best and hope to see you at MICA. Registrations for the MICAT 2 close on January 31. For any further queries that you may have you can approach us through our FB page, and our Official Discussion Group on FB handled by Team Interface. Here are the links to the MICA page and aspirants group: https://www.facebook.com/mica.schoolofideas/ and https://www.facebook.com/groups/489862957843957/
MICA: For further clarity on the courses offered at MICA, you can visit our website www.mica.ac.in and study in detail how MICA can help you further your career. Wishing you all the best.
MICA: Thank you and goodbye. For further queries, please contact admissions@micamail.in or Team Interface through the MICA Official Discussion Group 2017 on Facebook at https://www.facebook.com/groups/489862957843957/