Amped-Up Excitement At IIM Visakhapatnam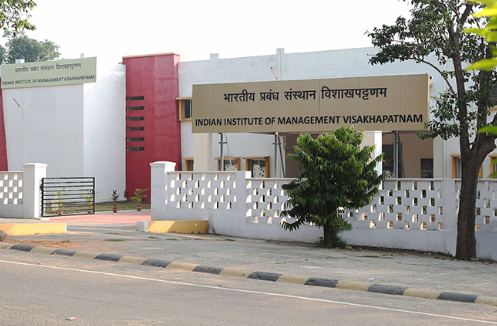 "We are all born as empty vessels which can be shaped by moral values".
A business school provides a great platform to hone one's skills on a day-to-day basis. Indian Institute of Management(s) are frontrunners in this aspect.
IIM Visakhapatnam, the Sunrise IIM, is located in one of the fastest developing city. Being primarily an industrial city and the largest city in Andhra Pradesh, Vizag also attracts tourists due to its clean and scenic areas. For any newly established B-School to succeed, location and connectivity plays a key role. The port city Visakhapatnam is well connected by all means of transportation. This was one of the major reason for joining IIM Vizag without any sort of hesitation.
The campus is the best so called temporary campus out there with state-of-the-art facilities. Although infrastructure shouldn't matter much when you get to be a part of an IIM, but it doesn't hurt to get top-notch amenities, does it? Few other aspects that makes IIM Vizag unique includes the International Immersion Program and recruitment for consulting/ advisory roles offered by the Government. IIM Vizag has been able to attract several reputed companies in a short span of time since establishment due to the dedicated placement teams and assistance from IIM Bangalore, the mentor institute.
With several pre-joining assignments and tasks kicking in already, we students have taken this as an opportunity to socialise and get the tasks done in an effective manner. I connected with a few to-be-batchmates from my city and planned to travel together on the joining date. During the introduction task, I was happy to see how most of us used creative ways to introduce ourselves by making short videos and posters. The excitement to join an IIM and excel in this journey has already got us amped-up.
Which ABG company would you want to work for and why?
Aditya Birla Group is well known for its involvement in various sectors, be it telecommunication, retail, textile, financial services and so on. Being one of the largest Indian conglomerates, ABG has played a pivotal role in contributing to the nation's economy and bringing it on the global chart.
With endless learning opportunity at ABG, I would want to work in Aditya Birla Telecommunication department at Idea Cellular (Soon to be Vodafone Idea Ltd) owing to my background in marketing and operations. Post the merger with Vodafone India, the merged entity will become India's largest mobile operator by subscriber base of nearly 400 million. It is a big task to provide hassle free services to such a large number of users who trusts the company. In this competitive market, the challenge to stay at the top will only make Idea a better company. "Competition is always a good thing. It forces us to do our best. A monopoly renders people complacent and satisfied with mediocrity." – Nancy Pearcy.