An Account Of The Daily Routine – NITIE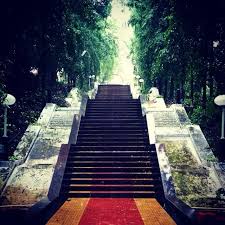 An account of the daily routine… 7:00 AM – Good morning! It's time to rush to the 8:30 A.M class. Sneak into the network to check with any latest announcements for the day. The wired campus will almost make any individual redundant (except for the wake-up calls). With Omelette sandwich in one hand and book in the other, followed by NITIEs' super seniors or loyal patrol guards we rush for the 96 steps of success, a daily workout to keep in check the health of NITIZan and a way to reach the holy syndicate (our classroom).
Every day is a roller coaster ride in the truest sense. Days get cramped up and it seems as if assignments are generated out of 'akshaya patra'. Sometimes, reminds of the endless pain that we faced during school days. The class work ends, and colleagues appear even busier. Evenings and Nights are the best time to pursue interests. There are parallel sessions (interest and peer groups) conducted by function enthusiasts to direct and help, it could be about Analytics, Marketing, Finance, Basketball and Supply Chain Management. Then there are some creative animals like the TOPA gang that would put you on a laugh riot by producing stage plays, Prof. T. Prasad (Prof Mandi) practically teaching the concept of SEEKHO BEECHO SIKHAO the tag line of MAHAMANDI, JOSH arranging SPIC MACAY events and of course the benevolent ROTRACTans trying to reach the less privileged in their own capacity. But hang on a second, life's not just about living in the fast lane, it's also about learning and enjoying too. There is the fiction library, futsal ground, tennis and basketball courts, the cricket field, to unleash your inner star sports performer, each place has its life and passionate followers.
And of course, the Café Corner the place where great ideas are born. It sometimes really fascinates me the way he has managed to use the small work space provided to him so efficiently to provide varied, efficient and effective quality products. Also, the concept of Oligo Poly you learnt from a stationary shop and Café Corners at NITIE. Then there is pond area where great ideas and couples are also made and fitness enthusiast like me utilize this serene beauty to motivate them to jog around the pond. Sometimes, we even encounter some of our neighbours from SGNP mischievous monkeys, ducks, birds, variety of reptiles.
Hence, NITIEans proudly say that we work hard and play harder. Ask any NITIEan and he would happily acknowledge this. Here is an unending maze to recreate, develop and grow. The PGDIMs rule the roost. just wondering what is that I cherish the most about NITIE verdant campus amidst lakes, vibrant classrooms, worthy peers, or the fun of being grilled day in and day out…yet undecided. Its truly a GOD's OWNED CAMPUS. One of my greatest fear is that this serene breathtaking nature's beauty should not influence me to be a photographer over an MBA graduate. But, joining NITIEs PGDIM Management course is one decision I would always cherish. Two years down the line I will be transformed and evolved into better me. Its late night. I prepare my bed with deep thoughts, a satisfied day and am anticipating an exciting dawn