And the Nobel Peace Prize for 2015 Goes to….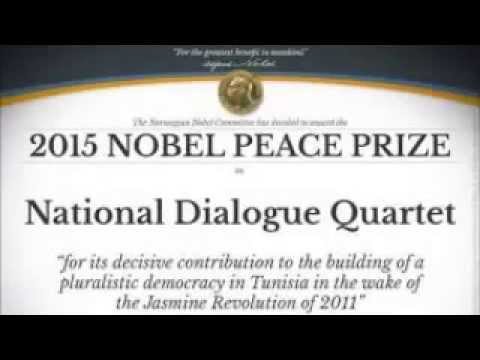 Nobel Peace Prize, since its inception in 1901 in Oslo, Norway by Alfed Nobel has been awarded annually to individuals (and/or groups) who worked towards "increasing the feeling of brotherhood among nations, reduction of standing armies, and for holding and promoting the peace processes across the world". It is one of the five Nobel Prizes that are given in the fields of Chemistry, Literature, Medicine (or Psychology), Physics, and Peace.
About Tunisia:
It's a relatively small country in northern Africa inhabited by Arab-Berbers (99%, who came into being as a direct conquest of Arabs on North Africa), and Europeans (approx. 1%). The country achieved its independence from France in 1956, and has been facing critical issues like high unemployment rate, food inflation, corruption, a lack for freedom of speech & other political freedoms, and poor living conditions which ultimately led to a civil resistance in 2010.
About Tunisian National Dialogue Quartet
*Group was formed in 2013
*This group comprises of Tunisian General Labour Union, the Confederation of Industry, Trade & Handicrafts, Humans Rights League, and the Order of Lawyers
Achievements of Tunisian National Dialogue Quartet
They
1. Aided in country's transition to a democracy from the Arab rule
2. Ratified a new constitution
3. Set up the Electoral Commission in Tunisia
4. Paved a way for a peaceful dialogue between citizens, the political parties, and the authorities to find consensus based solutions
5. Saved the country just at the brink of a civil war
Competitors for Tunisian National Dialogue Quartet were
1. Chancellor Angela Merkel- Germany's first female chancellor, appointed in 2005. She was the top favourite till the final announcement was made, and was quick to compliment the winning team
2. Pope Francis- 266th and current Pope of the Catholic Church
3. John Kerry- US Secretary of State
A brief about Nobel Peace Prize winners for last 5 years:
2014: Malala Yousafzai, a girl from Pakistan & Kailash Satyarthi, Indian child right activist- for their work against suppression of children and young people, and for the right of all children to education
2013: The Organization for the Prohibition of Chemical Weapons- for its extensive efforts to eliminate chemical weapons
2012: European Union- for over 6 decades of contributed effort to advancement of peace and reconciliation, democracy and human rights in Europe
2011: Jointly won by Liberian President Johnson- Sirleaf, Liberian activist Lehman Gbowee, and Tawakkol Karman from Yemen- for their non- violent struggle for the safety of woman and for women's rights to participate in peace building work
2010: Liu Xiaobo, a Chinese democracy activist- for his long and non- violent struggle for fundamental human rights in China.
Tunisia's example stands against the likes (political unrest due to Arab dictatorships) of countries in the Arab region like Libya and Syria. The Nobel Peace Prize committee hopes that the prize is taken as a compliment by the Tunisian people who have a paved a way for national fraternity amid multiple challenges they faced as a nation.
Reference: Financial Times