"Make sure you revise all Mocks that you have written in the coming 30 days" – ARKS Srinivas on CAT 2014 Strategy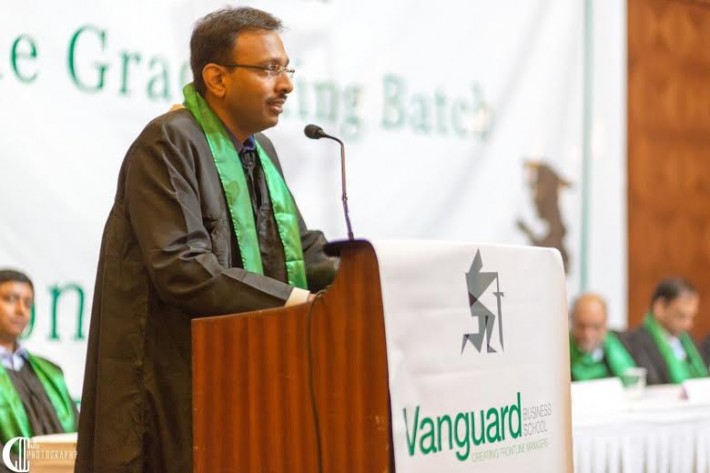 Bhavesh Birla Any specific way to handle the RC's? What is the expected difficulty level in this year CAT, since the number of questions has been increased? And the expected number of attempts?
ARKS Srinivas Hi Bhavesh, for every RC passage, the important thing is to keep a time limit within which you will either answer the given questions or get out of the passage. While there are number of theories – Read Passage First, Read Questions First, etc kind of, what is important is to look at what helps you (or has helped you get marks in the past). For each question, figure out whether the answer required is a General Or a Specific answer ; negative, positive or neutral answer ; author's take or passage's view ; and like this you can use the choices and eliminate most of them. Finally, decide within the last two available without further delay.
The difficulty level, I expect, would be lower than what it was over the last five years.
The expected number of attempts depends on what your strike rate is. I believe that it is not going to change much from what it is now. Hence, if you need 99 percentile – gun for 110 marks overall – and for 110 marks, depending on your strike rate, you get your number of attempts. A score of 220 in this Year's CAT (if 3 marks are assumed per question) – would give you the 100 percentile or even RANK no 1
Vaibhav Sharma Sir I'm studying maths since past 5-6 months but my QA score is not increasing in the mocks, Instead it is decreasing continuously, which is worrying me a lot. I've basic ideas of all the chapters but when it comes to attempting questions in mocks, I'm unable to attempt more than 6-7. please help me sir.
ARKS Srinivas Vaibhav – Here is what I suggest you to do. Take all the Mocks that you have written. Segregate the questions according to the chapters – Numbers, Geometry, Arithmetic, Quadratics, etc. REVISE every question from these Mocks twice.
Suresh Sir, with 3 years of IT work-ex, should I aim for a change of domain to finance after MBA?
ARKS Srinivas Suresh – If you do well in Finance, Marketing or any other domain – then you can easily gun for that post your MBA. But, that depends on what you want.
Suresh Sir, I am getting good scores overall in the Mocks (99 plus consistently). But there is frequently a slip up in quant because of the DI area. What should I do?
ARKS Srinivas Suresh – Don't worry if there are some slip ups. They happen. Just make sure that you revise all the Mocks that you have written in the coming 30 days.
Soumyadeep Majumdar Sir, any suggestions on the section wise attempts?
ARKS Srinivas Soumyadeep – If you go through the above post (of mine) on attempts, then you can decide to get around 60 + in each section.
Gururaj Sunder Sir, I gave GMAT some time ago, and was not happy with my score. Taking it again after 3 months. My problem area is Quant. How should I go about it?
ARKS Srinivas Gururaj – My bet is you may have lost marks in Data Sufficiency. If that is true, then the real problem is in your basics. You may have to work on the fundamentals.
Gururaj Sunder Sir I have a profile as analyst in investment banking (6 years work-ex). What GMAT score should I target, (I am looking at universities like NUS, HKUST, Nanyan Technological University) etc….I also have a CFA degree and Charter.
ARKS Srinivas Gururaj – 680+
Team InsideIIM ARKS – Why do you think did CAT 2014 opened up applications for one more day? Is it because of lesser registrations? No official word has come out from IIM Indore or Prof. Rohit Kapoor. Do you think the demand for the MBA degree has gone down in India? Do you think it is easier this year to crack the CAT than before? Or is it more difficult as only the serious candidates take the CAT now? What's your view?
ARKS Srinivas Team InsideIIM and others: There is no doubt that there is NOW an attempt to increase the number of applications (it appears). However, one reason could be and we have got quite a few students to corroborate, there were problems in applying and quite a few of them could not get the registration done properly. Hence, the issue could be as simple as this – to set it right and give that extra time.
Manoj Tad Sir, I need some serious advice (a working professional). I have been attempting a reputed mock test series for a while now. In all the new pattern mocks, I'm scoring not more that 60 marks. Looking at this raw score, now a month before CAT, please let me know is it over ambitious to aim for IIMs…? As far as the weaker section is considered, it is VA LR with max attempts with horrible accuracy
ARKS Srinivas Manoj – I can definitely tell for TIME and VistaMind Mocks – If you are in the 60 marks range and it has not improved even once (crossed 90 even once), then yes, Frankly the chances are less IF YOU are a GENERAL CATEGORY candidate.
Manoj Tad Yes sir. I have crossed 90 twice (for 2 easy mocks). But if I persist, do I have even have a minute chance of even getting into the second set of institutes top 11-20? I know this is a very unambiguous question. May be a yes or may be a no. However, I wanted you to pls. answer it because, I presume, you must have seen some aspirants make it.
ARKS Srinivas Manoj – If you have crossed 90 twice, believe me you have a decent chance. What I would do If I were you is this – Revise every Mock twice in the next 30 days. Take slip (sectional) tests every day to get into the rhythm. Lastly, don't lose hope! I have seen people doing well with the kind of scores you have got. And don't worry! The paper will be easy.
Shashi Subramaniam Sir in the last one month, what should I practice – I really haven't been able to take enough mocks.I am getting around 85 percentile. Verbal is easier than quant for me. I want to reach 99 percentile.
ARKS Srinivas Shashi – Honestly, in the last one month, you can either Revise OR take tests and Revise this is exactly what I prescribe.
Farhan Nadkar Sir, I end up taking too much time for QA. Every mock, I set a target for QA as 90min but I am done with only 18-20 attempts until 90mis. .Hence, in order to increase no of attempts in QA, end up eating time of VA coz of which overall score goes down. Do you think I should change my strategy, like should I start with VA?
ARKS Srinivas Farhan – Definitely you have to chance the strategy. Start with VA. Also, in Section I, start with DI and give yourself ONLY 25 minutes (8 minutes per DI Set, 1 min will get wasted). Even in Sec II, give time limits to each area – RC (25), LA (25), VA (30), DI (25), and the remaining can be QA.
Nayan Trehan Good evening Sir, I'm currently in 2nd year of B.Com (Hons.) and plan to take the MBA entrance test next year. Should I appear for GMAT or the CAT. Could you enlighten me on the basic differences between the two and also guide me towards the best coaching institutes for them in New Delhi.
ARKS Srinivas Nayan – I would suggest that you go for CAT. GMAT is normally used by US and European B Schools. In India, all executive MBA Programs of IIMs and ISB use GMAT. For most of these programs, at least THREE years of Work-ex is required. As for coaching institute, I can only promote mine which is VISTAMIND (we do LIVE ONLINE CLASSES)!!
Bhushan Patil Sir,I am preparing for CAT. I have academics x-73.84%, xii-55.84,grad-64.01% (mu),W.E-12month Can expect an IIM convert if I score 100 percentile? If no then what do you suggest?
ARKS Srinivas Bhushan – You have a chance to get into IIM even at 98.5 percentile.
Bhushan Patil But most of IIM's have criteria of minimum 60%.
ARKS Srinivas Bhushan – Almost all new IIMs will take CAT percentiles. If the percentile is very good, then you will still get a call from even the top ones.
Bhushan Patil Can we apply to B – schools like SPJMR, MDI, FMS after CAT results?
ARKS Srinivas MDI last date is before CAT. Please apply before CAT. SP Jain and FMS applications can be made after CAT. Please check the notifications regularly for the last dates.
Gurpinder Dhami Sir, I'm scoring 75-85 marks when I take mock CATs for 2014.. What are my chances of landing in a good B School??
ARKS Srinivas Gurpinder – With these scores and a little more, you can get into the top 20/30 for sure.
Gurpinder Dhami Sir, what is the minimum number of questions that we should attempt and get correct to target 95 percentile?
ARKS Srinivas Gurpinder – No of attempts aren't important, depending on the difficulty of the exam, the score is what matters. If we look at the past CAT papers and therefore extrapolate for CAT2014, then scores around 95+ would fetch 95+ percentiles.
Jyotika Sethi Good evening Sir, I am a female, general, 10th-92.6, 12th-88.8, dropped an year after 12th and got ECE in NIT,KKR. After that, I have a WE of 15 months now with a consultancy as a Software Engineer. My graduation score is 79.8 %. Please let me know my chances for IIM calls with respect to my next year's CAT ( By next year my work exp will be of 2 years) and also what percentile will fetch me calls from older IIM's.
Can you also help me know what the difference in preparation for CAT and XAT is? (Apart from GK section), I mean in what parameters is XAT different from CAT and how should one prepare differently for that?
ARKS Srinivas Jyotika – you have excellent credentials. You have excellent chance to get into any of the top IIMs with 98.5%ile/99 %ile plus itself.
While the areas are similar for XAT or CAT, the way to approach will be different as the time available and no of questions in XAT is different from CAT.
Srikanth Jva Sir may you give me some tips on mensuration?
ARKS Srinivas Srikanth – Revise formulae of Mensuration, solve all questions from Mocks !
Biraja Samal Good evening sir, I scored 86 percentile in CAT last year, and this time I have started my preperation just 15 days back, THE worry factor is I am unable to score above 70 in any mocks, but when I come back home I could solve many questions easily ,mainly in QUANT. Can u please suggest me what to do and how to prepare for the last month to score well, I will do everything to score good, and I am weak in VA.
ARKS Srinivas Biraja, The problem seems to be that you are afraid of the exam. Also, that is manifesting itself in the way you are writing the exam. It is more to get back the confidence (than preparation or knowledge). You have more than 30 days to get this back. Change the strategy. The way Kohli was dropped from No 3 to No4 position in today's match! You have to do something to get back the confidence
Biraja Samal I know that is the main problem, last year my CAT score was bad because of that and I feel like I could do all QUANT questions and ended up leaving many easy questions or doing silly mistakes, as I consume more time on tough questions, My big problem is I don't know which questions to leave in QUANT. Please suggest something.
ARKS Srinivas Biraja – You have to get out of being emotional about the exam or the question. Take the exam clinically. Give time limits to each area/section/set of questions etc. Stick to the time limits. Stretch yourself to attempt more for the next two mocks. Send me your scores to arkss@vistamind.com and I will see where and how I can help you !. Don't lose heart! All the best
Swapnil_kaushal Sir, I am bit confused regarding the college filling through SNAP. My academics are 10th-79.2% 12th-69.4% grad-7.88 cgpa 2014 pass out no work exp please help me which college should I apply as I have to take admission this year. Also help me as I am also confused that should I fill the form of MDI, SPJAIN, FMS, XLRI, XIMB Please help me.
Team InsideIIM Swapnil – If you can score over 90 percentile you should apply to all the schools you mentioned above.
Team InsideIIM Today's chat has come to an end ARKSS will do an online chat session every Saturday at 6.30 pm – This was the 7th Live Chat in the series. Live Chat #8 comes to you next week at 6.30 pm on 18th Oct 2014.
Team InsideIIM Tuesday chat with Ravi Handa on Quant and DI, GK at 10 pm
All – We will be in Bangalore for an Open House on November 2nd at the Indiranagar centre of Vistamind. So any of you from Bangalore here, we hope to see you there! We will meet some IIM graduates and discuss the mental side of CAT, 15 days before the exam.Registrations for the Open House will start from Monday.