Aspirations At IIM Trichy
"Knowledge is Endless", this is how we start at IIM Trichy. Like all the other IIMs, this is our motto and we stand by it. So what is it that makes IIM Trichy unique? To find out, I started reflecting on my last one-year experience at IIM Trichy, I came across a picture which I had created during my initial days, which kind of described my journey from Engineering education to so-called MBA education.  The picture reflected my notion of MBA life at IIM.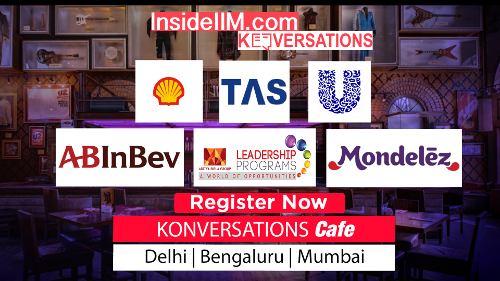 While talking to friends from other colleges, I have noticed that life at most B-Schools is a composed music of rigorous academics, assignments, projects, parties and placement. While this does not reflect much difference, I thought that I should take a different perspective. I started looking towards the culture of my college. I didn't expect it to be so diverse here. We celebrated almost all the festivals and everyone took part in it with a fevered vigour and youthful enthusiasm. Be it Diwali, Holi or Onam, everyone pitched in with creative and fun ideas into which our faculties and academic staff were drawn into with encouragement and support. This environment was so unique that my eyes lit up and I thought, ''Oh I found something unique about IIM Trichy''.
The same day my blessing became the curse as I happened to talk to one of my friend who was studying in premier B school. It means that I have to reflect again. This time I started recollecting my memories to find that one thing which I can proudly say, make IIM Trichy unique and again looked towards the picture above. It reminded me of the time when we were going through the transition phase from old NIT Trichy IIM campus to our new state of art Campus. We were given a date on which we had to move to new campus and we all were surprised about how the college officials were going to execute it as the hostels are not completely ready yet. We had a talk with director sir and he assured us about the completion timeline. This was the time when I saw planning and execution at its best. We had a very smooth transition. We are the first ones in 2nd generation IIMs to move to the new campus. This uniqueness in transition, planning and execution of IIM Trichy allows us to set the target for the future where we as a fraternity can flourish and fulfil the target of our Director sir to be among the top five institutes in India in upcoming years. We aspire to achieve this. I remember the day when we organised the Alumni meet and saw the tremendous support of our alumnus and how they were enthusiastic about the new campus and wanted to share their experience with us. This feels like connecting to your own people and connecting the dots in each department. This aspiration to achieve big and execute it with minimum friction makes IIM Trichy unique.
Which ABG company would you want to work for and why?
Working in OFSS gave me the exposure to explore the territories of the banking and financial sector. Hence, I joined IIM Trichy to pursue a career in Finance. With my aspiration in mind, I have just finished giving CFA Level II. Going forward, seeing the growth opportunity of ABCL, I believe that I will be provided with a great opportunity in the company. In the future, I aspire to become a leader in the field of integrated financial services which is aligned with ABCL's vision. So I would like to join ABCL to take a step towards my goals.
This article is written by Ashwini Kumar Goyal – Class of 2019