ASSOCHAM awards IFIM Business School for the "Best in Promoting Industry – Academia Interface" at National Education Excellence Awards 2015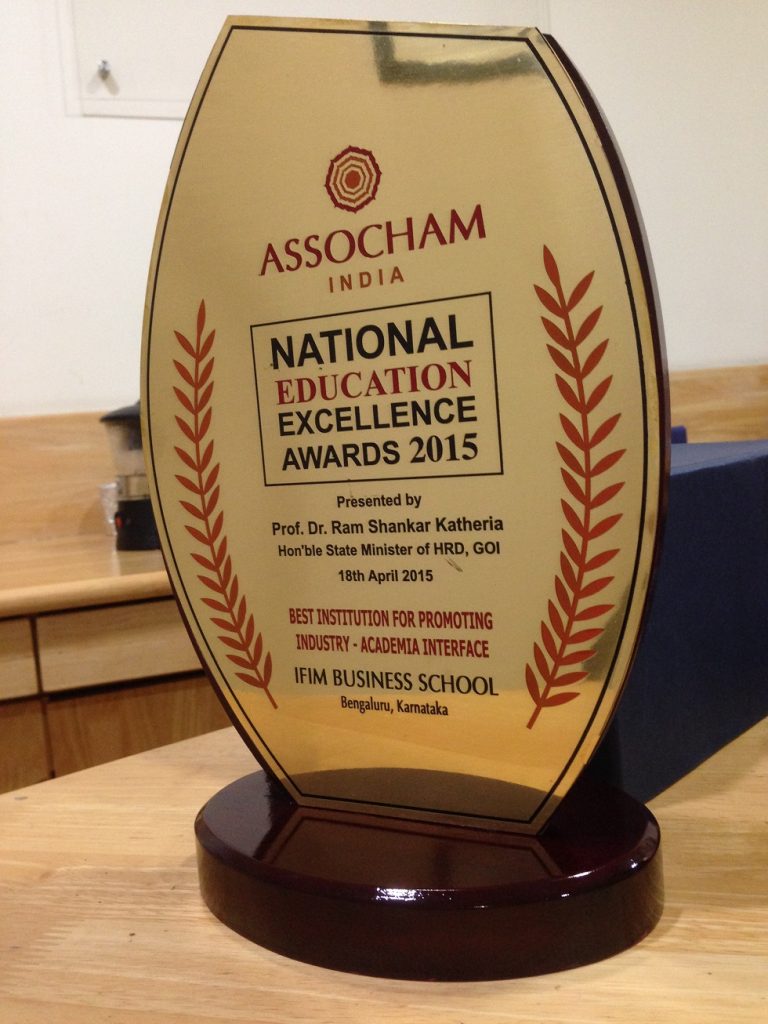 Bangalore, 20th April 2015 – IFIM Business School, Bangalore was awarded as the Best Institution for Promoting Industry- Academia Interface' at the National Education Excellence Awards 2015, organized by ASSOCHAM India. The award was presented to Dr Madhumita Chatterji, Director- IFIM B School by Prof. Dr. Ram Shankar Katheria, Hon'ble State Minister of HRD, GOI. This is the third time when IFIM Business School has won an award in this category, the first one being at the Indian Management Conclave 2014 and the second one being at Asia Education Summit 2015. IFIM Business School's Centre for Continuous Employability (CCE) enables the faculty and students to connect with the industry for enhancing the teaching and learning experience. The institute refreshes its curriculum annually and does a complete update once in three years. This is curriculum rehash is done with the help of industry experts post analyzing the impact of the learning outcomes year on year. IFIM Business School's unique Industry Internship Program (IIP) has enabled the institution to provide a laboratory to its students to apply their learning's in a real life scenario whilst doing completing their PGDM program.
Keeping in view the holistic and integrated approach taken by the Government in structuring the National Higher Education Policy 2015 with new steps and initiatives taken to strengthen quality in the existing institutions and universities, ASSOCHAM organized the National Education Excellence Awards – 2015 on the 18th April, 2015 at Hotel The Taj Mahal, New Delhi, to felicitate those with National Education Excellence , who have taken initiatives and contributed significantly in improving the quality of education, innovation, research and development. IFIM Business School was evaluated on various criteria including Innovation, Scalability, Ability to overcome challenges, Achievements and Impact Potential.
Dr Madhumita Chatterji, Director IFIM B School said "The need of the hour is creation of an employable workforce to harness India's demographic dividend. Bringing reforms in the existing education system that can deliver quality to meet the country's needs and take the Indian economy to a higher growth is of paramount importance. At IFIM we always promote the concept of having a strong Industry- Academia interface. The faculty and staff have worked to transform and integrate traditional classroom lectures with hands-on learning through regular interaction with corporates, IFIM Ascent Transformation series, and our award winning Industry Internship Program (IIP) and Personality Enhancement Program (PEP)"
—————-
ABOUT IFIM BUSINESS SCHOOL, BANGALORE: IFIM Business School, Bangalore is a twenty year old organization that has grown to be amongst the top ranked business schools in India. In recent times, IFIM Business School has taken a number of initiatives in collaborating with leading academic, research and corporate organizations for conducting Executive Education, Corporate Training, and Research & Consulting. It is one of the few private management institutes that have been approved to offer a PhD Program in Management. For more information about IFIM visit www.ifimbschool.com