Baazigar – Week 10 : Hyderabad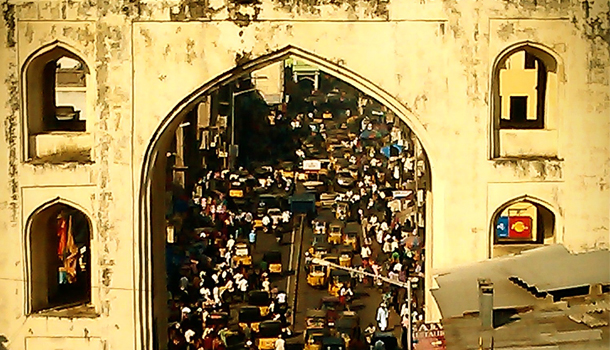 (For earlier posts on Kashmir, Amritsar, Mcleodgunj, Mussoorie,Delhi-Gurgaon, Mughal Sarai – Varanasi, Bangalore,Pondicherry click here : Baazigar Series)
Nostalgia is a powerful drug. It is what keeps the sports channels in business without any live coverage. It keeps the business of alumni reunions chugging along for years after people have passed out and realized nothing in their futures will match their pasts. It is a sure-shot money-spinner at the box office, making up for lack of a plot and a script. It keeps marriages alive for years after they have actually been dead. It makes grown men cry, several miles and years away from their homes. Nostalgia runs entire cities, countries and continents.
And I am an addict. I partake and endorse this drug in everything I do. Travelling can be for several reasons but for me the primary reason I travel is to witness full-bodied nostalgia. It is, then, little wonder that I enjoy walking through old cities for days and days. I have seen older parts of most of the major cities of our country – Mumbai, Delhi, Ahmedabad, Japur, Lucknow, Bhopal, Chennai, Bangalore and Kolkata. I came to Hyderabad with a certain cynicism on what different could it possibly offer. But Hyderabad is perhaps the most unique of all these old cities.
My opinion of Aakar Patel has alternated between admiration and disgust for the last year or so. There are times when he draws such insightful conclusions from things around him that I am astounded at his astute observation. Then there are times when he is downright prejudiced and flawed in his pronouncements. His article on why he liked South India more than North India in Mint lounge is a terribly biased article. It irks me particularly that he thinks south Indian culture is better because it hasn't been adulterated by Muslim influence. Clearly, he doesn't think Hyderabad to be a part of the south as here nothing is untouched by that supposed adulteration. It's the coming together of the Muslim and Telugu culture, the traditions of the ruler and ruled, that makes Hyderabad such a fascinating city. The Hyderabadi Hindi, with its Urdu as well as Telugu influences is a prime example. I don't think I have heard a sweeter, richer, more engaging version of colloquial Hindi. It's the sort of language that the tongue longs to emulate.
This coming together of influences also gives us that one culinary delight that seems to enrapture everyone of my non-vegetarian friends. I had the good fortune to visit the kitchens of the famous Paradise Biryani just south of the Musi River in Secunderabad and be given a guided tour through the cooking process. For a vegetarian like me, it was an experience which tested my ability to get over the smell and really keep my sanity in there. The sight of meat being marinated and cooked is not one for a faint-hearted vegetarian indeed! The cook was kind enough to explain to me the several differences between a normal Biryani and a Hyderabadi one. The most important being the heavy inclusion of curd in the cooking of the Hyderabadi one – an obvious influence of the south. He was such a wonderful guy with his Hyderabadi Hindi and filmy analogies – with reference to my weight, he said we both were more of the 70mm type than the 35 mm type and hence the kind of guys who could polish off a Biryani single-handedly. The experience at the Karachi Bakery of the Karachi biscuits coming to life was far more pleasant and reminded me of my many childhood days spent playing cricket at my grandmother's place right next to the Parle factory in Bombay.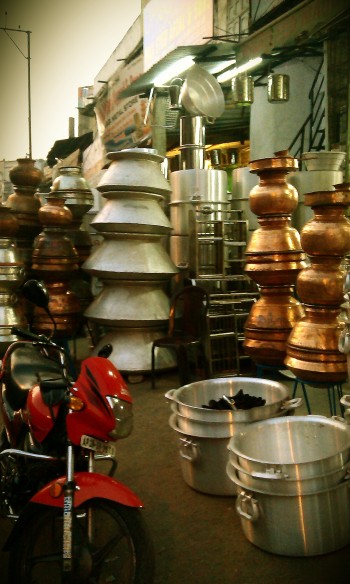 Pic 1 – No prizes for guessing what's this city's favorite dish
The area around Charminar is the heart of the old city of Hyderabad. It is also a portal to the past. There are lines and lines of bazaars peddling jewelry, footwear, sarees and many more things. There are things being sold here that you would have thought should have belonged to the 19th century. There is a constant rhythm to these markets from the shops selling warqs – the edible silver coating for sweets, savouries and meats – because of the many workers pounding away on the silver there. There are shops selling manjas and kites as if there is still a market for them in today's Xbox world. There are street side vendors selling pearl necklaces at as low as 20 bucks a pop and exotic coins to curious travelers at 50 bucks a pop. When you see the city from the top of the Falaknuma Palace, you would be forgiven to mistaken this as good old Nizam's realm even today. When the sounds of the Namaaz fills up the evening air, even as millions of people below heckle away for their little piece of history, it is easy to know what it would have felt like to be a guard in Nizam's army stationed on top of the Charminar, gazing at the madness ensuing all around him.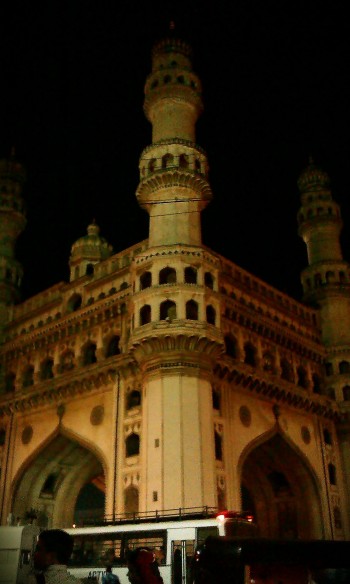 Pic 2 – The charming Charminar
But of course Hyderabad is much more. It is also an epitome of what happens when leaders work for the rich 10% of the population and neglect the remaining poor 90%. It is a reminder that there is a movement for a Telangana brewing in every part of this country if this economic divide isn't bridged with balanced development. Nostalgia, as Alfredo said in Cinema Paradiso is thus a scary addiction. However much we may romanticize these old cities, they are at best a reminder to the city's affluent how the rest of the 90% of this country is living and at worst, dirty slums, deficient in the most basic civic facilities, places whom the state simply forgot to take along with itself in its wave of modernization. Nostalgia may give you a high but it is, after all, an escape. Delusions of past grandeur can never make up for the sapping deficiencies of the present. My story also revolves around this theme of nostalgia, where a BBC film-maker seeking sepia-tinted exotica suddenly stumbles upon the dreary truth of today's India.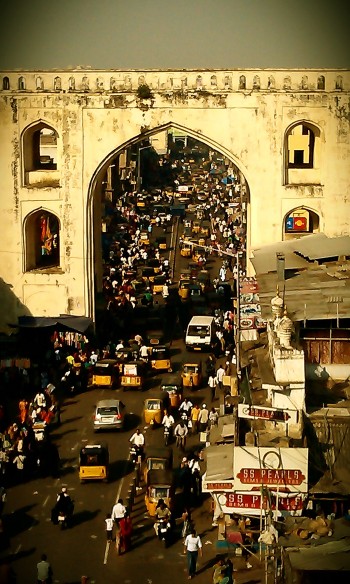 Pic 3 – The sepia-tinted old city of Hyderabad
I move to Puri tonight in search of long, pristine beaches, all-pervasive religion and some mind-numbing architecture. I have extended my Phase 2 to include Kanha National Park, Madhya Pradesh as well.
P.S. – I was watching Life of Pi and realized exactly where it was shot in Pondicherry. Similar things have happened while watching many recent movies like Jab Tak Hai Jaan (Pahalgam), Son of Sardaar (Punjab) and Talaash (Pondicherry again, yes!). I hope there will be a time when I would have seen so much of this country that I would be able to guess the exact location of every scene shot in our films – a wonderful side-effect of my current endeavor.
– Kunj Sanghvi
(Kunj Sanghvi will be writing about his experiences in each new city every week on InsideIIM.com. At various junctures on this trip, he'll be found working over cups of coffee in coffee shops across the country. He'd love to meet, talk, discuss with anyone who'd care to meet him; just to know the city and its people better. Follow him on twitter here – @kunjsanghvi. He blogs here.
About Kunj – Kunj Sanghvi is a B.Com graduate from Narsee Monjee College of Commerce and Economics and MBA from Mudra Institute of Communications, Ahmedabad(MICA). Prior to plunging into this adventure he was a Senior Manager at Hindustan Times. He has also worked with whatsonIndia.com in the past. )
You may be interested in :
Results of the InsideIIM Recruitment Survey 2012