Baazigar – Week 11 : Puri
(For earlier posts on Kashmir, Amritsar, Mcleodgunj, Mussoorie,Delhi-Gurgaon, Mughal Sarai – Varanasi, Bangalore,Pondicherry, Hyderabad click here : Baazigar Series)
We have a tendency to slot everything into a hierarchy. Our thought structure is more vertical, where every person, place, experience, emotion and achievement is slotted into a level based on our judgement, biases and perception. So overbearing is this tendency to place everything into a level on a continuum that we sometimes take liberties to homogenize things which, prima facie, don't belong on the same line at all.
So Puri becomes a poor man's Goa and Varanasi rolled into one. Orissa becomes a poor man's West Bengal with apparently similar culture, food and topography. But try and stop slotting everything on the same line. Assume there are more lines – the only commonality between whom is that they belong on the same plane – India. And places will reveal to you what you would have otherwise missed in your desperation to homogenize.
Every beach city doesn't have to fall on the same line as Goa. There is no need for beach cities to always do the same things and hence be determined a level on the same line with Goa at its pinnacle. You don't need shacks, expensive water sports, hippies smoking, foreigners sun-bathing and David Guetta's music to enjoy a beach. Puri has one, single continuous beach which extends right upto Konark, 35 kms away. In between the two cities lies 30kms of virgin, lonely beach. At one end of the beach you can witness the sun rise and the sun set at the other. It is so lonely that all you can do is play games with the waves. Walk along the coast for hours with not a soul in sight, teasing the waves to come touch your feet and seeing who wins. The crabs go scurrying away at your very sight and the ebbs and surges of the Bay of Bengal almost synchronize perfectly with your Coldplay playlist.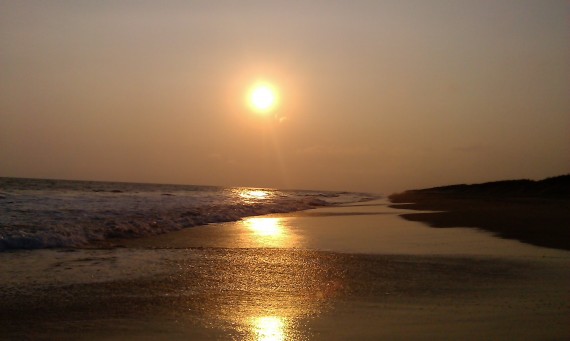 One of the many sunsets I was fortunate to have witnessed
Neither does every lake need to fall on the same line as the Dal. The Chilka lake is a unique little water body. The journey from Puri to Chilka in itself is an enriching experience. The sheer poverty of the state affords one the chance to see miles and miles of untouched forests. They tell me here most construction companies don't want to develop in Bhubaneshwar, let alone the rest of the state. As the bus goes along at its leisurely pace, suddenly you will discover tiny ponds springing into view out of nowhere with pretty flowers growing in them. The lake itself is no haven for shikara rides. They have basic motor boats but the views of the forests and the Bay beyond them are stunning in early foggy winter mornings. It is a different matter that they have managed to create their own brand of a shopping mall here. The boatman will take you from island to island in the lake – each offering you something new to take back as a souvenir – prawns, crabs, oysters, sea weed and pearls. What's more, the famed dolphins in the lake are also trapped in specific enclosures marked by nets so that the Bengali government employee who has come for his yearly holiday with his family doesn't have to scour the massive lake all day to sight that one dolphin. Such is the impact of socialism here that right next to the lake, the restaurants also have a quota system – each restaurant is allocated passengers from two tourist buses. Your tourist guide will ensure you book your lunch in your allocated restaurant before you embark on your 4 hour boat ride.
Orissa is also the land of the famed Kalinga kingdom. It was here that Kaurawki taught Asoka a thing or two about this imperialistic and linear thought process that led him to violence and destruction – Buddhism gave him the option to change the continuum he belonged to – find greatness in a different way.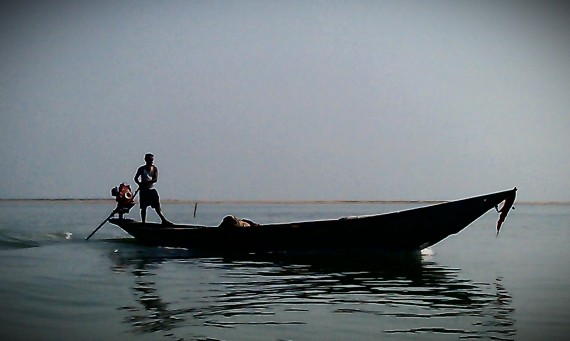 The lake and the boat
The Konark temple is majestic and a wonderful ambassador of the Indian culture to foreign tourists. However I wonder if any middle class Indian is going to rid himself of his prudishness towards sex and related topics simply by visiting the temple. It simply stands as a reminder of a once open-minded culture.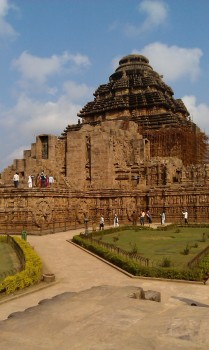 The Konark temple
Religion is at the center of everything Puri does. Krishna is the most important God and smalls and big temples dot the length and breadth of this town. It might well be the only religious beach town in our country. People are extremely religious and strict followers of that one immovable linearity of our our brand of Hinduism – the caste system. None of the shopkeepers take money from my hand. Some insist I dont pay money by my left hand. Others wear their caste on their sleeves and their hairstyles and their clothers. Its ironic that the most popular temple of this town is actually dedicated not to a Hindu God but to a pagan symbol – the Sun.
As city kids, we believe that every person would love to live in a Bombay if he had the option – that they settle in a Puri only because they don't have a choice. But there is something even more deep rooted. We believe development to be a single line where people like us are higher. My issue is that the development we are talking about is economic, which is, in fact a single line. But development means different things for different people – sometimes it's just a question of dignity, respect and an acknowledgement of their way of life. The adivasis of Orissa, which make up 25% of its population, want basic things like electricity and connectivity, but beyond that they want to be left alone to their way of life, their belief systems and their way of perceiving prosperity. If as a nation we can stop dealing in absolutes and find place for a parallel narrative of the tribals as well, we will do well to have contributed to their development. My story is based on this theme with a dash of magic realism added to it.
I now move to Dantewada, in the heart of South Chambal – home to Phoolan Devi, Paan Singh Tomar and the current Naxalite movement. If things go as planned, this may well turn out to be the crown jewel of my journeys so far.
P.S. – I seek relationships which cannot be defined by a simple word – relationships that cannot be slotted into our tiny little boxes. I spent a memorable evening at the Konark beach with a Japanese student of Hinduism. Blockbuster conversations cannot be planned, staged or predicted. They just happen and knock the wind out of you. Just when I had left for Bhubaneshwar, she sent me this pic below as an option for my book cover if anything else doesn't work out. Thanks Ki, for that sunset, that conversation and this pic.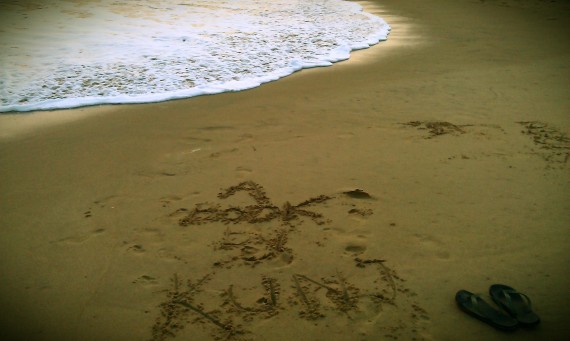 The cover of a book which has not even been written yet!
– Kunj Sanghvi
(Kunj Sanghvi will be writing about his experiences in each new city every week on InsideIIM.com. At various junctures on this trip, he'll be found working over cups of coffee in coffee shops across the country. He'd love to meet, talk, discuss with anyone who'd care to meet him; just to know the city and its people better. Follow him on twitter here – @kunjsanghvi. He blogs here.
About Kunj – Kunj Sanghvi is a B.Com graduate from Narsee Monjee College of Commerce and Economics and MBA from Mudra Institute of Communications, Ahmedabad(MICA). Prior to plunging into this adventure he was a Senior Manager at Hindustan Times. He has also worked with whatsonIndia.com in the past. )
You may be interested in :
Results of the InsideIIM Recruitment Survey 2012