Baazigar – Week 4 : Mussoorie
(It is Friday and it is time to hear from Kunj on his unique journeys! All of you who wish to know the background to this 'Baazigar' column on insideIIM.com please read here)
For earlier posts on Kashmir, Amritsar and Mcleodgunj, click here : Baazigar Series
It's been exactly a month now since I began this thing and truth be told, its mostly been a cakewalk. You psyche yourself so much that you over-prepare and things go very smoothly to lull yourself to familiarity and comfort. I know things will only get tougher from here though. I also know the law of averages will strike back sooner or later but as of now I am on top of my game. I am doing newer things, taking bigger risks, and weaving smarter stories – well, all writers are narcissists!
After Mcleodganj, there couldn't have been a more different hill station than Mussoorie. It is the quintessential Desi hill station, with everything geared to please the Indian family/honeymooner on a budget. But it is also a hill station stuck in time. There are a million signs pointing to this. The shops here have those espresso machines that were abandoned by the rest of the country a few decades ago, there are photographers still trying to convince tourists that they can take better photos than their iphones can, there is Kashmir-style shikara boating in an artificial lake as big as a swimming pool, there are old Kishore Kumar/Mohammad Rafi songs blaring from old speakers in every restaurant, garden, street corner, there are people selling cheap chatpata popcorn and there are non-functioning Raj-style wrought iron street-lights all along the road with full functional modern aluminum street-lights right next to them. You can see it in who is enjoying this place the most too – aged families, low budget honeymooners and broke teenagers – people that most marketing companies won't touch with a pole.
Chic Chocolate – one of those cafes fighting the battle for remaining cool and relevant
But if travelling teaches you one thing, then it is that you are never too far away from paradox. So you will find peace close to a disputed, violent region and crime close to a religious, spiritual city. I found sepia-tainted nostalgia close to the archaic and obsolete. And even though both relate to the past, full-bodied nostalgia can never really get obsolete. Landour is the highest point of the Greater Mussoorie area. It is also the cleanest, greenest and serenest part. It is an old Raj-style resort with quaint little bungalows, cafes, schools and churches sprinkled all over the hill. The British Govt and subsequently the Indian Govt. imposed strict restrictions on any new constructions in this area and hence this place has retained its charm. While Mussoorie needs its speakers for its music, Landour just sits and stares back at you, and the music just plays in your head. The panaromic views of the Lal Tibba, Nag Tibba, etc are breath-taking and in the late afternoons, as the swirling mists engulf you, one cant help but thank the Gora's for discovering this place. I promise myself everywhere I go that someday I will build a holiday home here, but at Landour, I will spend all of my last years. And when I'm dead, I will be buried at the old Soldiers Cemetery on the northern side – in the middle of the woods – amidst dead people more than a century old – with tombstones on which there is poetry by John Milton and Robert Frost.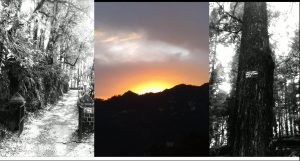 Landour in all its resplendence (Click to enlarge)
Only, my tombstone will have poetry by Gulzar. The Landour Language School is a landmark that we Indians seem to know little about. People from all over the world come here to study Hindi, Urdu, Punjabi and Sanskrit. I met a guy from Canada who was doing his PhD in political communication in Indian forests wanting to learn Hindi, a Brazilian trying to learn Punjabi to do a better job at her research on luxury consumption in Ludhiana and Jallandhar and a German-Indian who was tracing back her mother's roots in India. I wanted to check if there was some short course available in Urdu because the language has always fascinated me. The professor asked me why I wanted to learn Urdu and I told him I was a big fan of Gulzar's poetry and I wanted to understand it even better. By the time he was done with me, I realize I knew nothing about Urdu to warrant my being a fan of Gulzar! The professor taught me Urdu through Gulzar's poetry. For 3 days, I was lost in such words like Ehtmaan, Mazmoon and Tasdeek, even as the winds were billowing outside in the coniferous jungles. It was one of the best decisions of my trip thus far to have taken this course and met these interesting people. It always makes me wonder if we Indians are missing a trick with our education. What's missing is the ecosystem that encourages one to pursue something on a whim and then converting it into a passion, or as Gulzar puts it, a Fitoor.
I hate to admit it but I have never seen a full-blooded Raavan Dahan. InBombay, Dussehra is not very big. I saw my first Raavan Dahan in Mussoorie trying to explain Firang friends what was happening channeling all my Ramanand Sagar taught knowledge. At the town square in Library Bazaar, the Raavan Dahan was scheduled for 7:30pm but the crowds had begun to congregate much earlier. Even then, at 7:15 I told my friend this promises to be a fairly civil affair compared to what I was expecting. I thought a Ram will emerge from the crowd at 7:30 with a flame and light up the Raavan and we shall be done with it. But at 7:25, a quiet murmur arose at the other end of the road which transformed into a bellowing crowd as it drew nearer. You see, I didn't know that the main crowd accompanies the 10 or so trucks carrying the various Ramayana characters in costume as they enter the town square. There was Garhwali music blasting from the speakers, essentially extolling good's virtue over evil. Now the noise rose to a crescendo as Ram and Laxman entered with Hanuman and Sita in tow. In no time, Ravana was on fire and good had won against evil. Little kids on their father's shoulders had their hands in the air celebrating the victory. Little kids holding their mom's hand with one hand and a sword/mace/bow-arrow on the other were joyous and overwhelmed at the same time. It was a spectacle, alright. But it works if it can inspire kids to fight real evil when they grow up.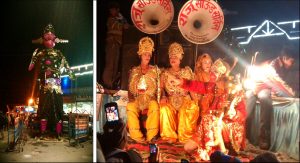 The Raavan Dahan spectacle (Click to enlarge)
At the foot of Landour is the Landour Bazaar which is a cheap copy of the Mall road but it has one shop which just makes up for the rest of the Bazaar's tackiness. It is called Sabri's. It is a shop where you get transported to a different age because everything there is atleast 50 years old. And yet, everything shines so wonderfully that you feel you were born in the wrong era. Maybe all that used to glitter has gone by already. It had antique cuckoo clocks, whiskey flasks, compasses, English tea-sets, paintings and books. The place was brimming with stories. Every item there would have seen so many stories in so many years!
Amidst all this, my inspiration came from a painting of a woman of a bygone era and an old placard of Hindustan Times that one of its editors had stolen from its Delhi office when he retired. I created the woman's past and present and that's what my story traces from the viewpoint of her newspaper editor son.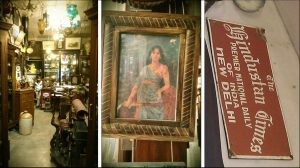 The store, the muse and the inspiration (Click to enlarge)
It is my last day in the Himalayastoday. I have spent 22 of the last 30 days lost in the mountains and I know even a lifetime of this is insufficient. I wonder why people like looking at mountains so much. I guess I like it because there is singularity at the peak. From wherever you look, you feel like a mountain can have only one person at the top. Much as how it is with life. There can always be only one person at the pinnacle of anything. It inspires me to be that person. It is what inspired Hrithik in this scene from Lakshya.
Off to Delhi now – the Zeenat Aman of Indian cities – it has the 'adaa' of a courtesan and the spunk of a street-side loafer. After Bombay, Delhi is the city I love the most. The challenge will be to come up with something different about a city that is appearing so often in popular culture these days. Should be a heck of a ride!
(Kunj Sanghvi will be writing about his experiences in each new city every week on InsideIIM.com. At various junctures on this trip, he'll be found working over cups of coffee in coffee shops across the country. He'd love to meet, talk, discuss with anyone who'd care to meet him; just to know the city and its people better. Follow him on twitter here – @kunjsanghvi. He blogs here.
About Kunj – Kunj Sanghvi is a B.Com graduate from Narsee Monjee College of Commerce and Economics and MBA from Mudra Institute of Communications, Ahmedabad(MICA). Prior to plunging into this adventure he was a Senior Manager at Hindustan Times. He has also worked with whatsonIndia.com in the past. )
You may be interested in :
Results of the InsideIIM Recruitment Survey 2012