Baazigar – Week 6 : Mughal Sarai – Varanasi
(For earlier posts on Kashmir, Amritsar, Mcleodgunj, Mussoorie and Delhi-Gurgaon click here : Baazigar Series)
One of the main reasons why I liked Skyfall as much as I did was because it gives us a perspective on technology. While we all love the internet and the things it can do for us, it clearly shows that we really don't know the limits of its possibilities – all that software is so boundless in its potential that we wouldn't know when it begins to cause more harm than good. Strategically, it is always smarter to fight a battle where you understand and control the variables, rather than fight in cyber-darkness. That said, I owe a big debt to technology on this trip as it has aided me all along in places which I didn't know much about. It has helped me navigate, plan, eat, visit, create and capture. Like everything else, technology in the right dose is a blessing. But when it becomes the solution for that upper class affliction of our age – boredom, that's when the problem begins.
There is some sort of a curse put on every region across the world which is naturally endowed with a lot of resources. These regions are invariably poor and have endured generations of exploitation and persecution. It could be Africa or the Amazon or, closer home, the Indo-Gangetic plain. The British thought the plains were the most fertile region in the world but you don't see that anymore. You see poor villages and dirty cities. You see politicians and bureaucrats sucking the life out of this region – not that its any different in the rest of the country.
The most important tool of this exploitation is caste. Manmohan Singh, in one of his bouts of brilliant articulation, said that caste is India's apartheid. In a state which is home to 200 million people, almost 18% of India's population, caste is something that defines everything even today. I read in school about Raja Ram Mohan Roy and so many others who supposedly led the Indian Renaissance, fighting for overthrowing caste and Sati and child marriage – well, the bad news is, the Indian Renaissance has still not come. In the holiest of cities,Varanasi, even today every man's social circle, his eating choices and his profession are all defined by his caste. The politics is all caste-based and hence national parties like BJP and Congress are non-entities in this state. BSP corners the Dalits, Buddhists and Brahmins, while SP holds the cards for the OBCs, Muslims, etc. I wish there comes a day when we don't discuss politics at a tactical level; a day when talking policies and ideologies wouldn't be considered idealistic. Political parties created on the basis of caste can never take us forward – even if the one with the lower caste vote bank wins.
While the plan to create a story at the Mughal Sarai railway station failed gloriously,Varanasi did throw up some fascinating possibilities. I guess once you take the difficult step of venturing out and trusting people, things start happening to you that would have never otherwise happened. Somehow, your luck changes. I was fortunate enough to have a very interesting conversation with a prostitute here. She was young – should be in her early twenties. We watched Omkara in the hotel reception and she tried to explain some of the lines to me. Then she saw my laptop and asked if I had a facebook account. She wanted to see some of her friends' profiles. I agreed hesitantly and we looked for some of her friends. All those hours searching for profiles of women my parents wanted me to meet for arranged marriage had honed my skills of facebook stalking. She then asked me for a favor – to create a facebook profile for her. In the course of creating the profile, I came to know that among other things, she loved Hrithik Roshan ("Kya body hai, Sir!") and Madhuri Dixit ("Kya dancer hai, Sir!") and many more things which made me wonder how facebook had bridged two very different worlds. Maybe, facebook helped me realize that our worlds weren't that different after all. I felt guilty for the discomfort I felt around her. I felt that for all the people I had trusted so far in my journeys, without knowing their professions, here was a person who had opened up to me and I still wasn't able to implicitly trust her. I guess, a little bit of the caste system is embedded in each of us.
But we weren't done. She offered to take me to Manikarnika Ghat to meet some of the Baba log there who chill all night, smoking chillum and singing songs. I hesitated again, but mustered the courage to go along. So there I was, in the middle of the night, chilling with men who perform the last bath for dead bodies, all of them smoking chillum and talking in their sweet Bhojpuri dialect about stories from their villages and their daily trials. I was allowed to sit with them only because I was a Jain and didn't really fall anywhere in their system. They had been doing this particular job for generations. And they planned for their children also to do the same. A little away from us, a group of boatmen were huddled together, essentially doing the same set of things. As the dawn came, the stoned baba log went off for a nap and a bath and I went over to the boatmen who took me to the middle of the Ganga to witness the sunrise. That night still feels surreal!
Pic 1 – The Ghats at sunrise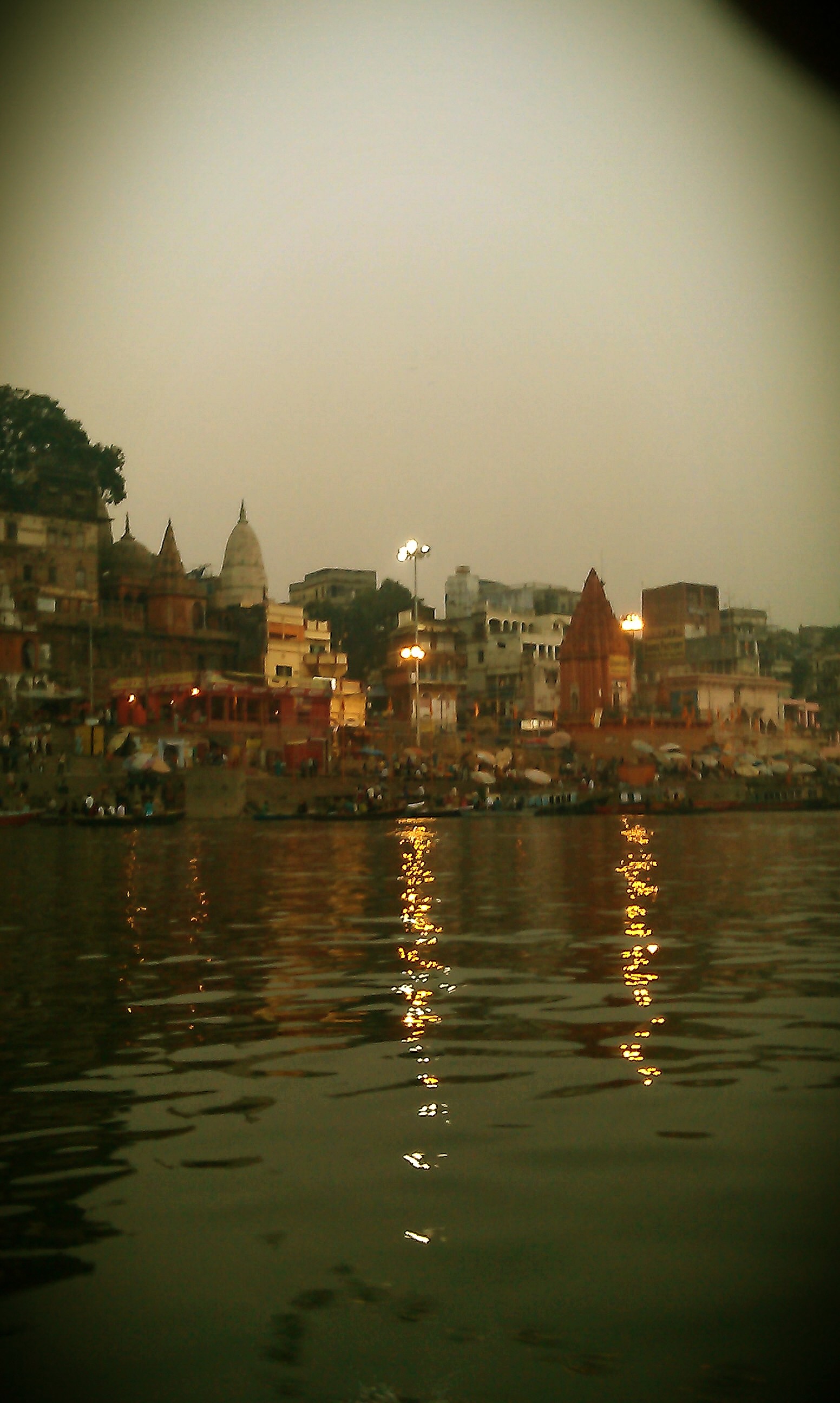 And so does Varanasi– a religious city with everything in excess. An excess of people, roadside filth, unkempt sweet shops, unattended livestock, tattered cycle-rickshaws, ramshackle chat stalls and, strangely, South Indian restaurants making painfully terrible food! Market places dissolve into temples and temples dissolve into market places. There are temples with markets inside them! Everyone has something to sell in the name of God. There is the mass of poverty-stricken Hindus, the trickle of prosperous Jains and the handful of confused Buddhists in this Jerusalem of India. There are about a million ways to find virtue in this city – at the Ghats, at the temples, at Sarnath, at Bhelupura. I found it nowhere. I finally found it in creating a facebook profile for a prostitute and watching her smile as I took her photo for her profile pic.
Pic 2 – A rickshawala takes a nap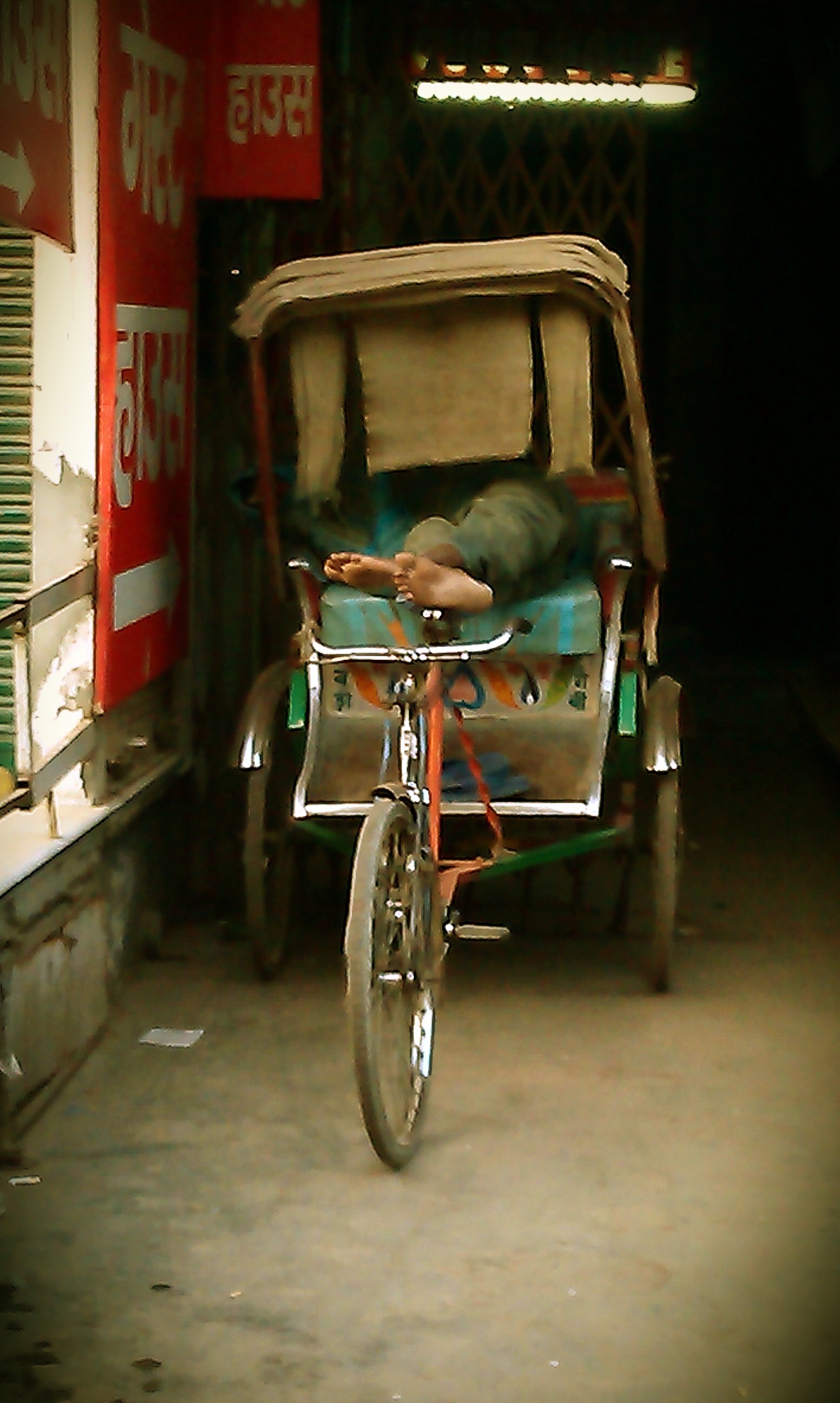 Off to Bombay tonight for the first pit stop and I need it really badly. I want some familiarity to feel comfortable and be myself for a few days. I want to meet family and friends and catch Jab Tak Hai Jaan and eat awesome Bombay food and sleep in my own bed and step back and look at the job done so far.
I will be writing from my favorite city in the whole wide world, next Friday.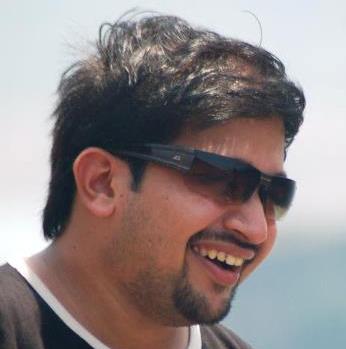 (Kunj Sanghvi will be writing about his experiences in each new city every week on InsideIIM.com. At various junctures on this trip, he'll be found working over cups of coffee in coffee shops across the country. He'd love to meet, talk, discuss with anyone who'd care to meet him; just to know the city and its people better. Follow him on twitter here – @kunjsanghvi. He blogs here.
About Kunj – Kunj Sanghvi is a B.Com graduate from Narsee Monjee College of Commerce and Economics and MBA from Mudra Institute of Communications, Ahmedabad(MICA). Prior to plunging into this adventure he was a Senior Manager at Hindustan Times. He has also worked with whatsonIndia.com in the past. )
You may be interested in :
Results of the InsideIIM Recruitment Survey 2012