Baazigar : Week 7 – Pit stop – Bombay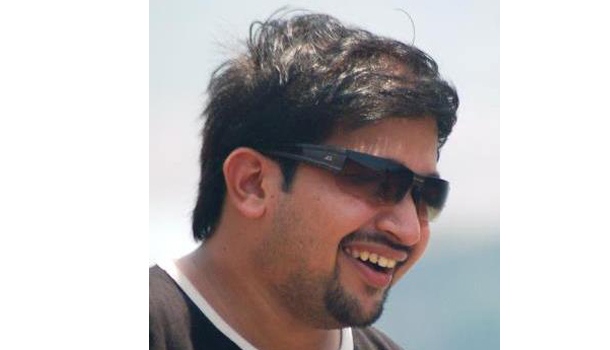 (For earlier posts on Kashmir, Amritsar, Mcleodgunj, Mussoorie,Delhi-Gurgaon and Mughal Sarai – Varanasi,
click here : Baazigar Series)
Jason Bourne is the coolest spy I have read about. Maybe it's a comment on my poor reading choices, but the dude had so much depth – stripped of everything but his instincts – no memory, no family, no resources – he took on the CIA and a million other agencies across the world only with his instincts. And yet he was so real – the vulnerability writ large on his face and the memory of past trauma tormenting his troubled mind even today. This Robert Ludlum series had one line which I abide by even today in whatever task I take up. I believe it makes me smarter, stronger and keeps me away from attempting foolish heroics. "Rest is a weapon."
I ensure I am never devoid of sleep, whatever I am doing. After a 6 to 7 hour sleep, I can write/work/study all day long with very high productivity.
And that was the mantra for my first pit-stop here in Mumbai – To rest the mind and body; rejuvenate before another round of trains and buses and dirty guest houses begins. But I failed terribly. I haven't been able to clear my mind and rest properly at all in the last 5 days I have been here. There has been acute restlessness to get on with things coupled with an acute foreboding to not step out again – a sort of a limbo where the mind is stuck with no way out.
It didn't help that Bombay behaved the way it did. First there was the Diwali and the obvious madness that ensues with no regard for people's safety and peace. It was a constant noise fest in which an already polluted city became murkier and dreary. Then, Bombay handed a political leader a tribute even before he was dead. It is rare that a man gets to see exactly what legacy he is leaving behind him – how his life's work has changed the city irreversibly. Bombay showed Bal Thackeray that it is scared – that it trembles in its boots simply by the rumor of him passing away. The city came to a standstill on Thursday, and for no reason but fear. International food chains, huge corporate offices and banks, schools and colleges across the city kept their shutters down out of fear of what the party-workers might do – that if they weren't appropriately mourning his impending death, the party-workers would ensure that they do, and more. I remember so many people turned up at work in local trains the very next day after 26th July 2007. It is stupid to admire Bombay's courageous 'spirit' – but it is worse to not be appalled that the small businessman is so scared stiff that he would rather cower at home than earn his two square meals. So the party-workers can all rejoice that we all will be mourning at our homes – but for the demise of this city and not its notorious feudal lord. (This article was written on 16th Nov 2012. One day prior to the death of Mr. Bal Thackeray)
Other procedural difficulties have arisen because of which I have to change my route for the Southern sojourn. It will now go as below:
18th Nov to 25th Nov –Bangalore
26th Nov to 2nd Dec –Pondicherry
3rd Dec to 9th Dec – Hyderabad-Tirupati
10th Dec to 16th Dec – Dantewada
17th Dec to 24th Dec – Puri
Amidst all this, something else happened which made me return to being the eternal optimist. All this talk about personal and professional being two separate things is bullshit; and for a writer especially, how he is feeling personally has a big impact on what stories he would want to tell. I have been accused of being a hopeless romantic by friends but it used to be considered rather un-cool so I have vehemently denied it. But now as things come to pass, I have to admit I am one. We tend to under-estimate the power of conversations. A sparkling conversation with someone unknown when it is least expected can trigger so much excitement, so much anticipation. The possibility of many such exchanges in the future can impact what color your glasses are when you look at the world around you. I am ready to get on with it and resume this journey of discovery, taking 'baby steps' towards becoming an able raconteur.
P.S. – Here is something I have created at the end of the first phase. It shouldn't be seen as the extent of endurance I have undertaken, but as a reminder of the immense possibilities I have encountered in my search for stories.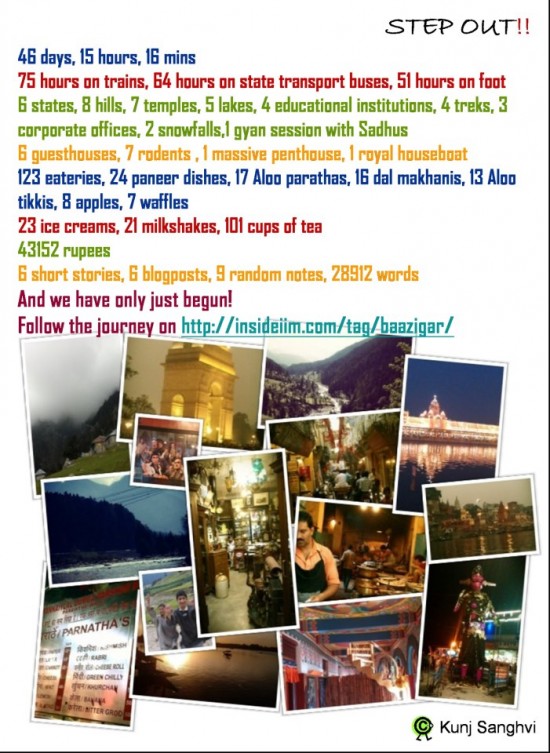 (Kunj Sanghvi will be writing about his experiences in each new city every week on InsideIIM.com. At various junctures on this trip, he'll be found working over cups of coffee in coffee shops across the country. He'd love to meet, talk, discuss with anyone who'd care to meet him; just to know the city and its people better. Follow him on twitter here – @kunjsanghvi. He blogs here.
About Kunj – Kunj Sanghvi is a B.Com graduate from Narsee Monjee College of Commerce and Economics and MBA from Mudra Institute of Communications, Ahmedabad(MICA). Prior to plunging into this adventure he was a Senior Manager at Hindustan Times. He has also worked with whatsonIndia.com in the past. )
You may be interested in :
Results of the InsideIIM Recruitment Survey 2012