'Balance Makes A Person HAPPIEST'- Mounika, First Year MBA Topper at IBS Business School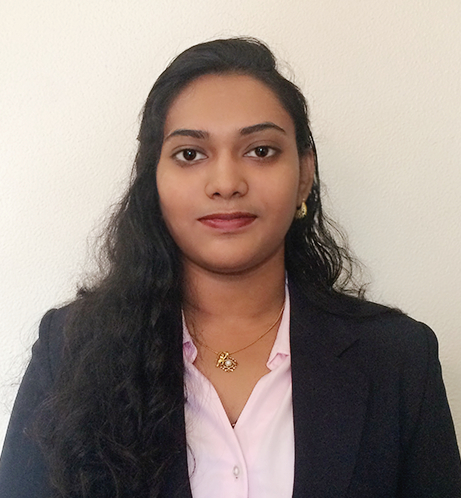 We  bring to you an interview with Mounika, the first year topper from IBS Business School, Mumbai (2014-16) below-
Brief Introduction:
Mounika Spoorthi Venati is currently pursuing PGPM (Majors HR & Minor Operations) and MBA (Majors HR & Minor Marketing) 2 years program from IBS Business School, Mumbai. Apart from these 2 courses I'm also pursuing full time M.Com Part II (Advance Accounting) course from Mumbai University. She has been a gold medallist of her college (SM Shetty – TY boards) during her  Graduation of batch 2013-2014.
1. Tell us about your educational background. Why did you decide of pursuing MBA? Why did you choose IBS?
I have done my graduation in BMS from SM Shetty College, Powai.  MBA is a platform to enhance your professional skills; according to me every person has to go through a full time PGPM or MBA program to enhance their knowledge and it's a different kind of environment all together to enhance your skills for being an all-rounder and a successful manager. I have known IBS since a long time, my seniors from graduation have pursued their MBA and PGPM from IBS. I knew that the faculty was supportive and well-trained; they have a good premises and library facilities, that's how I got into IBS.
2. "To be one amongst the toppers of my batch"- was that a strategy from day one of B- School or something that evolved eventually? 
It's very simple, don't leave even a single class without learning a new thing, life is all about learning new things and exploring new opportunities in all aspects. Jot down important points and attend lectures, you don't have to really study at the last moment. Always maintain a daily calendar or a checklist in case if you have any kind of evaluations it helps as a reminder.  A daily revision of 10-15 mins for next class will help to have grip over the subject.
3. Walk us through your academic journey in the first year – How did you pace yourself academically in the first, second term?
Since 1stsem I always wanted to be the one who is recognised by everyone and I always wanted to do better and better day by day …. In fact I took it as a challenge, I had a lot of problems initially with few technical subjects like IT, Maths (as I had done BMS and we focused more on theoretical managerial concepts and case studies and didn't focus much on technical aspects) and most of my classmates were engineers. It was a tough time to sustain amongst them, it was definitely a challenge.  Regular practice of 30 mins and little reading helped a lot. It's not only about scoring but it's very important to maintain the score.It's all about balance.
4. What is the contribution of your Professors/ college in your success?
I definitely dedicate my success to my parents and professors for their constant support, I had an amazing experience with IBS, and the faculty is well trained they conduct classes professionally and their prime focus is on constant development of students. Every professor has a different style of teaching, even as student you can understand that there are different ways in which you can learn and they had helped me a lot to think in a different angle all together.
5. Tell us about the most interesting experience that happened in the last one year that changed your outlook towards the B-Schools studies.
I'm a very task-oriented person, what I learnt was its very important to be a people's person as well apart from task orientated, just stressing on a task especially when working in teams generally makes people think that they are burdened, then I had to understand how teammates are… then for sometime, I had to analyse what would they like to do and ask them how to do and what else they would like to incorporate, this interaction with teammates and seeking suggestions brings a lot of enthusiasm and quality participation amongst the group. I learnt the importance of team spirit which is necessary for achieving a common goal, after all management is all about group activity and not an individual play. That was something which was really interesting to me.
6. If you were to go back in time and change one thing about the last year, what would it be?
There is nothing that I want to change I believe that everything that comes in your way is a challenge or rather I call it an opportunity to explore …. Face it and make something great out of it you will be a better and a self-satisfied person.
7. B- School is mostly about group activities. Were you used to this kind of team endeavour's or was it a new experience for you? How would you rate your performance during the team activities?
Yes, I have been an introvert person earlier but group activities are very important to understand what kind of a person you are (it's a test of understanding how people are their behaviour's, their abilities, what their commitment levels are, it definitely a test of patience hahaha… A group can help you to bring out new hidden talents. I play a lead role when it comes to group activities. These activities bring a lot of understanding about group dynamics and develop a lot of confidence in handling any kind of situation, confidence to put forth your point, controlling deviations, enable all members to focus and participate and knowing their point of views. My performance during team activities has helped me to be an extrovert and a person who is dynamic and capable of handling people& conflicts and lastly to successfully complete a task on time.
8. Tell us about your summer internship.
My Summer Internship was with Glenmark Pharmaceuticals Ltd.  for 3 months as HR associate, it was a great opportunity to work with them. I worked on 3 projects which focused on campus recruitment plans and competency mapping and assessment. Summer internship changes a person to the next level by developing a sense of professionalism.How important do you think is the involvement in Extra- Curricular activities? Do you think these activities tend
9. How important do you think is the involvement in Extra- Curricular activities? Do you think these activities tend to deviate a student's mind from the initial academic goals set?
Extra-Curricular activities play a vital role in developing a potential talent. If a person maintains a daily schedule for things, I don't think it will deviate a person from usual academic goals. I would just say don't get carried away with only one thing, both extra-curricular and academics are equally important for understanding where your personal interest lies and how can you enhance with your academic background.
10. What would you like to advise to this year's batch w.r.t academics, activities, & in general about the B- School life? 
B-Schools expect professionalism; it's like a fine training for your career. It's not like graduation it's totally a different exposure that you get, UTILIZE the opportunity to be a better person, because at the end of the day even getting a good job with good package matters. Don't take it as a competition with others, take it a comparison with that of a person you were yesterday, what person you are today, and what would you like to be and HOW. Explore new talents within you, don't hesitate to participate but maintain a balance, Balance makes a person HAPPIEST.