Battle #6: India needs more than six airlines: Delhi school of Economics: Against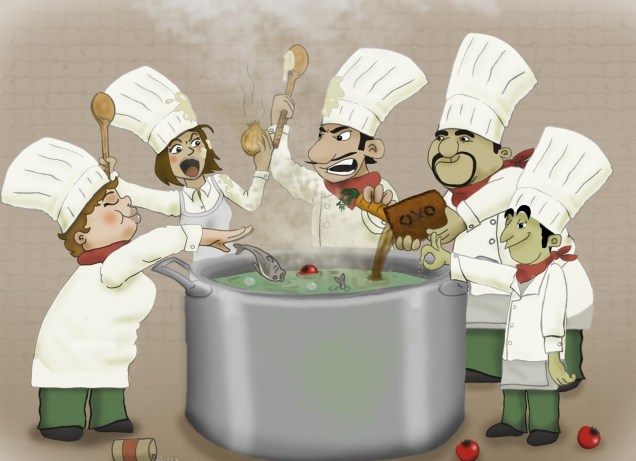 Image source: www.wisdomenough.com
Loss! Loss! Loss! Is that my i-pod stuck on replay? Or is it a sound of some kind of bell tolling? Maybe it's in my head, Wait! Are we are taking about Indian Aviation industry? Bringing in some new airlines, are we? Now that can be huge mistake.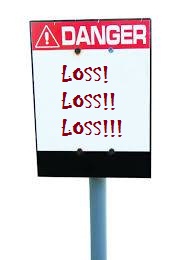 Happier times (before 2007).
Yes, there were happier times. It's hard to believe but they were. Indian Airlines (presently, merged with Air India and stopped using its brand or logo after the merger was complete in 2011) as of 2006, was a profit making airlines, adding to the surprise, in 2004-05 it showed record profit figure of Rs. 656.1 million. Indian Airlines Limited was partly owned by the Government of India (51% of share capital) through a holding company and has 19,300 employees as of March 2007. Its annual turn-over, together with that of its subsidiary Alliance Air, was well over Rs. 40 billions (around US$1 billion). Together with its subsidiary, Alliance Air, Indian Airlines carried a total of over 7.5 million passengers annually.
Until 2007,

After merging,

The 'Not so happy' times (After 2007).
The combined losses of Air India and Indian Airlines in 2006-07 were Rs. 7.7 billion and by 2009 this Figure was Rs. 72 billion. The condition was worse than ever. Air India, in order to survive, had to sell 3 airbuses A300 and one Boeing 747-300M in march 2009. By March 2011, Air India had accumulated a debt of Rs. 425.7 billion and an operating loss of RS. 220 billion. For three months (June–August 2011), the carrier missed salary payments too.
It's not only about Air India; Kingfisher Airlines is the epitome of business failure. Probably the biggest of our time. I mean what can be more humiliating for an airline co.
a)      Suspension of its flight certificate by DGCA.
b)      Not giving salaries to employees
c)       Income tax department freezing the bank accounts or
d)      the owner trying to sell his house
And the others: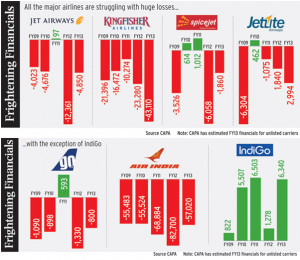 If we ignore Indigo airlines in the data above, there are traces of green colour in the data. It's like I said, "LOSS! LOSS! LOSS!"
Also, Industry experts peg combined loss of Rs 9,270 crore posted by airlines in India in 2013 and the Deloitte and Amcham – India while proposing rationalization of VAT and service tax on MROs points out that Indian aviation faces challenges that are compounded by high maintenance and repair and overhaul charges due to increased levies on spare parts and value added taxes and also service tax. Because the MRO industry has not been able to take off in India airlines are forces to seek the MRO jobs off shore and that makes their overall cost under this head to shoot up to at least 13 per cent coupled with high taxation on aviation turbine fuel that varies from zero to as high as 40 per cent in different states and inadequate airport infrastructure.
So, I heard people saying that we should have some more airlines added to Indian aviation. I asked myself, why? To add some more losses to Indian economy? To carry on the legacy what Vijay Mallya had left? It's been more than 6 years of losses now. All I see is ashes and I don't see any scope of personification of a phoenix metaphor in the near future of Indian aviation. So, believe me, increasing the number of airlines is like the harder you try to get out from a swamp, the deeper in you get.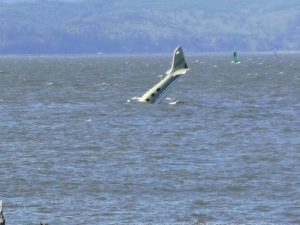 I would like to share a conversation that happened between us a month back.
Ashish Verma: Ghosh babu, going to Kolkata this Durga Puja?
Anurag Ghosh: Verma ji, I am confused.
Ashish: See, if you are confuesd about which flight to choose, then choose the one with the lowest ticket price.
Anurag: That's not a problem; I am confused about how to reach the airport. Sometimes i wonder, there will be a time when the cost of the taxi till the airport will be more than that of the ticket.
Well I am very happy about the prices at which now a day's airlines are offering us tickets but as an MBA student it also makes me think. Why are they still offering us tickets on such a price when they are incurring so much loss?
The prime need of the hour is to revisit our current strategies and to take immediate steps so as to make our aviation sector streamlined and more efficient rather than increasing the number of airlines to make it more competitive. Tony Tyler, director general and CEO of IATA said "Building the future for a successful aviation sector must begin with solving the well-catalogued problems of airlines in India today".
So we propose some strategic Moves for Improvement in existing fleet of airlines
1)    Strategic Partnerships for sharing of finance and facilities with major players across the globe – A prominent example of this is the  Jet- Eithad partnership which materialized in 2014. It has also  been reported that Go-Air and Indigo are also in talks with foreign careers to enter into global alliances )
2)    Modernization and optimum use of resources – CAPA says it expects an airport modernisation push starting 2014. It says in its May 2013 report titled India Aviation in 2013/2014: Seismic Changes Ahead in Domestic and International Markets: "Satellite based navigation (to be launched in 2014 and likely to get certification by November) and flexible use of airspace (agreed recently) that will allow direct routings are two initiatives which will be very important in reducing airline operating costs and carbon emissions through lower fuel consumption."
The 12th five-year plan (2012-2017) envisages investment of $12.1 billion in airports, of which $9.3 billion is expected to come from the private sector. Indian airports were privatised in 2006. Now that the first phase of public-private partnership projects for upgrade and modernisation in Bangalore, Chennai, Delhi, Hyderabad, Kolkata and Mumbai is over, an increase in activity levels is likely.AAI has also sought Rs 2,500 crore as capital expenditure for airport expansion, and is making a list of 50 airports in states such as Andhra Pradesh, Orissa and Uttar Pradesh.
3)    Using better technology – Airlines should use more fuel-efficient aircrafts , and should focus on augmenting ancillary revenues.
4)    Rationalization of ATF taxation and implementing reforms – The new Government has promised to the aviation sector to come up with reforms in ATF taxation and avoid multiple taxing  in the near future to fuel up demands.
But what is being done:
The aviation ministry has given thumbs up to six new airlines, approvals for which were pending for a long time. The government has issued No Objection Certificates to the airlines that include Air One, Premier Air, Zexus Air, Turbo Megha, Air Carnival and Zav Airways and the Tata-Singapore Airlines joint venture. Most of these airlines are expected to start operations by the fiscal year end, while the joint venture between Tata and Singapore Airlines might begin by this calendar year end.
So why don't we have a few skilled chefs rather than having a number of lousy cooks? And I leave it on you to decide whether you want to have a good meal or a spoiled broth. All we want to say is that India can do well with less airlines provided they are all organised and efficient.
College: MBA(IB), Dept. of Commerce, Delhi School of Economics
Team Mate: Ashish Verma and Anurag Ghosh
Team Name: Sublime Magicians