Battle #6: India needs more than six airlines: IIM Trichy – FOR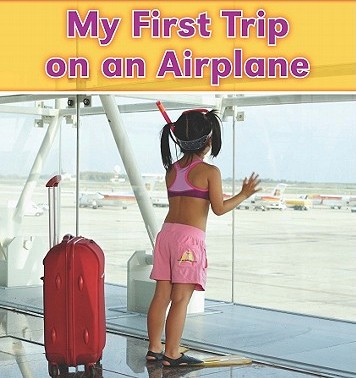 This is a formal entry for the 2nd Round of the Great Indian B-School Debate
Team: Kanti Shah ki Entry
Institute: IIM Trichy
Members: Subhash Rajeev, Vishnu Poduval
Aces High!
June 12th, 2014 is going to go down as a defining day in the history books of the Indian Aviaiton industry. Air Asia, a joint-venture between Malaysian low-cost carrier AirAsia Berhad, Tata Sons and Telstra tradeplace, after innumerable hurdles had successfully had its maiden flight take off from Bengaluru to Goa. This marked the first foreign airline to setup a subsidiary in India and they've already shown they don't intend to mess around. The airliner plans to operate with the world's lowest unit cost of 1.25 /available seat kilometer and a passenger break-even load factor of 52%. It plans to achieve an aircraft turnaround time of 25 minutes.[1] Have a look at the below news clipping post the  take-off of their maiden flight:
https://www.youtube.com/watch?v=_kjCvHEmYKA
As we hear from Tony Fernandes, Founder, AirAsia India,  there is plenty of the "pie" that can be catered to by the existing and new airline operators. However, he expresses caution about a lot of government pending actions which highlights the dependency of this sector on administrative regulations.
Need for more Positive Government Actions
The move in 2012 to allow upto 49% investment in aviation came after the sector has been under financial stress. While the immediate focus was to create access to capital, global connectivity, technology and best practices one could see the foundations were being set to lead to the entry of new airlines and a positive change in the ownership structure of current carriers.
The final objective was to increase competition to lead to better offerings, greater efficiency, cheaper airfares and  a power shift from the airlines to the passengers hands.
With Air Asia & Tata-SIA coming, one can say that the government is certainly backing the expansion of the airline operators.
However, there are still major roadblocks that the Government has got to work on such as the high taxes on jet fuel, rising airport fees, costlier loans & poor infrastructure affecting operational efficiencies.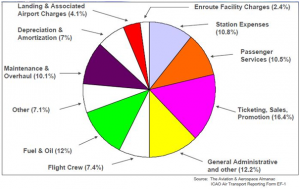 Fig.1:- Cost structure of a typical airline carrier
Currently, each state imposes its own level of sales tax, which peaks at 30% in some places. Jet fuel typically accounts for 25 to 35% of an airline's operational cost, and any reduction at this end can help increase volumes.[2]
Incremental Benefits of Tax/Duty Reduction: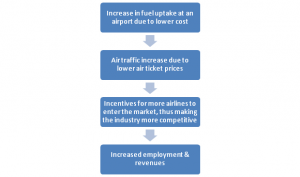 The "5/20" Rule
In 2013, The Competition Commission of India (CCI) had advocated the abolition of the minimum eligibility criteria for Indian carriers to launch international services and said that the norm is acting as an impediment for the Indian aviation sector. According to the regulation, every Indian carrier needs to complete five years of flying in the domestic space and needs to have a fleet of 20 aircraft to start international flights, something not practiced anywhere globally.[3]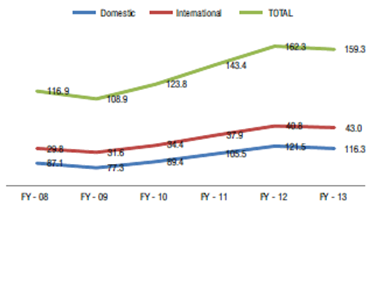 Source: KPMG, AAI Traffic 2014 report
Fig.2:- Breakdown of Growth between Domestic & International Air Traffic
The abolition would benefit both the new airlines — AirAsia India and Tata-SIA — who could then fly international from the very first day of their launch. Thus, there is an opportunity to cater to not just the domestic but the international air travel segment as well. This has cross-industry impact as it hits tourism as well.
Rajeev Kohli, Marketing Director, Creative Travel – "The lack of flights is most certainly affecting tourism. There was no capacity to bring in passengers & India lost that business. A few group tours got cancelled despite having ready clients."[4]
Growth Prospects
The Indian Aviation industry is a very complicated one filled with plenty of challenges but potential as well if tapped properly.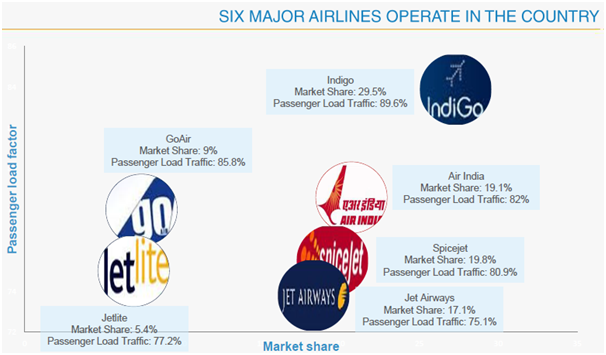 Source: IBEF Report, March 2014
Fig.3:-Market Share/Passenger Load Factor Matrix of existing 6 players
India currently has 6 domestic carriers, namely Air India Express, Air Asia, Jet Airways, IndiGo, Go air and Spice Jet. More airlines are expected to come into the country after Air Asia's foray and the expected Tata-SIA venture into the Indian market because of the deregulation that has occurred over the past few years, particularly allowing FDI in the sector. As we know – "The more the competitors, the more a firm would have to work to improve quality of their product or service". In this case, the higher competition would lead to improvements in service times, plane utilization and lower operating expenses. Low cost carriers such as Indigo and Spice Jet with full service airlines like Kingfisher falling by the wayside.
The growth prospects are already there to see from current trends[5]:
–     Passenger traffic is set to almost triple from the current 159mn to 450mn by 2020.
–     Making India the 3rd largest aviation market in the world!
–     This growth encapsulates both leisure as well as business.
–     Both the leisure as well the business travel industry are set to almost triple from a USD 77bn market currently  to a 222bn one and a USD 31bn market currently to a 86bn one, respectively by 2023. Concurrent growth in India's middle income-class and working professional population will act to only spiral demand further
–     Airport developers can now draw on wider revenue opportunities such as retail, advertising and vehicle parking with the growth in airlines and subsequent burgeoning traffic. This would also help spread some of the airport charges across the operators.
New Routes, New Boots
51 new low cost airports are planned to be brought in Tier 2-3 cities over the next few years[5]. Focus is especially on under served areas such as the North East. Air travel penetration levels in India have remained very low compared to other nations.
| | | |
| --- | --- | --- |
| Sl. No. | Country | Air Trips Per Capita |
| 1 | U.K. | 320% |
| 2 | U.S. | 220% |
| 3 | Australia | 200% |
| 4 | Germany | 100% |
| 5 | Malaysia | 54% |
| 6 | Brazil | 25% |
| 7 | China | 20% |
| 8 | India | 4% |
Source: World Bank, FAA, DGCA India, CAAC, Malaysia Ministry of Transport, BTRE Australia, ANAC Brazil
Fig.4:-Per Capita Air Travel across countries
The government has also reverted to the Private Partnership model for building airports across 6 cities (Delhi, Bangalore, Cochin, Mumbai, Hyderabad) and is set to expand this policy further for speedy completion of the proposed projects. This impetus to regional connectivity is going to lead to a clamour for more airline services. Apart from Indigo, the rest of the carriers have been posting losses over consecutive years and it remains to be seen if they can scale up to the demand keeping their financial distresses in mind. This represents a wonderful recess for new airlines to fill up in the market.
Fig.5:-Percentage figures of statewise population and passengers flown
And this is exactly ­­ the opportunity being targeted currently by Air Asia with services between Tier 2 cities and dedicated services to the North East which has been targeted as a route of high potential due to the lack of proper road/rail connectivity.
Flight of Icarus
At the crux it is important to understand that air travel, like all forms of travel must be considered a commodity. The reason being that air travel is an intermediate product where the final product is the destination that is being travelled to. The market itself has lately been dominated by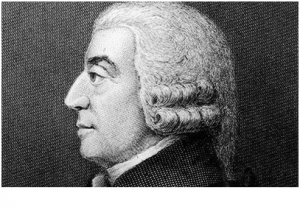 Fig.6:-Free markets and the wonders they could do for the Indian airline industry
Treating air travel therefore as a commodity just goes to prove that 6 carriers simply aren't enough. The reason being that the industry is still fairly nascent in the country and it has a long way to go before consolidation actually takes place. The influx of FDI in the aviation sector has now totally changed the game and the path is paved for more competition in the industry with more foreign players bound to enter soon. Higher competition can only be good for consumers as well as the industry as a whole. Foreign players have been operating for longer than most Indian domestic carriers and are further along in the learning curve. Moreover, Southwest Airlines has reportedly been profitable since its inception in 1971, becoming the gold standard for low cost airlines everywhere. In fact, it is on their initial point-point model that the hub and spoke model of low-cost flights is modelled. They are currently even further along the learning curve than any of the domestic carriers operating in India and their years of experience would help reduce fares further for passengers. If it leads to the closure of existing players that cannot compete, that is the basis on which modern capitalist theory is based. The de-regulation of the sector and allowing of FDI can only help the sector grow. Adding incentives for foreign multinationals to invest in India's airline industry can only help pull it out of the slump that it has been in over the past few years and hopefully help bring in some global best practices into an industry that is being grossly mismanaged.
"The real and effectual discipline which is exercised over a workman is that of his customers. It is the fear of losing their employment which restrains his frauds and corrects his negligence."
———————————————————————————————————————————–
Sources:
[1] http://en.wikipedia.org/wiki/AirAsia_India
[2] http://articles.economictimes.indiatimes.com/2004-06-14/news/27407436_1_jet-fuel-sales-tax-open-skies
[3] http://www.travelbizmonitor.com/cci-calls-for-relaxing-520-rule-for-airlines-to-fly-overseas-22472
[4] http://tourism.gov.in/CMSPagePicture/file/marketresearch/studyreports/05%20DOT-CivilAviation-Final-Report.pdf
[5] KPMG, Aviation India (2014)