Becoming Better Humans At IIM Udaipur – Vinu Shatakshi, IIM Udaipur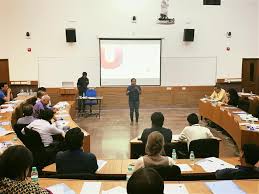 I joined IIM Udaipur with the hope of becoming not just a better manager but also a better person. When I got here I got to work with people from different backgrounds and who had a totally different way of tackling every problem.. I didn't expect it to be such a challenging task working with others. There were many tasks here that required me to work in a team and I have worked with all the people in different events and many of these tasks were possible only because I learnt to work in a team.
Team work is not the only thing I learnt during my stay here. We have a very tight schedule which leaves us very little time for things to be done. From personal to social to other commitments, there are always some things that I may forget to do. These are two things I got to learn by not just reading about them, but experiencing them; prioritization and time management. There are times when we have classes for 12 hours straight and then we have submissions and club activities with deadlines just a few hours away. Many a times, we have to lose our sleep to get the work done, but in the end, it is the result that matters.
Maybe it is due to the core values of our institution.
Excellence.
Integrity.
Transparency.
Mutual Respect.
Inclusion.
Environmental consciousness/ecological sustainability.
These values may not be anything tangible that can be spoonfed to the people studying here but since we go through the rigorous schedule every day and the faculty, management and admin team here are such good examples, these core values get imbibed in us over the time.
Apart from learning these values, the time at this institute helps us focus on our personal improvement too. We have courses regarding communication skills improvement, written analysis improvement etc which aim at making not just better managers but also presentable executives.
The time that we spend here seems like a herculean task to go through and I have seen many students here break down due to the pressure. But they finally get back on their feet and get on with their work and duty, which is essentially the message that this life is trying to give us. While training for a battle, you train for the worst possible situation and when you face an opponent who is tough, you can easily handle him. This is the same principle that IIM Udaipur works on. The schedule here is so hectic and rigorous but once we get out of here, we have been conditioned in such a way that we can handle any curveball that life throws at us.
Which Aditya Birla Group company I would like to work for?
That being said, I would like to work for the Ski Carbon Black Pvt Ltd. The reason I would like to be a part of this business is that Aditya Birla Group is already a leading player in the Carbon Black sector and I would not only learn a lot, but since it is a niche segment, I would love to provide my valuable inputs to the company to enhance and retain business. The business has boomed in such a short time and I have been interested in such a niche segment. I believe that the skills I have would be of great value to Ski Carbon Black Pvt Ltd. I would be willing to work day in and day out to prove my worth.