'Before you enter the campus of the Seven Great Lakes…' – Getting to Joka IIM Calcutta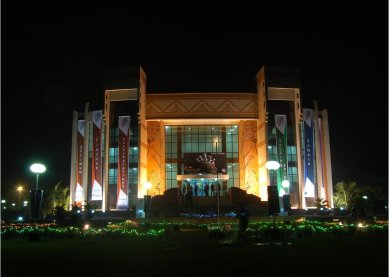 Before you join IIM Calcutta, there are a few things that you need to be aware of about the Institute and the city (if this is your first visit to Kolkata):
1) The Institute is popularly known as "Joka Management" in Kolkata. Mention "IIM" and most taxi drivers and/or auto drivers will give you a blank look.
2) Prepaid taxis are available from the airport to Joka. The fare will be between 450-550 bucks.
3) Taxi fare from Howrah station to Joka will be between 250-350 bucks (can go lower than this if you have insane bargaining skills).
4) On Diamond Harbour road, you will know you are about to reach IIM once you cross Reliance trends (right hand side), followed by Dominoes+Jawed Habib (left hand side).
5) The IIM gate will appear on your left about 2 mins/1km after the last landmarks above. You can take the taxi inside the gate up to the point where you have to report.
6) Make sure that all your documents are in order and that you have prepared all photocopies before leaving for Kolkata. Xerox and printing facilities are available at almost all hostels, but considering the number of engineers joining IIM and the kind of laid-back people we are, expect a long waiting line at the xerox shops.
7) In case you didn't bring passport-sized photos along, there is a photo-shop (pun intended) in front of the Institute gate, across the road. The next closest one is at 3A bus stand. Exit the gate and take an auto/bus in the right-hand direction of the gate till 3A bus stop (Fare= 4-8 bucks). When you get down and face the direction the auto was travelling in, the photo studio should be somewhere on your left.
8) The month of June is really, really humid. Carry a hand-towel with you. Also carry a bottle of water, preferably a vacuum flask.
9) The Institute has a co-operative store right near the main gate. You can buy pillows, bedsheets, curtains, hangers, bucket, mosquito repellant, etc. there. There is another tuck shop available in "New Hostel" which may look small, but has everything in the world that you need.
10) Use public transport in Kolkata as much as possible and avoid taxis whenever you can. Taking yellow cabs everywhere will cost you dearly, especially when you are new to the city and are not aware of the meter rates to various places. For example, the closest mall to Joka is South City Mall and the taxi meter rate is Rs. 120. The taxi guys, however, charge you anything between 200 and 350 bucks (even 400 if they are shameless enough). If you are comfortable travelling in shared autos, changing 3 autos to South City Mall will cost you only 40 bucks. Once you join, ask seniors about various conveyance options in the city and popular landmarks and areas in Kolkata.
All the very best for a wonderful journey at Joka and an awesome two years of student life!
________________________
(Originally posted on Quora.com)