The Best Of Both Worlds At Symbiosis Bengaluru – Souvik Mandal's Story
My manager, who had always supported my decision to do an MBA, called me up.
Manager (in Bengali): 'Sobhikkk! When are you leaving?'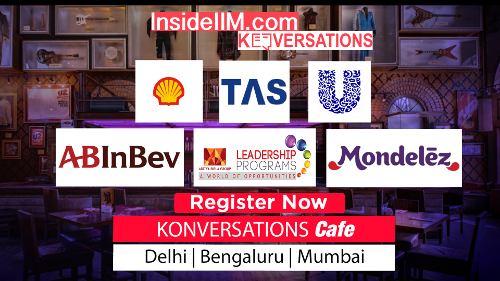 Me: 'Hello, sir! Soon enough! In fact, I will be sending you the resignation letter today. '
Manager (exhilaration radiating from his voice): Which college?
Me: Sir, I made it into Symbiosis Bengaluru.
Manager: Bah! Khub bhalo! (English: very good!)
I am sure it is no surprise that people who know me well understand that my life at SIBM-Bengaluru is not just about academics, but also about keeping my passion for travelling alive. Well, I realised that in the two years of my work as a production engineer in South India, it was almost as if my life, then, had come to a halt, and I couldn't make peace with this feeling. In the midst of all the trials and tribulations which took a toll on me, I promised myself that I would get into one of the premier b-schools of India.
The D-Day was getting closer and I was gearing up to effect a change in my career.  Few months passed, and I had made up my mind to quit the job. I was back at home on leave at the time, and fortunately, the results were out – and boy! I felt my heart pound violently in my chest! As I had hoped, I had made the cut, and what better way to celebrate this achievement than to take a solo trip, this time to the North of India. And what better place to begin than Rishikesh. It started with river rafting in Rishikesh and in spite of skidding from a bike while I was out there, I went on to celebrate Holi in Jaipur. I was mesmerised by the charm of Pushkar and Udaipur and there was no way I was leaving Jaisalmer before going on a camel safari. Mind you, somehow in the midst of all this reckless travelling, I still managed to complete all the formalities of depositing my first instalment and signing off anti_ragging affidavits and couriering all of them from off locations.
This is how I spent my summer vacations and when the opportune moment had arrived, I got my admission into one of the emerging coveted B-schools. I had my fair share of expectations from the college, the primary one being gaining valuable exposure that would cause a paradigm shift in my career.
#LifeAtSIBMB has taught me to never shy away from challenges that come my way. Right from Day 1 to striving hard to get into the committee that I always wanted to, I have never given up or given in! Inter alia, I was given the opportunity to interview world famous choreographer, Lauren Gottlieb, and numerous industry stalwarts and celebrities who came for my college events. My committee has made me adopt the best PR practices, whose benefits I reap in my traveling blog. I actually intend to build something on my own for my blog. I love the fact the very peers who compete with me when it comes to placements or any competition, for that matter, delightfully share my blogs and help me promote it. That's how the culture at Symbiosis is, I find everyone helpful in their own way, big or small.
Of all the perks, the best part about my b-school was having a bi-annual semester system, because of which we were offered plenty of holidays, and I made sure that my inexplicable urge to go backpacking was actually fulfilled. It's been a year over here, and in spite of being involved in a rigorous curriculum schedule for the past year, I have had the privilege to travel extensively right from Goa to Hampi in my first semester break. Lately, even during the admission GE-PI-WAT break, I went on to travel to Kerala where I got to witness the largest celebration of the contemporary art festival in South Asia – The Kochi Muziris Biennale. Furthermore, the beautiful beach of Varkala captivated me the moment I stepped on the sand and the Backwaters at Alleppey made me realize how beautiful backwater transport actually is and why Kerala truly is, God's Own Country.
I always prefer renting a bike in this city. On the weekends, I go ahead and satiate my travelling urges and strike off another place from my bucket list. Traveling so much has compelled me to get out of my comfort zone and feel liberated whenever I am out there on my own. From writing traveling blogs to being asked to write an article on my traveling ventures, things have been a matter of great pride, and a personal sense of accomplishment for me. This is exactly how I expected things to turn around in my career.
About the Author:
Souvik Mandal
"Souvik Mandal hails from the city of joy, Kolkata. An alumnus of Jadavpur University, he subsequently worked for a Japanese Manufacturing firm for about 30 months and is currently pursuing MBA in marketing from Symbiosis Institute of Business Management, Bengaluru. Adventurous at heart and a Solo Traveller Enthusiast, Souvik loves exploring new roads and cultures. The very easiness of striking up conversations with strangers has blessed him with many friends. He finds solace in street photography as well. He believes "Life is too short not to do something that matters'."
SIBM Bengaluru
Ever since its inception in 1978, SYMBIOSIS has been synonymous with progress. The trend of progress has been continued by setting up of SIU's first campus outside Maharashtra at Bengaluru in 2008. SIBM Bengaluru is now one of the leading B-Schools of the country. The focus, now, is on matching global standards of management education. SIBMB instills a work culture which is unparalleled among various institutions. It provides a holistic approach to management which goes a long way in creating a dynamic identity. Vibrant student associations and committees complement the program with a number of activities involving institute-industry interaction.