Building your brand via corporate reputation : A guest lecture by Ms. Deepa Thomas, General Manager, Group Communications at Mahindra & Mahindra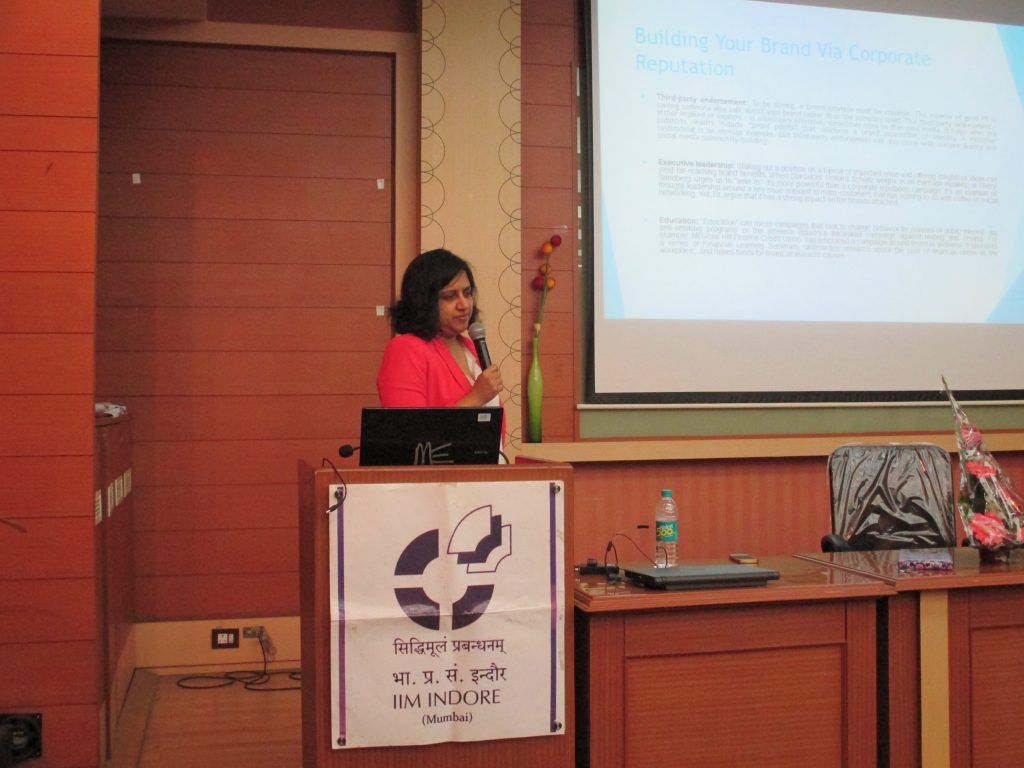 Ms. Deepa Thomas, General Manager, Group Communications at Mahindra & Mahindra, visited IIM Indore Mumbai campus on 7th March 2015 to interact with PGP students. Ms. Deepa is a corporate communications professional with 18 years of expertise in external & employee communications. She is leading the communications mandate for Mahindra Group companies – Mahindra Holidays & Mahindra Partners.
Ms. Deepa shared her insights on "Building your brand via corporate reputation". She started with the basics of the corporate communications which involves transfer of information and feedback. According to her, corporate communications primarily focusses on Media Relations, External Communications, Internal Communications, CSR, Investor Relations, Marketing Communications, Government Relations, Social Media, Crises Communications and Communications Strategy.
Ms. Deepa said that in case of crises, communication plays a critical role especially in case of safety crises. In cases of acquisitions, the role of a communications specialist is complete only when the deal is finalized and everyone is aware externally and internally. She also discussed about some of the target groups: Media, Government, Industry, Consumers, Academia, Students, and Stakeholders.
Ms. Deepa also explained Branding Strategy: how, what, where, when & to whom you plan on communicating & delivering on your brand messages. She also talked about some of the brands that had strong brand equity and brands which added value by emotionally attaching to the consumers.
She concluded the guest lecture by sharing her insights on building your brand via corporate reputation by following ways: Telling Stories (emotional bond with customers), creating powerful content by leveraging analytics and big data, celebrating employees (Great Place to Work), third party endorsement, executive leadership and education.
The guest lecture gave a good insight to the participants about the importance of corporate communications in real business world.