Business Simulation Game At IIM Trichy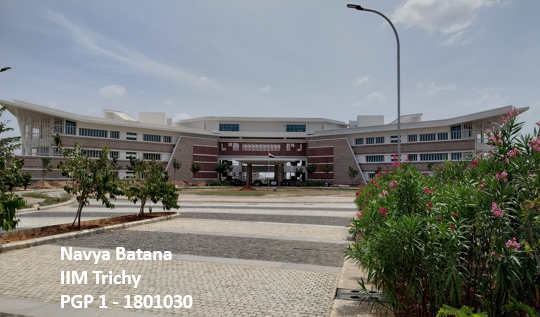 A memorable classroom experience at IIM Trichy
"Leadership and learning are indispensable to each other" said a great politician John F Kennedy. A session in my classroom truly makes me believe the above quote. Such is my experience at "Business Simulation game" session held during Orientation week at IIM Trichy. It was a week since I came to the college, still struggling to get accustomed to the environment here inside the campus, until the gaming sessions started. Exposure to the industry's way of working and decision making is what I learned during the game.
It all started off with a small introduction about the game by the game facilitator. All students were divided into groups of 4, each one of them taking a different role of CEO (Chief Executive Officer), CFO (Chief Financial Officer), CMO (Chief Marketing Officer) and COO (Chief Operations Officer). We were given financial statements of a hypothetical company, and we were supposed to increase the profits in the forthcoming Quarters, by taking collective strategic management decisions. The idea of making business profits seemed quite interesting to me, since it was a simulation of our future, rather than just playing a game.
We were given a Management Action Plan in which our task for the first quarter was to increase the wealth of the business (profit) with the available resources. We started off by discussing the different cases to maximize the wealth using different decisions like marketing strategies, cost analysis of the raw materials, sales and finally the profit. It was then we started arguing due to conflict of opinions. It seemed like a real case scenario, wherein the leaders have different opinions on achieving profitability. We started working out all the cases, which paved the way for the realization of the importance of teamwork. It dawned upon us that every entity and role in a business organization has their significance. A decision was taken by an entity definitely affects another entity. That is how, different roles in a company are linked up and there is a need for all of them to work in harmony. We got our results for the first quarter, the results not being satisfactory though. But the learning process which happened through discussion was something remarkable.
A few hours later, we started off with the second quarter in which the Management Action Plan is to maximize the market share of a new product which is to be launched, along with the product in the first quarter. Now, with the experience of the first quarter, our group paced up with the strategy of making decisions. It was more or less like the "lessons learnt" from the first quarter. The decisions made were swift and accurate. We felt accomplished when we received the results for the second quarter. Though it was a simulation game, we were in the shoes of those leaders for a few hours.
This business simulation game was an engaging and knowledge enriching experience which made the team members think out of box, which is very much required for future leaders.
Which ABG company would you want to work for and why?
Since childhood, I have always been fascinated with new fashion statements and apparel. I always wanted to buy that new model dress launched in the market or a designer watch which looked unique from others. This interest in fashion is one of the reasons which made me inclined towards working for Aditya Birla Fashion and Retail Ltd. Formed from the consolidation of all branded apparel businesses of Aditya Birla Group, it is one of the fastest growing fashion businesses in India. It is even one of the companies which practices best sustainability practices in fashion business. To cite an example, last year collaboration of Peter England with The Khadi and Village Industries Commission (KVIC) to launch a new product "Khadi by Peter England", promoting the village industries is something which I really admire of. I would like to work for this company since I am capable of doing the job of marketing fashion products pretty well.
References:
Marketing Convergence between Khadi & Village Industries commission, Ministry of MSME, Government of India and Aditya Birla Fashion and Retail Limited.
This article is written by Navya Batana – Class of 2020