Business Strategy in a Digitized World: Riding the Third Wave- An SPJIMR Business Academia Conclave initiative at SPJIMR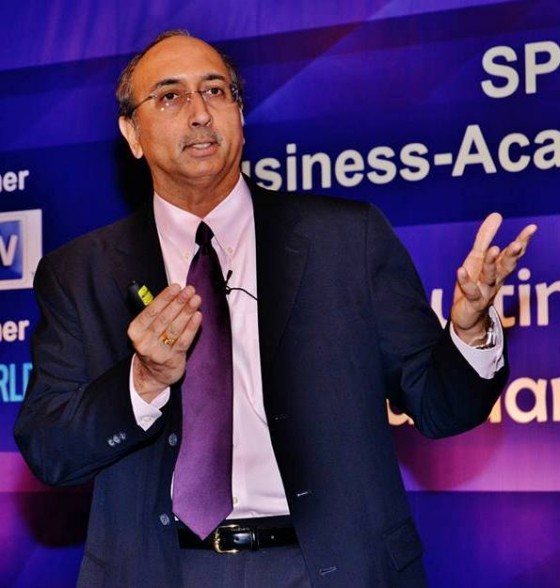 The S.P. Jain Institute of Management and Research organizes the SPJIMR Business Academia Conclave every year in order to facilitate industry integration and discussion centered on industry specific issues between students and the industry. This year too saw a series of interesting issues being discussed in January a major portion of which was focused on Business Strategy in context of a digitized World and how it is changing the way businesses are managed and run. SPJIMR Business-Academia Conclave began with the Consulting Conclave managed and presented by the Consulting Committee of the SPJIMR PGDM first year students. The conclave opened with a statement of the theme and an introduction of the keynote speakers – Dr. Stefanie Lenway, Eli and Edyth L.Broad Dean and Professor of Management, Broad School of Business, Michigan State University and Dr. Vallabh Sambamurthy, Eli Broad Professor and Department Chair, Broad School of Business, Michigan State University.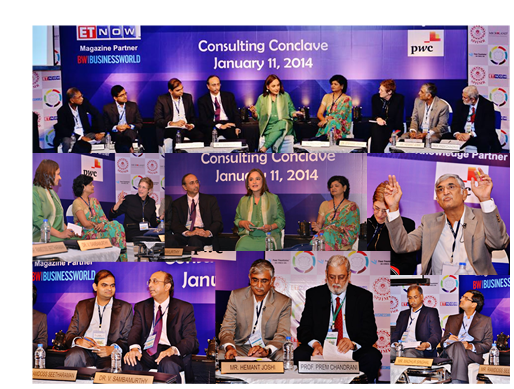 SPJIMR Consulting Conclave 2014: "Business Strategy in a Digitized World: Riding the Third Wave"
Dr. R. Sesha Iyer, director –  SPJIMR compared the wave of digitization with the creation and existence of the cosmos. Just as, according to ancient Vedic principles, the cosmos is interconnected, interdependent, value creating, surviving and growing, so does the digitized world. In his anecdotal and poignant speech he provided speakers, panelists, delegates, faculty and the students a very simple and lucid understanding of what digitization could come to mean in the 21st century. "Digitization would mean that products would become smarter, more intuitive to the user (human) needs and these changing, evolving products would entail a changing, evolving business strategy."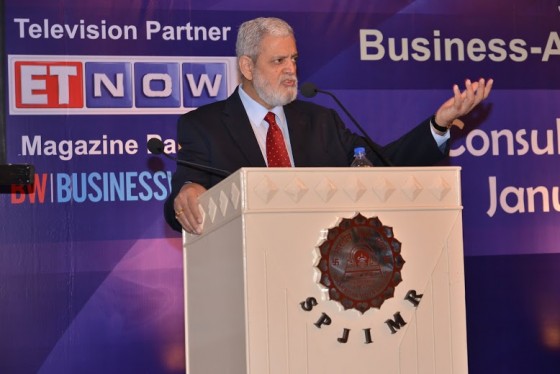 Prof. Prem Chandrani introduced the theme of the Consulting conclave: "Business Strategy in a Digitized World: Riding the third wave" partnered by PriceWaterhouseCoopers. In his speech, Prof. Prem Chandrani elaborated that idea was to bring in topics on discussion that could be of strategic importance in a changing and dynamic business world. This was especially important as much for the global world as for Indian companies and that just as the first and the second wave of capitalism held a lot of lessons for the corporate world, so does the third wave of increasing and pervasive digitization which renders the limits of geography redundant and brings access to all.
Dr. Lenway and Dr. Sambamurthy speak: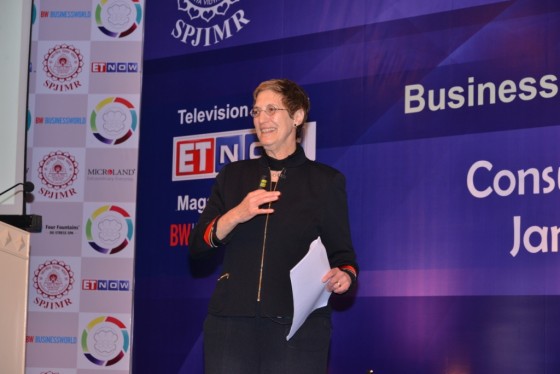 The conclave thus open, our first keynote speaker Dr. Stefanie Lenway commenced the discussion. Dr. Stefanie Lenway started by talking about how the third way of digitization has ushered in creative disruption. She gave a brief timeline about communication and connectivity over the years and what it has come to mean in the context of the digitized world where everything is real time and information is a matter of one clicks at a time. With accelerating technology cycles starting with mainframe computing way back in the 1960's to mobile computing in the early-mid 2000's Dr. Lenway concluded that we have come to a stage of "everywhere computing" in the era of 2014+ citing examples such as Google glass- the latest in a series of the many innovation the search engine conglomerate has contributed to the digitized world.
Dr. Lenway spoke about how digital convergence is the mainstay of the third wave with products being increasingly digitized and increasingly intuitive. This has spawned a huge industry where information churned out is being continuously processed, analyzed, "sliced and diced" to bring to the ultimate consumer a host of services and products that are specific to their needs and requirements. It has brought in a host of services that cater to their needs and desires that even the consumers may not be aware of and that the challenge for consultants now is to organize information to make the best use of it and provide a strategy that is just as changeable as consumer needs and preferences are.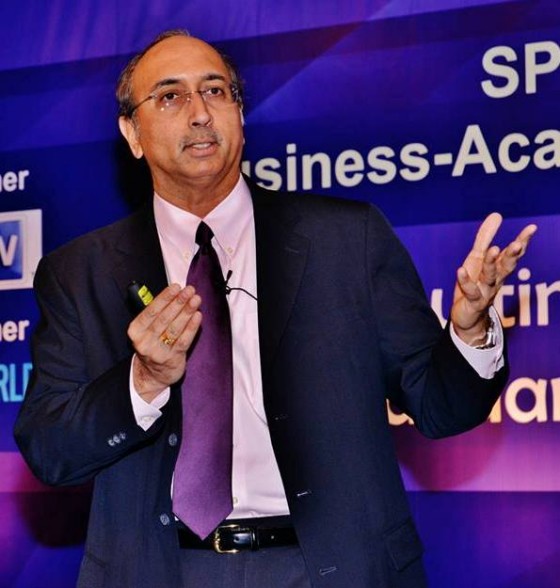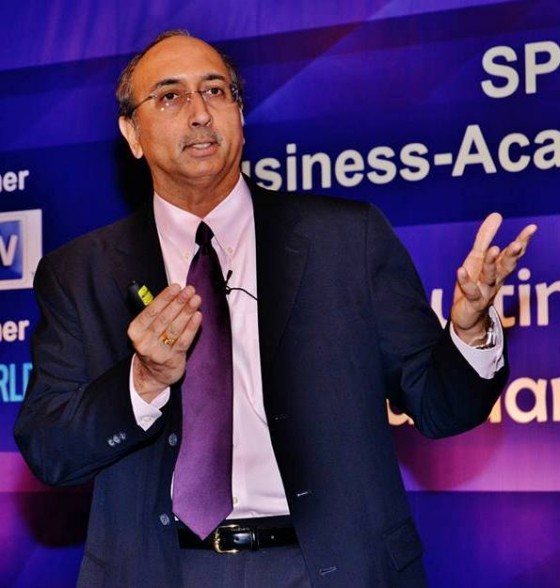 Against the background of "everywhere/wearable computing"- the tone set by Dr. Lenway; Dr. Vallabh Sambamurthy furthered the discussion on the wave that had come here to stay and change the way consumers, entrepreneurs, the corporate world and peripherals looked at things. He started by emphasizing that acknowledging, understanding and analyzing this process of change is essential against the backdrop of a shift in business models- traditionally which were dependent on the need for ownership amongst the consumers. This ownership, in Dr. Sambamurthy's opinion, had given way to consumption, whereby consumers are interested in "consuming" and not "owning" thus requiring managers to look at generating revenues in a manner different as consuming doesn't necessarily entail "paying for what you are consuming" while ownership necessitates that very mandate.
This was followed by a panel discussion anchored by Manvi Dhillon, Consulting anchor and former Managing Editor for NDTV Profit. With a rich experience in anchoring and production to business development and operational leadership at NDTV Profit, and having interviewed corporate CEOs, Finance Ministers and Heads of International Organizations; Manvi brought together an eclectic panel of speakers and began the panel discussion on "Business Strategy in a Digitized World: Riding the Third Wave". The speakers are as below and their bios have been shared by the SBAC team.
–  Dr. Stefani Lenway: Dean, Broad School of Business, Michigan State University :: Leading researcher and consultant on global technology management and corporate strategy
–  Dr. Vallabh Sambamurthy: Chair, Department of Accounting and Information Systems, Broad School of Business, Michigan State Univeristy :: Leading global expert on how firms leverage information technologies in digital innovation and competitive strategies
–  K. Vaitheeswaran: Founder and CEO, IndiaPlaza :: Father of e-commerce
–  Hemant Joshi: Partner at Deloitte, Haskins and Sells
–  Rachna Nath: Partner, PriceWaterhouse Coopers
–  Ramdoss Seetharaman: Associate Principal at McKinsey and Company
–  Madhur Singhal: Principal, Bain Consulting
–  Prof. Prem Chandrani: Chairperson, International Relations, SPJIMR
The panel discussion ensued with panelists giving their views on the digital wave that has radicalized business processes and how the world has integrated into a boundaryless entity with no east and west but a country called the internet bigger than the Spanish Economy and growing every day. The panelists then debated upon what this would mean for India – whether a wave of digitization would herald a generation of entrepreneurs that would shake up traditional businesses such as the way Flipkart has dominated the retail business of late. There was a discussion further on whether entry into this space by Amazon what make the competition more interesting by increasing supplier bargaining power as both the conglomerates would share the same supplier pie.
The discussions also gave way to questions asked by the audience on the ethics of digitization and the security concerns surrounding the use of analytics. Opinions ranged from the threat being addressed by way of businesses asking for selective information and how big data churns out information but processing it efficiently still remains a challenge as privacy needs to be the mainstay of any kind of business practice where privacy concerns form a major concern.
The panel discussion wrapped up with each panel giving their mantra on business strategy with Mr. Hemant Joshi vociferously stating that the mantra would be "Mobility! Mobility! Mobility!" and Dr. Sambamurthy concluding that "Improvise and adapt" will be the new mantra for the businesses.
Thus concluded the Consulting Conclave on a high note with insightful opinions, thought provoking questions and a lively discussion!
– Sonal Sapale
(Sonal Sapale is a first year student of SPJIMR. She has a background in B2B marketing in the chemicals industry, having done her undergrads from UICT Mumbai).