On Campus, On Faculty, And On Facilities – NITIE Mumbai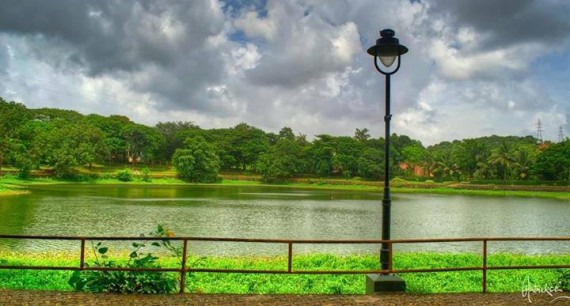 The B-School experience is the most exciting and happening phase of one's life. It is filled with a lot of learning, excitement, industry exposure and epic parties! So, the college campus, which is our home for those two years is in essence the élan vital of the much hyped B-School experience. The first few days of my new life in NITIE, Mumbai – God's own campus – have been nothing short of majestic. Ever since I visited the campus after receiving the coveted call for the GD-PI rounds, I was in love!
Nestled amongst the lush green hills, NITIE has been endowed with nature's bounty. Surrounded by the captivating beauty of the Powai and Vihar lakes, and a pond within the campus, it appears like a beautiful dream. The college has an excellent infrastructure – Taylor Hall, the boys' hostel is 16 floors high and is the tallest hostel in India. NITIE also has excellent sports facilities, a night canteen to cater to all the midnight project submissions and group activities and even has guest accommodation facilities for outstation visitors. The lush green campus looks fresh and exuberant especially during the Mumbai-wali-baarish (monsoon)! A walk round the beautiful and serene NITIE pond revitalizes us after a long day and watching the reflection of the hostel building in its still waters during the night time makes us fall in love with the campus, a little more every day.
The NITIE Library holds one of the richest collections of Technical Books, Journals, Online Journals and Electronic databases in the field of Industrial Engineering, Industrial Management, Organizational Behaviour, Financial Management, Training & Information Technology. Our Library along with all the IITs, IIMs and NITs is a core member of INDEST Consortium, an initiative of MHRD. NITIE is equipped with state-of-the-art computing facilities to complement classroom pedagogy. All hostel rooms, classrooms and offices are equipped with 24*7 Wi-Fi connectivity. The classrooms are spacious and specifically designed to facilitate participative learning. One of the most unique features about NITIE, which sets it apart from the other B-schools, is its Research centres like – Centre for Supply chain management, Centre for technology innovation management, Entrepreneurship Development, Centre for Environment studies to name a few. NITIE also houses, funded faculty research projects in which the students are also encouraged to be a part of. NITIE also offers multiple scholarships to its students based on merit in the form of partial or full fee waivers.
All big case competitions open at NITIE – HUL LIME, P&G CEO Challenge, Deloitte Maverick, Amazon ACE, RB Mavericks, J&J Quest, Nestle Plan-o-Chain, L'Oréal Brandstorm to name a few, and our students are the national finalists or winners of several of them every year. The various student committees of NITIE conduct several important business and cultural and industry interaction events throughout the year like – Avartan, MahaMandi and Samiksha.
There are two messes that cater to hunger needs of the budding techno-managers of NITIE. I must admit that being a foodie, I had my inhibitions to begin with, but so far I've always left the mess hall with a smile of content and satisfaction. We also have a wonderful practice of the Zero Waste Bell i.e. we earn the right to ring a bell every time we finish a meal without wasting any food – I think this is a beautiful practice and is in sync with the value system of every NITIEzen.
These are some of the reasons why NITIE is indeed "God's own campus" and the most unique B-school. We NITIEzens are proud of our campus, our faculty and our facilities – a perfect amalgamation of nature's beauty and academic brilliance. Besides, we also share our borders with Sanjay Gandhi National Park – How many other B-schools can boast of a leopard alert? I rest my case.