Can An MBA Prepare You For Leadership Roles In A World Of Digital Disruption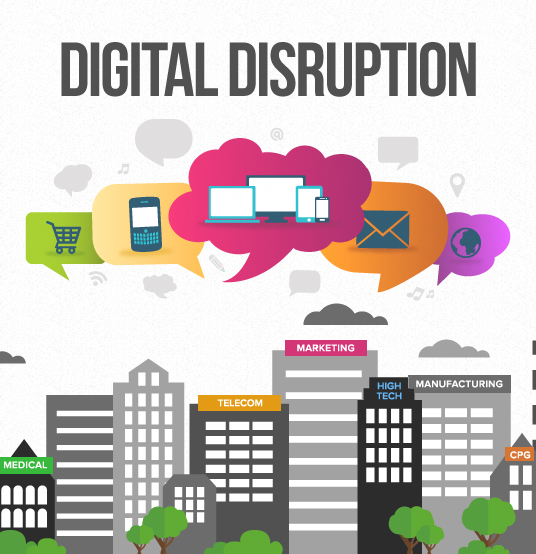 Information Technology was the harbinger of change about 3 decades back.  Then it was outsourcing. Today, it is automation, artificial intelligence and digital technology. Often, these disruptive business forces do not give everyone ample time and opportunity to adapt, prepare and change. The disruption comes hard. And fast. Add to this a turbulent global economic environment that is more uncertain than ever, and you have almost a survival-of-the-fittest situation. You adapt, or you perish.
Companies, governments, entrepreneurs, business leaders and managers need to have the ability to continuously adapt, anticipate challenges, and assimilate new knowledge. This kind of adaptability requires learning, unlearning and re-learning skills in equal measure.  Anticipating challenges requires the ability to connect trends analytically. Assimilating new knowledge requires ability to sift through a sea of data to separate the noise from the signal.
Unfortunately, management education has continued to focus on the 'learning' part without paying adequate heed to the ability to 'unlearn' and 're-learn'. While the demands of businesses have changed, the supply of managerial talent has largely remained unchanged. B-schools seem to have not realized that just business theories, while still necessary, are no longer sufficient to meet a business's needs.  Surveys across the world show that there is a large gap between employers' requirements and employees' skills. The need : skill gap then extends to a gap between aspirations and reality for the employee.
An ideal mix that would prepare the young generation to become leaders of tomorrow would be
1) expertise in the building blocks of developing and sustaining businesses such as strategy, finance, and operations,
2) an in-depth understanding of how these apply in the digital world, and
3) strong communication and leadership skills that enable leaders to navigate the ups and downs of the new business terrain. This last piece – leadership – is missing even in the few management programs that are beginning to offer a broader syllabus.
To address this challenge, the school of leadership at the Northcap University has launched a "Management and Leadership" programme.  It is a one-year post-graduate full-time residential course based out of the university's campus in Gurugram.  The programme has been founded by Dr. Pramath Raj Sinha, founding dean of the Indian School of Business and co-creator of Ashoka University, along with corporate leaders who believe in the cause of making quality and relevant education accessible to more people.
The programme is mentored by an advisory panel of leading entrepreneurs and recruiters, and the faculty is a mix of distinguished academics from different universities, besides experienced professionals from the industry.
A curriculum based on inputs from recruiters, two business certifications from Wharton Business School, course content from Harvard Publishing, experiential learning, one on one mentorship, opportunities to participate in events organized by organizations like FICCI and CII, and a 50 percent scholarship are some of the highlights of the programme.
For more information, please visit www.ncuindia.edu/pgdm
Contact Details:
Neelakshi Tewari