Can Technology solve the problem of 60% deaths in our society due to Non-Communicable Diseases?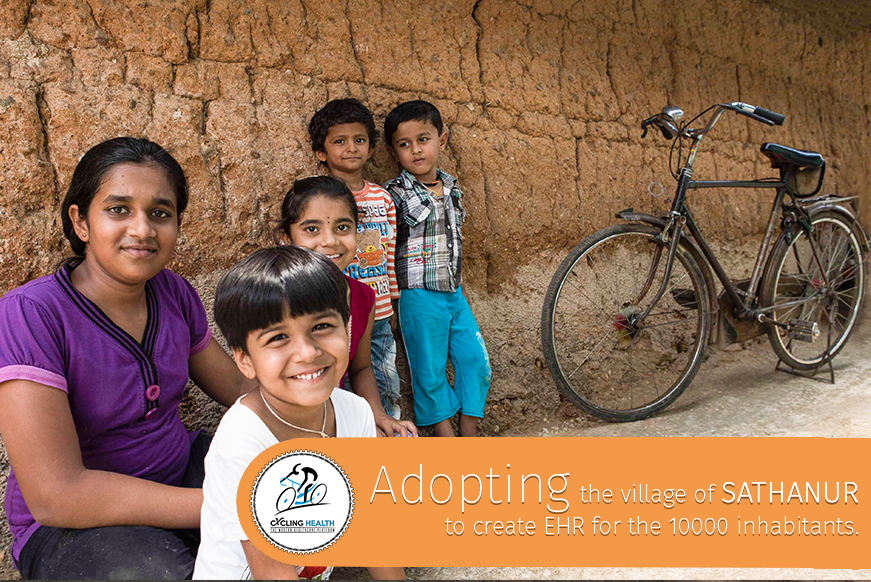 It is not the strongest or the most intelligent who will survive
but those who can best manage change. ~ Darwin
India faces  tremendous healthcare challenges arising from shortage of Capacity from all quarters including Skills, Talent, Infrastructure and Resources. Our Economy has other related challenges as well. Medioctor's solution to the problem is to improve the efficiency of the healthcare ecosystem globally that can be compliant.
A recent World Health Organization (WHO) and World Economic Forum (WEF) report indicates:
More than 60% of death is being caused by major Non-Communicable Diseases and 1 in every 4 indian runs the risk of premature death under the age of 70 due to NCDs such as Cardio Vascular Disease, Heart Attack, Cancer, Diabetic & mental disorder. Can this be solved by improving the Lifestyle / Habits ?
India will lose an estimated $4.5 trillion in terms of lost economic output due to prevalence of these NCDs between 2012 till 2030. This can be solved by people being made to take responsibility for their health".
It is heart shattering when we hear about these statistics and still thinks that a mobile app with appointment booking will solve the problem overnight. Even one of the practicing physician who runs a chain of hospitals says that the problems needs to be tackled by the government. The government says that they are doing their bits by announcing programs, which either never gets implemented or very poorly implemented. Hence, the question arises, Who will solve the above stated problem. Can anyone among these stakeholders (Government, Technology or current healthcare industry participants) actually solve the problem?
My answer to the above question is a straight NO. No one stakeholder can try  & solve the problem of this magnitude alone. If we analyse the root cause of these NCDs, its due to poor lifestyle choices and ever changing environment. Hence, only the individual have to understand, commit and own to his own health.  However, we human being are lazy and resistant to change. Therefore, someone needs to implement a holistic change management movement for the individuals. This movement needs to equip the individual with the necessary tools to perform a task, content to educate him and intelligence to take actions. Technology can and should be able to facilitate every individual with these toys to play with. But is the problem solved?
Our Prime Minister Mr. Narendra Modi talked about the ambitious Digital India Plan. That is a visionary initiative considering majority of people live in rural India.  Technology  needs ground level connect to establish its usability.  Typically all good things reach from the most privileged to the lesser ones in our societies. No technology in itself can bring about societal outcomes in any field and healthcare is no exception. Now a days, we talk about internet and mobile technology with flourishing start-up ecosystem coming up with new apps every other day to establish something which we were doing anyway with little difficulty. We are happy with just mere improvements. What about things that are not being done before ? Has any of these so called technology reached the masses baring a few ?
In order to address these challenges Medioctor is launching its ambitious "www.cyclinghealth.org" initiative on 13th September at J.N. Tata Auditorium at Bangalore. It aims to establish ground level connect will be established with 10,000 inhabitants of Sathanuru Village in Karnataka. The initiative aims to establish the fact that health is birth right of every individual and it can be personal. Medioctor will help create Electronic Health Record for the inhabitants and educate them about usage of it. The effort is to take the people through an extensive Change Management process of Education, Ownership and Commitment to help them evolve a better healthcare ecosystem; one that relies more on Life, Learning and Living than Disease, Decay & Death.
"Cycling Health" event is being designed as World Class cycling event to raise funds for the identified healthcare issues as a consequence of our engagement with the 10,000 inhabitants of Sathanuru, Karnataka. It will also demonstrate to the world how technology can work for the weakest segments of our society and serve as an inspiration for the more affluent and educated to make health personal.
The Karnataka health ministry, State Legislators & Administration has already extended their full support to make this a world class event. The Bangalore political Action Committee are actively supporting & participating in the event. The Launch of  "Cycling Health" initiative is being attended by eminent personalities from Business, Politics, media, Start-up Health & Medical professionals. Captain Gopinath, T V Mohandas Pai, Revathi Ashok, Chitra Talwar, Dr. R.K Balasubramaniam, V.G Sidharth of Coffee Day, Kiran Mazumdar Saw, Sudhir Pai are few names who are actively supporting the initiative.
The dates of November 14 – 15, 2015 would be etched in the memories of the participants be they Cyclists, Volunteers or Healthcare Professionals; as a Lifetime experience is how Subbu Iyer envisions the Cycling Event. He says it will be one big partying weekend starting from the Bangalore Palace on the morning of November 14, '15 leading Sathanuru which is exactly a 100 KM. On this day the inhabitants will receive their Electronic Health Card and will be the beneficiaries of Workshops and Symposiums from eminent healthcare professionals. The event will see a grand finale with the riders doing the balance of the 50 KM on November 15, 2015 at the Mysore Palace. The entire weekend which coincides with India's Festival of Lights Deepavali will be a Celebration of Life with Healthy Food, Service to Humanity, Camaraderie and Fireworks.