Can't Stop, Won't Stop: The Stage Is Ready For You – How Xamboree Will Give Everyone A Platform?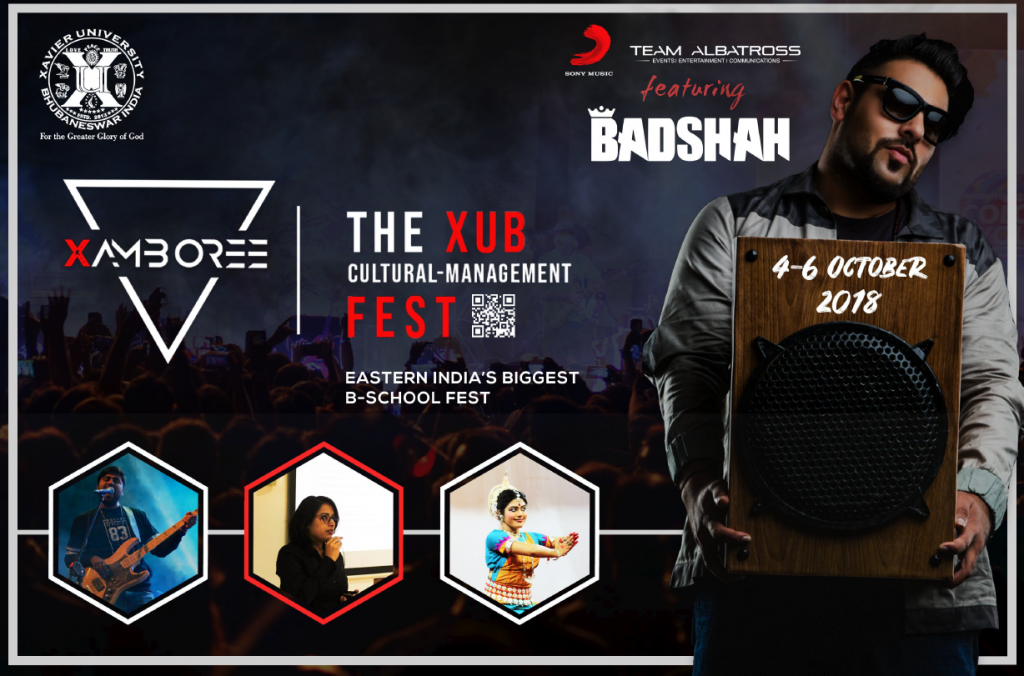 Xavier University, Bhubaneswar is all ready to set the stage on fire, as Xamboree, one of the biggest cultural-management fests of India, is here! Big guns like Baiju Dharmajan, Aastha Gill and Badshah are the star-attractions. Being a complete student-driven fest: marketing, promotions, decor, organizing the events, every element is driven by the students and student bodies, who have been working tirelessly with continuous effort to make sure the fest is a grand success. The fest has been promoted to such an extent, that even the rickshaw-wala now, is aware of Xamboree. No stone has been left unturned, in ensuring that it will be an experience of a lifetime.
Academics are merely one aspect of the growth of a proactively responsible and contributive manager. Arts, from dance, music to drama, helps one in using creativity to drive innovation. For every MBA graduate the need of the hour, is a holistic development, i.e development in distinct areas such as physical, social, creative, intellectual and spiritual. A holistic approach to education is one that puts an emphasis on the development of skills. The pleasant blend of academics and activities, allows students to be exposed to experiences that enable them to think, create, question and work as required, sometimes alone and at other times in groups and teams. These days, equal stress should be laid on academics, co-curricular activities, and sports. Amateur artists struggle to find a platform for themselves. And there, Xamboree connects all the right dots by doling out a conduit for enthusiasts in a plethora of disciplines ranging from arts, creativity, and business. It's specifically for students and hence entitles every student with an opportunity to express themselves fearlessly and fight with the other young guns. Stage is what we fear the most and opportunities like these pushes one to take that step out of their comfort zone, face the crowd and unveil their hidden talents.
The fest will be a host to an exciting series of Interest Committees' events which lets participants explore their creative side, these include: Qureka, a quizzing trivia organized by XQuizzite, the Quizzing Society of XUB; Viraasat, celebrating the masterpieces of Indian Culture, conducted by the XUB chapter of SPICMACAY; Samriddhi, which is a platform for participants to present their Business Models for Social Enterprises which can mitigate emergent social problems and stigmas, organized by the Social Responsibility Cell of XUB in collaboration with X-Seed, the Start-Up incubation and facilitation society of XUB; Origami, conducted by LitSoc, the Literary Society of XUB, is a platform for the literary enthusiasts to display their wit and skills; Srishti, a short film-making competition, organized by X-Lens, the photography and video-making society of XUB and lastly Xpress On Air, an RJ hunt, organized by IlluminatiX- The Media and PR Cell of XUB, in association with 91.9 Sarthak FM.
'All work and no play makes Jack a dull boy'. Xamboree offers EDM nights, bringing the beat and a festival feel to the campus, where students can break the shackles of their hectic schedule and let loose. Participants are also exposed to the cultural events by X-Stage, the Cultural Committee of XUB, which includes: Dhwani, an enthralling solo singing competition; Footloose, for participants to put their best foot forward; Tamasha, an extravaganza for young participants to express themselves on issues plaguing the society ; Runway Roll, with its theme of 'Mis and Match' this year, for people with an inclination towards the spotlight; Sonix, a Battle of Bands wherein participants from various colleges will get together to jam and battle over their tunes and Nukkad Natak, that gives so much freedom in a way to express one with their bodyand ideas. It provides a forum where one can let their creativity flow.
These events give the participants a chance to exploretheir innate talents and pursue their hidden passion. The learning and experience that comes with it is extremely enriching. XUB is offering the entire gamut of experiences that any MBA aspirant dreams of, in a holistic development through Xamboree. It will be a learning of a lifetime along with a truckload of memories.
Xavier University Bhubaneswar (XUB)
Xavier University Bhubaneswar (XUB) was established in accordance with the Xavier University Act 2013 and was inaugurated on the 7th of July 2014. XUB is India's first digital University and an institution of higher learning for imparting professional and technical education. It is a self-financing institution imparting professional and technical education. XUB has 8 Schools that offer world-class education in different fields. XIMB offers an MBA in Business Management, Global Management and Executive programs. Xavier School of Human Resource Management (XAHR), erstwhile XIMB-HRM, offers the MBA-HRM program. MBA-RM is offered by the Xavier School of Rural Management (XSRM), erstwhile XIMB-RM. MBF- Master of Business Finance is offered by Xavier School of Commerce, MBA-SM by Xavier School of Sustainability (XSoS) and MBA-UMG by Xavier Center of Urban Management and Governance. The Xavier School of Sustainability, Xavier School of Commerce, Xavier Center of Urban Management and Governance, Xavier School of Economics, Xavier School of Computer Science and Engineering, and the Xavier School of Communications offer different postgraduate and undergraduate programs.