Carpe Diem 2012 – IIM Calcutta's Cultural Extravaganza! (Feb 3rd to Feb 5th)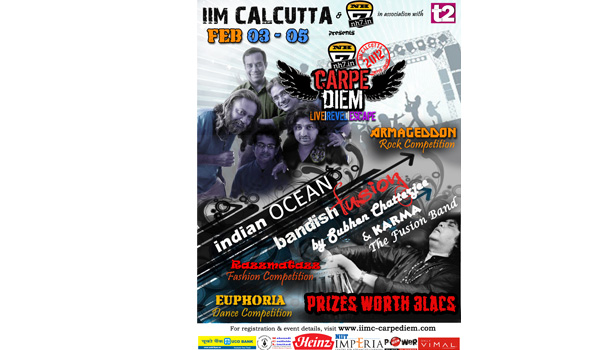 Live. Revel. Escape!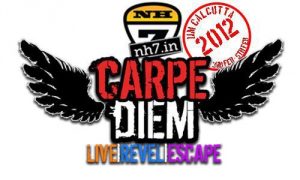 Get ready to let your hair down at the biggest B-school cultural extravaganza of the country as IIM Calcutta prepares to host Carpe Diem'12 from the 3rd to 5th of February, 2012.
Over the years, Carpe Diem has been home to riveting professional performances from across the globe, blissful displays of musical brilliance, graceful presentations of dancing talent and enchanting showcases of fashion splendour. In this, the Golden Jubilee year of IIM Calcutta, Carpe Diem is back in its biggest and brightest avatar and we invite one and all to be a part of it!
This year, Carpe Diem plays host to the hugely popular and widely acclaimed Indian Ocean. We also bring to you the unique music of Bandish Fusion featuring Grammy nominated artist Subhen Chatterjee and his band Karma. Our flagship events promise to be better than ever before with a total prize pool of Rs 3 lacs up for grabs. The best college rock bands in the country will fight it out at Armageddon – The Rock Competition. Euphoria-The Battle of Dance will witness the dancing talent of the country trying to win your heart with their moves. August Rush MMXII – The Personality Hunt will look to crown the leading lady and leading man at this year's Carpe. The best stage artists will reign supreme at Abhinay while the glamorous lot will set the ramp on fire at Razzmatazz. There's a little for everyone at Carpe this year from Shakespearana for those with a bent for literature and word games to Inquizitive for the quizzers of the country. Salsa and Bar tending workshops will give you a chance to learn that something new and the Face Painting competition will be an excuse to let free the crazy side of you.
The stage is set, the time is now. At IIM Calcutta, we welcome you to join us at Carpe Diem'12 for the truly Live.Revel.Escape experience!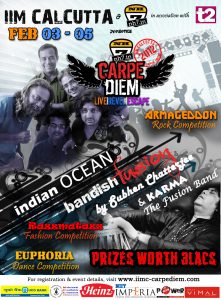 For more details, visit our Website: iimc-carpediem.com and our Facebook page: http://www.facebook.com/IIMC.CarpeDiem