Case Methodology Class – SDA Bocconi Asia Center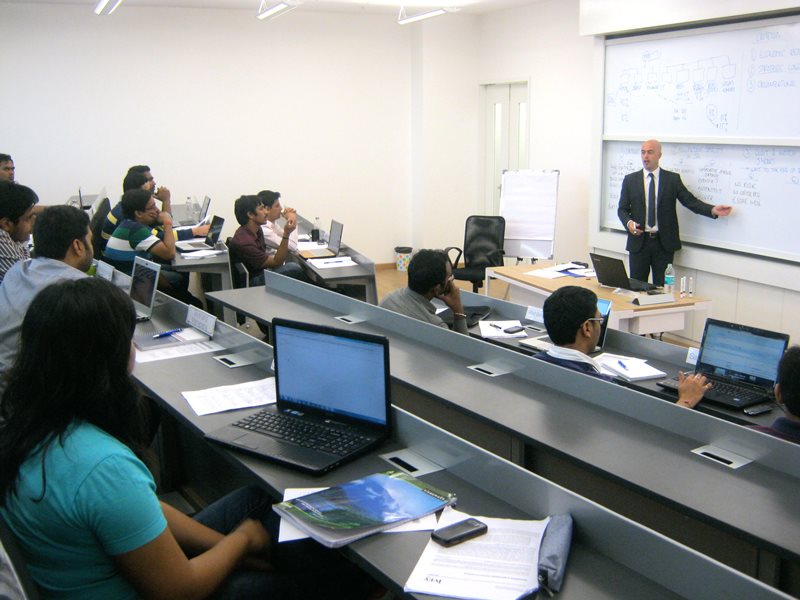 It had just been a day since we had joined SDA Bocconi Asia Center. We were all looking forward to the case methodology class that was supposed to be taken by our Dean, Professor David Bardolet. All of us were really excited as it was the first time that we were being exposed to this method of solving case studies. Most of the consulting aspirants like me dream of getting into strategy consulting firms like Mckinsey, BCG and Bain and this class was a step in that direction and gave us a great exposure to that.
We started out with a Harvard Business School case study on South West Airlines which was looking to buy slots at La Guardia Terminal in New York City. It was a strategy based case where we had to come to a conclusion whether the purchase of slots would be a good decision or not. In this case, we went through the financial statements of the company calculating the operating income and noticing a trend of growth for the set of data. We had to dissect the given data using qualitative and quantitative methods taking into consideration loss due to the higher turnaround time as well as the return on investment and the breakeven point. All the groups were really competitive and were trying their best to put across their views and opinions. It gave us a good platform for all of us to come together, interact with each other and understand everyone's point of view before coming onto a solution.
It was a great learning experience. It taught us how to determine the key issues at hand, decide what questions to ask, make the educated hypothesis, analyze the relevant information at hand and make an informed decision. I have always been interested in setting up new businesses or turning around of existing businesses. Strategy and implementation have always appealed me and this class definitely strengthened my interest in this sector.
The reason behind these case methodology classes is that when MBA's complete business school they will be taking managerial positions and they need to make the informed decision with a limited set of data and this case study just gave a good glimpse of that. It was one of the best classes that I have been to and I can proudly say it made me more aware of the small nuances and things that one should consider before taking a decision and instilled in me the belief that the skill of decision making is definitely an art.
Which ABGP company will you like to work for and why?
Aditya Birla Fashion and Retail Limited
One of the Aditya Birla Group companies that I would really love to work with is Aditya Birla Fashion and Retail Limited. Retail as a sector has always excited me as it is a really competitive sector and one really needs to innovate to stand out in the market. ABG has just been able to do that and is one of the market leaders in this space. A role in this sector would involve direct interface with the customers and coordination of business activities from the design stage of the product to its delivery and post-delivery service. It would also involve spotting franchisee opportunities and make sales pitch to them. This would expose me to operations, business development, sales and marketing and would help me to think out of the box and come up with innovative ideas.
India's demographic profile and economic growth make it one of the most attractive markets for retailers all across the globe. There are ample opportunities for growth in terms of the rural market as well as less developed tier 2 and tier 3 cities with the increase in disposable income. The entry of various e-commerce players has changed the scenario of the retail industry and the all the retail players have to now focus on customer satisfaction and to make them loyal to the brand. Coming from a consulting background a role in this space would be exciting as well as challenging and I am looking forward to a role like this.
-Akshay Jain
IMB 2018-2020