Season 2013 – 14 MBA Tracker – Shortlists, Analysis, Placements and News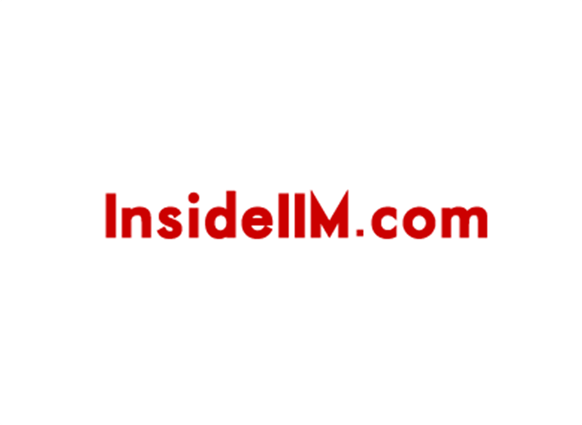 Interact with us real-time on InsideIIM LIVE! You can also follow us on Twitter – @insideiim
Promoted Features – Connect at a Personal Level First Before You Bring in Your Personal Agenda – Priyanka Gupta at MISB Bocconi Alumni Meet. Read here
'My batch is extraordinarily talented' – Ajatshatru from PGPX at Myra. Read here

——————————————————————————-
IIFT exam dates out. Exam Date – Sunday, 23rd November 2014, 10:00 am – 12:00 noon. Last Day of obtaining applications by post 20th August 2014. Last date of receiving filled applications – 3rd September 2014.
2nd July 2014
20:00 hrs 10 Reasons which make IIM Indore UAE the next big thing – The latest in our extremely popular 10 Reasons why series
18:00 hrs Nikhil Mukhija comes up with a laundry list of key learnings from his summer internship – 11 things I learnt from my summer internship
16:00 hrs Utkarsh Modi from IIFT describes his travels in Europe – Travelogues of a student backpacking in Europe
12:00 hrs I had to find prime target consumers for my product (refurbished computer), the bracket for which included auto-rickshaw drivers to IT companies. – Summer Internship with Reboot Systems – a startup in Hyderabad.
1st July 2014
21:00 hrs "Being from an HR background, I had heard of the 'chill' status for HR departments at banks. Thankfully, my internship turned out to be completely different." – description of a summer internship at HSBC by an MBA student from one of India's top seven MBA colleges.
19:00 hrs 100 Days to CAT – Live chat with Verbal Expert Hemang Panchmatia. You can ask all your queries pertaining to the CAT on a Live Chat session with Hemang Panchmatia on Saturday 5th July 2014, at 11:00 am. All you need is to login to InsideIIM and start firing away your questions.
16:00 hrs Summer Placements at IIM Indore UAE (Class of 2013-2015)– McKinsey & Co Dubai, Frost & Sullivan, Leo Burnett among the top recruiters
12:00 hrs "My joy knew no bounds as my project had been rolled out and was live now" – Dipayan Sinha of IIM Bangalore writes about his summer internship with American Express
30th June 2014
22:00 hrs "Take the time to know the people around you a little better. Because as the veterans said, in a few years' time even you don't remember your grades" – Nadeem Raj tries to put the two-year MBA course in perspective.
18:00 hrs "Lighting candles, wearing black bands, etc…. the only people who are genuinely benefiting out of this are the makers and sellers of these products." – Venu Merh speaks about the lamentable condition of women in India –
14:00 hrs "In a conglomerate as huge as RIL, the role of HR is very crucial" – V Sharada of IIM Kozhikode describes her summer internship with Reliance Industries in the latest installment of the IIM Kozhikode Internship Kronicles Series
11:00 hrs : What's worth reading – Shreyas Panse is back with his weekly list of brilliant reads curated from the world wide web – What's Worth Reading – Shreyas Recommends (Week 13 – June 22 to June 29)
29th June 2014
The InsideIIM Open House took place yesterday at the office of Brokers Please Excuse. Participants had an opportunity to speak with Kenneth Serrao – IIM Ahmedabad Alumnus and co-founder of Brokers Please Excuse. Read about the conversation here – "You will always be respected for your academic record" – Kenneth Serrao at the InsideIIM Open House # 1
27th June 2014
FMS Results 2014 Out. Check results here
26th June 2014
19:00 hrs "My summer internship experience has made Mumbai 'Number 1' in my list of places I would like to work in after MBA" – IIM Raipur student describes his summer internship experience with a marine consulting firm in Mumbai
13:00 hrs ARKS Srinivas is back with the third part of his series on Verbal Ability – The CAT Verbal Enigma – Reading Comprehension
25th June 2014
18:00 hrs The Best of InsideIIM page has some of our all time favourite articles. Read them here at All Time Favourites on InsideIIM
17:00 hrs Explore the very best of InsideIIM – all our best content ever, specially curated for you – all at a single place on InsideIIM. Visit the Best of InsideIIM Page.
12:00 hrs Working at Draft FCB Ulka gave me a great opportunity to grasp the trends in digital marketing and learn about general management – Mufaddal Dabodhwala describes his summer internship with Draft FCB Ulka
24th June 2014
17:00 hrs IIM Lucknow welcomes the 30th PGP batch in style – with marathons, exercises, assignments et al.
12:00 hrs "Because of the fortune you've spent to study this course, final placements will be tense, it will be dramatic, it will be brutal, it will be blissful, and it will take its toll" – Ishan Arora of IIFT sets out his expectations for the second year of MBA. It looks like an episode of Game of Thrones…
23rd June 2014
19:00 hrs "Being part of the PPO process with over 40 interns was a riveting experience" – Jai Gupta of IIM Kozhikode describes his summer internship experience with Tata Administrative Services (TAS)
16:00 hrs "What people don't know about Dharavi is that there are around 5000+ odd businesses here with a turnover of over 500 million" – Prashant Sinha of IIM Indore UAE describes his experience with running DharaviCAN – a social entrepreneurship initiative to bring the businesses of Dharavi online.
12:00 hrs Shreyas Panse is back with his extremely popular curated list of the best articles on the internet – What's worth reading Week 12: June 16-22. Read on to find out why Apple doesn't use Twitter, and some cool football trivia….
20th June 2014
12:00 hrs ARKS Srinivas gives you a strategy to tackle the verbal section in CAT – from the big picture right down to the intricate details – The CAT Verbal Enigma
19th June 2014
17:00 hrs ARKS Srinivas is back. This time with a strategy to tackle the verbal section – The CAT verbal enigma
13:00 hrs "Young men and women come back to enjoy one final year of happiness before descending into the daily drudgery of work" – Nadeem Raj from XLRI Jamshedpur speaks about his summer internship experience at Novartis
18th June 2014
21:00 hrs Why PGP at IIM Indore Mumbai Campus: – Pragya Bang from IIM Indore Mumbai Campus tells you why her institute provides you a special experience
19:00 hrs  Stop worrying about Permutations, Combinations and Probability, and start focusing on geometry and algebra – Ravi Handa is back on InsideIIM with tips to tackle section one from the CAT
18:00 hrs Me and Mumbai – a story of an intern – An intern from South India describes his adventures during a banking internship in Mumbai
12:00 hrs Akshay Tiwari, student at XLRI, describes his summer internship where he got into the CEO Hall of Fame at Standard Chartered Bank! – 10242 and More
17th June 2014
21:00 hrs Deepika from IIM Lucknow describes her fantastic summer internship with P&G in the hilly terrains of Himachal Pradesh
17:00 hrs "It is harder to fail than pass". Ishan Arora of IIFT tells you what he learnt from the first year of his MBA
12:00 hrs Here's why God's own Kampus (aka IIM Kozhikode) is special (Hat-Ke- IIM K: 7 Unique things that set us apart from others)
16th June 2014
19:00 hrs InsideIIM and Contact Singapore bring to you a story on Accenture's Analytics practice in Singapore. If you are interested in Big Data and want to work in Singapore, register on the form in the link in this article.
12:00 hrs What's worth reading – Shreyas recommends the best articles on the web
14th June 2014
18:00 hrs IIMK Internship Kronicles – Sourav Dhal – HCCB (Sourav Dhal of IIM Kozhikode describes his Operations Management internship with HCCB)
14:00 hrs Mood Indigo – a management perspective: Pushkin Kasat, Class of 2015 at SJMSOM, analyzes Mood-I from a management perspective and a marketing perspective to understand what makes it tick.
14th June 2014
18:00 hrs An International Classroom – The Study Tour program at SJMSOM, IIT Bombay, allows 20-odd students to have an international study experience.
14:00 hrs Professor Ashok Bannerjee of IIM Calcutta speaks about the Financial Sector and the Economy as part of the IIM Calcutta Insight Series. Learn from the very best.
13th June 2014
18:00 hrs Know MYRA School of Business – A quick four minute video tour of this business school
14:00 hrs What my summer internship taught me – a summer internship experience from a top investment bank
12th June 2014
20:00 hrs Ever wondered how you could improve your productivity by making better use of Microsoft Excel? Shyam Sunder Ramakrishnan shows you an excel program that automatically sends an email to a recipient.
18:00 hrs Waiting for professional inspiration? Here are some of the most inspiring TED Talks, curated by one of our editorial interns
15:00 hrs Debalina Haldar fills you in on the architectural beauty of IIM Lucknow, India's most beautiful campus.
12:00 hrs  "Taking a ten day break from my job helped me focus and stay calm" Sudipto Sannigrahi, CAT Topper joining IIM A this season, tells us about the strategies that worked for him during CAT and the interviews
11th June 2014
19:00 hrs I got a chance to work for PepsiCo's digital marketing team for the biggest sporting event in India – The IPL. (Akanksha from MICA speaks about her summer internship with PepsiCo)
14:00 hrs  Tale of an average summer internship: Ishan Arora of IIFT describes his very average summer internship. This is a hilarious, chilled out and self-deprecating piece.
10th June 2014
16:00 hrs "If you want something you've never had before, you've got to do something you've never done before…" – an XLRI student describes her summer internship experience with a startup in Bangalore
9:00 hrs Sonal Sapale from SPJIMR analyzes the shift in brand positioning of Lifebuoy as seen from the latest advertisement.
9th June 2014
21:00 hrs  Jennifer Jacob is back with a post on Life at MICA through the eyes of a newbie.
16:30 hrs I gained exposure to various aspects of funding M&A transactions – Keerat Singh Sethi from IIM Kozhikode describes his summer internship experience with Goldman Sachs.
12:30 hrs 5 Reasons why liquid funds are good alternatives to savings deposits – Manish Kumar from TAPMI comes out with yet another informative and useful post , this time on personal finances
10:30 hrs Hedging: Necessity or Futility? Saurabh Hasija from IIM Ranchi gives you a roadmap to hedge the financial risks in your life
8th June 2014
18:30 hrs Abhijit Row Chowdhury describes his summer internship with ITC from last year.
15:30 hrs: The L'oReal Summer Saga : Jennifer Jacob from MICA describes her rollicking summer internship from MICA
12:30 hrs Update from IIM Bangalore – Prasad Thrikutam, IIM B alumnus – batch 0f 1992, joins Dell as President and Global Head of App Services.
6th June 2014
19:30 hrs ARKS Srinivas is back on InsideIIM – this time with a gameplan for Quant in CAT 2014.
19:00 hrs Mohit Kumar Jetly speaks about his Marketing Research Summer Internship with Emami – The Blazing Sun @ Emami Read all the articles from Summer Saga here
17:00 hrs Having to sit in a class with barely 15% females even after colleges consciously pushing for female students; having to work in a an office where the gender ratio is as bad as 8% even when the HR department is all gung-ho about having and retaining female employees-none of these is a good feeling – an XLer muses about being a woman in business
14:00 hrs An anonymous writer speaks about favourite works of literature and what they can teach us about management
12:00 hrs    "In an Indian company, as against an MNC, the people don't mix as freely….." – Tara Rajagopalan of IIM Kozhikode describes her summer internship experience at ITC as interesting, challenging, daunting, frustrating, and fun.
5th June 2014
16:00 hrs We are launching the InsideIIM Career Perspectives Series – the idea is to speak to prominent B school alumni – entrepreneurs, business leaders, social leaders and great artists and get a perspective on careers. If you are interested in entrepreneurship, do it right away says Suhas Misra – IIM Calcutta Alumnus and Co-Founder – Hector Beverages
10:30 hrs   Nadeem Raj from XLRI writes on his recent disturbing experiences in Pune (The Future is Beautiful. The Future is Bleak)
4th June 2014 
23:30 hrs The final installment of our Alumni Reports – The non-IIM Top MBA Alumni Reports Part Three – Banking and Finance
21:30 hrs "Rural Marketing isn't a cake walk. But it is the toughest experience that makes the sweetest memories" – Read thisinformative and entertaining account of a rural internship by Pradeep Kidambi
19:30 hrs  "Getting into IIM A, B, C and every other CAT based institute is possible with a score of 100 out of the total 180" –ARKS Srinivas of Vistamind lays out a gameplan for CAT 2014 . This is the first of a five-part series
16:30 hrs HBR Caselets? Why not Julius Caesar Excerpts? Debalina Haldar of IIM Lucknow makes the case for teaching management concepts through great works of literature.
12:30 hrs "Great Students, Great Faculty and Extensive Focus on Career Management" – Reasons Why MYRA School of Business is Special.
3rd June 2014
16:30 hrs "Mahindra is much more diversified than FMCG organizations, and the complexity increases by an order of magnitude"- Himanshu Mittal of IIM K describes his Summer Internship Experience with Mahindra & Mahindra.
12:30 hrs "The most important thing to remember is that this is just an internship, and not the end of life" – Ishan Arora of IIFT gives you tips on How to bag a good summer internship
2nd June 2014
12:30 hrs Can the Renminbi replace the dollar and become the world's reserve currency? Jasmine Makkar from SPJIMR says it isn't going to happen any time soon. Read this interesting and insighful analysis.
30th May 2014
18:00 hrs The latest section of the alumni report – Non-IIM Top Alumni in FMCG, Tech, Telecom and E-commerce is out.
14:00 hrs  Find out the reason why IIM Shillong started trending on InsideIIM – This post on 10 Reasons Why You Should NOT Join IIM Shillong
29th May 2014
18:00 hrs  Today is a big day at InsideIIM. We are proud to launch Final Admit – our dedicated section on InsideIIM for MBA Aspirants. From test-prep, to counselling, to tips, and latest news – Final Admit is your one stop shop for MBA prep. Do check it out and give us feedback.
14:00 hrs Manish Kumar from TAPMI presents another article on conceps in Futures and Options – (Choosing the Right Option Strategy)

28th May 2014
22:00 hrs The Alumni Report for non-IIMs is out. Find out how the top B schools (ISB, SPJIMR, XLRI, FMS, MDI, NITIE, JBIMS and IIFT) stack up against each other. (The non-IIM Top MBA Alumni Report)
15:00 hrs The MBA student is an actor, going through a broad spectrum of emotions, says Nadeem Raj of XLRI in this article.
11:00 hrs Meet the public relations team at SPJIMR

27th May 2014
22:00 hrs  Are you an MBA grad planning to pen down a novel? Debalina Haldar, a published author from IIM Lucknow, has a list of Dos and Don'ts for MBAs turned writers.
20:00 hrs Manish Kumar from TAPMI elaborates on an important concept in Call Options: Covered Calls (Yield Enhancement Strategies using Covered Calls)

18:00 hrs What cycling can teach you about marketing (Cycling: Five tips to become a great marketer)
16:00 hrs Final placement report of IIM Udaipur-Purdue Dual Degree Programme in Supply Chain Management for executives. (Report has been published by student of IIM Udaipur. InsideIIM has not been involved in verifying data. However, IIM Udaipur follows the IPRS format).
14:00 hrs Anonymous IIM Graduate comes up with a hilarious summary of his first year at IIM. (Half Time @ IIM)

11:00 hrs IIM Bangalore dominates US alumni..Read up on this and many other trends in the Alumni Report. The Six IIM Alumni Report Visualized (Locations, FMCG, Tech, Telecom and E-Commerce).
26th May 2014
19:00 hrs Connect at a personal level before you bring in your personal agenda: Priyanka Gupta (Executive Director – MPIL Industries) at MISB Bocconi Alumni Meet.
17:00 hrs Top European Football Leagues visualized: Find out which clubs have the best attack and which clubs have the best defence through this visualization (Visualization made by Arunkumar from IIM Lucknow)
14:00 hrs A cap on MBA institute fees, entrepreneurship incubation centres, control of misleading claims et al….Ten things MBA students want from Modi (  an article by Ishan Arora of IIFT Delhi)
11:00 hrs Get all the inside dope on the Flipkart-Myntra deal and a lot more….What's worth reading: Shreyas Recommends (Week 9)
23rd May 2014
19:00 hrs: The Six IIM Alumni report for banking and finance in a Tableau Visualization
16:00 hrs: Manveen Kaur of XLRI speaks about her experiences with entrepreneurship – and why it is like taking a plunge (Entrepreneurship is like Bungee Jumping)
13:00 hrs: Understand the differences between a direct cash transfer and a subsidy. Should the NDA government go ahead with the direct cash transfer scheme? An analysis by Jasmine Makkar of SPJIMR
22nd May 2014
A Delhiite sings the praises of Bangalore City – in the latest twist to the debate on which is the better city (Bangalore – the city that introduced me to myself)
21st May 2014
The Six IIM Alumni Report on Banking and Consulting: Find out where the alumni from the top B schools (IIMs only) are working.
How does life change when one walks into a B school after completing engineering? (Ishan Arora has some answers: 12 ways B school life is different from Engineering)
20th May 2014
Nadeem Raj from XLRI speaks about slavery (a.k.a summer internship) in his inimitable style – (Eight Weeks a Slave – An Internship Saga)
To be or not to be : Some of the thorniest dilemmas in hostel life at B schools
19th May 2014
Doubtful about which MBA path to pursue? Finance or Consulting? Operations Management or Sales & Marketing or HR or IT Consulting? Sasi Kanth Pingali from MDI has some answers in a very useful post (Which MBA Specialization suits you the most)
What would you do if you are a mid-career professional looking for a change of careers? Here's an article about what 40-somethings can do to remain relevant in the work-force (I am 40 years old. Will you hire me?)
Kenneth Serrao (ex-Edelweiss and a graduate of IIM  Ahmedabad) speaks about the future for the Aam Aadmi Party. (Introspection by an Aam Aadmi Party supporter. Why I am thrilled today.)
17th May 2014
How to make an Awesome PPT – Here's a satirical take on the misunderstood art of PPT-making from Mayank Lodha of IIM Lucknow.
14th May 2014
Check out Part Two of the InsideIIM Alumni Report 2014. This will tell you the concentration of IIM Alumni at top companies in FMCG, Technology, Telecom and E-Commerce.
How some IPL teams are strikingly similar to political parties (Sasi Kanth Pingali of MDI Gurgaon has fun comparing the fortunes of IPL Teams and political parties)
CV Point Reality Check – A quick primer on all the trials and tribulations you will face will trying to construct a Resume by Mayank Lodha of IIM Lucknow
English Premier League Statistical Analysis – How much does the "Little Horse" Cost? – A statistical analysis of player costs and bench strength for the top EPL clubs, by Arun
13th May 2014
Find our Annual Feature of The Six Alumni Report 2014- Location, Companies and Functions. Find where your School's Alums work here
8 Actual Reasons Why People Do an MBA and 8 Reasons why you should do MBA
Investment banking is not what it used to be, and that may be good thing, read more stuff like this on this week's Shreyas Recommends. Catch the whole series of Shreyas recommends here
Joining Joka soon? This may help you a lot.
Second in series of SPJIMR's Wall of Fame
9th May 2014
If you are looking to study abroad- Know about IE Business School Spain's Admission Events in India. look for details here
Read about Japan's economic experiment- Abenomics by Jasmine Makker
8th May 2014
Stories on InsideIIM
The Unlikely faculty who turn up in your lecture hall by Sasi Kanth
Is the Value of a Woman's MBA lesser? by Mitesh Gangar
Kaptains of Kozhikode – Sreedev Basu – The Talented Thespian 
IIFT's Lifeline- the Dhabas by Ishan Arora
5th May 2014
Stories on InsideIIM
"You're my HR friend. Get me a Job" by Nadeem Raj
What is stopping India from shining again? by Jasmine Makkar
Hearsay vs Experience: My MBA journey so far
Lowe Lintas Summer Internship Experience by Shilpa Kulkarni, Batch of 2014
Edelweiss Summer Internship Experience  by Sumesh Sekhar, IIFT, batch of 2014
2nd May 2014
IIM Kozhikhode Final Results 2014 Out. Check them here. Congratulations to all who made it and All the best to those who are on the waitlist
1st May 2014
TAS Summer Internship Experience 2013– Shwetha Srinivasan- XLRI- Batch of 2014
30th April 2014
From Why not MBA to Why MBA– by John Doe
Rabindrasangeet and MBA – A Surprising Correlation– by Debalina Halder
29th April 2014
XLRI out with its second set of converts. Check your mailboxes if you cleared the Waitlist.
As you enter the B-School Phase- Apprehensions, Un-Learnings and Expectations as the B-School journey begins
28th April 2014
Stories on InsideIIM
Shreyas Recommends some great content this week : How did the Election Commission get more women to vote? The Larry Page story and his return to Google's helm. What will be impact of El Nino? Building an experience based brand loyalty. People are talking a lot about Thomas Piketty's book. What's so special about it? Read the piece here
'Because Sir, Money might be seriously depreciating but I still appreciate its power and an MBA degree is supposed to be safer than dealing in stock markets'. MBA : What did I believe and what do I know now
I was surprised and amused to know that MBAs do have a common mission. But there he was bang on – Create Value. Mission of an MBA
Alumni Meet at IIM Bangalore- Anusmaran 2014
Guru Gyaan Series from IIM Indore UAE Campus: Prof. K S Ranjani
Second Annual Convocation of IIM Udaipur
25th April 2014
Everything on the Telecom Industry of India- Life meets Digital 
24th April 2014
The Blackstone Group, Rocket Internet, and LinkedIn were a few of the special recruiters for final placements at IIM Bangalore. IIM Bangalore Placements – Class of 2014.
IIM Lucknow Results out for the Class of 2016. Congratulations to all who made it. Check your results here
IIM Shillong Placements – Class of 2014 (This is self-published by IIM Shillong)
' The moment such person meets a senior, first question would be "What is the cut-off for XYZ company?" ' –
22nd April 2014
Football will outshine Cricket in India soon (by 2020) says Ankit Doshi. Do you agree? Read here to know the reasons he states.
MDI results out. Check your mailboxes for the Admission Offer. Check the status here
Read MDI Gurgaon's Placement Report(Unverified) for 2014 here.
55 Students. 100% Paid Internships. Summer Placements – VGSoM – IIT Kharagpur. (This report has been self-published by VGSoM team. We have not verified it.) Read the report here
21st April 2014
A XLRI student's Footballing Love Story. Read here
In a rather bizzare circular seen on the FMS website, FMS has scheduled admission interviews for the flagship MBA programme in July. It is puzzling as to what administrative issue could have blocked the admission process for such a coveted programme. Clearly, those who secure admission in other top schools may not be able to come to FMS nor would those who need to serve a notice period. This does not bode well for the reputation of the institution in the short run. Read the circular here.
Jasmine Makkar from SPJIMR throws light on the ADMAP concept at SPJIMR Mumbai and the various committees under it run by students with help from a faculty. Read here
20th April 2014
What's worth reading – How will Modi and Rajan work together? A world without passwords? Where do fresh MBAs want to work? All this and more in Shreyas Recommends – Week 4. Collection of the best from the web for your use by Shreyas Panse, PwC Consultant and IIM alumnus. Read here
Mckinsey, HUL, P&G are marquee recruiters at JBIMS Mumbai. This is an unverified report as JBIMS refused to remove names of companies that did not make offers. Read full report here
Guru Gyaan with Prof. Dipayan at IIM Indore UAE. Read here
Management in Groups by Ishan Arora of IIFT
19th April 2014
Benchmarking Happiness – The Why, How and Which of MBA
18th April 2014
Diversity in classroom helps says Sonal Sapale – She meets an ex-Mckinsey employee, a doctor and a law student. Read here
Mitesh Gangar's tips to make a cold call and be successful while researching during your summer internship. Read here
When an IIM Indore student interviewed a FMS professor. Read here
17th April 2014
NITIE Mumbai Results were declared yesterday too.
New Stories on InsideIIM :
Indian Elections : April 2004 vs April 2014 – Opinion Polls / Exit Polls – Lok Sabha – Ankit Doshi looks at the how opinion polls trends moved 2-3 months before and into the Lok Sabha election in 2004 and 2014. What happened exactly 10 years back?
Is AAP responsible for intolerance in MBA GDs?
Guru Gyaan series by IIM Indore UAE students featuring Prof. S.K.Mishra
16th April 2014
IIM Calcutta 2014 Results out. Check them here
The Business Schools I have converted are very similar. Now what? (Sasi Kanth has some suggestions so that you can decide better)
Related Story : 10 Questions to ask before Joining a Business School in India
15th April 2014
Sourav Ganguly recruits from IIM Calcutta for Brand Management. BCG, Amazon, Accenture are top recruiters at IIM Calcutta. Citigroup, Bank of America Merrill Lynch and BNP Paribas offer exclusive Investment Banking roles. 425 students sought placements through campus. Read full report here
IIM Ahmedabad Results out! Check here
Promoted Events : Myra Admission sessions at Hassan, Chikamagalur and Shimoga. For more information, click here
14th April 2014
Stories today on InsideIIM
"I want her to be confident enough to go up and speak to people – learn by listening, observing and engaging. That's the best kind of learning."  – An inspiring story at SPJIMR by Sonal Sapale
IIFT Outbound Exchange by Ishan Arora
Promoted Events : Myra Information Sessions at Udipi (16th April – Shambhavi Hotels) and Mangalore (15th April – Hotel Ginger) – Meet Prof. Nagananda Kumar
13th April 2014
XIMB's placement report as published by the XIMB Placement Committee. It has been self-published. We have not verified it. Please read it here
Placement Reports of Top schools LIVE on InsideIIM so far :
1) XLRI Jamshedpur
2) IIFT Delhi & Kolkata
3) TISS Mumbai
4) SPJIMR Mumbai
5) IIM Indore
6) IIM Ahmedabad (Unverified)
7) FMS Delhi (Unverified)
8) MDI Gurgaon (Unverified)
12th April 2014
BCG, Google, Amazon, Deutsche Bank, Goldman Sachs, Deloitte, P&G, HUL are marquee names that recruited at IIM Indore in a graduating batch of 475 students. Read full report here
Other Stories today :
'Soft Skills are key to Success' – Prof. Caselli at MISB Bocconi. Read here
Social Entrepreneur at IIM Indore UAE
11th April 2014
IIM Bangalore Results Out 2014-http://hrm.iimb.ernet.in/iimb/CAT2013-14/PgP_OfferList_WL_14.htm
Lot of panic around for IIM Bangalore Results. The more long the wait, we hope for better number of converts from our followers 🙂 Stay tuned in for Updates.
Till then read the Unverified Final Placement report 2014 from MDI Gurgaon  
10th April 2014
IIM Bangalore Final Convert List Expected today. Read here What it took to get into IIM Bangalore in 2012 and 2013
9th April 2014
Total number of PPOs was 85 – around 38%, which is higher than the figure at XLRI (32%) and FMS (17%). Google, Microsoft, Citibank, Goldman Sachs are marquee recruiters. JM Financial and Avista Advisory offer front-end i-Banking roles- SP Jain Institute of Management & Research Final Placement Report 2014
8th April 2014
Congratulations to all converts of XLRI and All the Best to the waitlisted people.
Still in doubts of joining XLRI? Find your dream company in XLRI Final Placement Report 2014 and join it.
7th April  2014
Follow this checklist and you'll never make a bad decision on choosing business schools – 10 Questions you should ask before joining a Business School in India
A new addition to Kaptains of Kozhikode- Joel Modestus- Entrepreneur, RBI's Young Scholar, Chess Player and what not. Read about him here 
6th April
PwC Consultant Shreyas Panse is back with his article recommendations from across the web. This Week – History of issue of Bank Licences, April Fool joke called Gmail, how the Diesel subsidy is benefiting the rich and meet Cortana – Siri's competitor! Read here
4th April
A B-Schooler's bucket list – Nadeem from XLRI writes about a life in a B-School in his own unique way
3rd April
IIM Indore UAE campus creating ripples in Dubai. To know how, read here.
4 projects from the 233 projects in SPJIMR's rural internship programmes described here
2nd April 2014
The results for the InsideIIM Opinion Poll on Lok Sabha General Elections 2014. See it here. And TOI covers it too. See the news report here
The first ever Prom Night in IIM Lucknow. See it here
A very unique comparison of the evolution of AAP with the successful businesses of the World. Read here
1st April 2014
Stories on InsideIIM- 
'Leadership Module at MYRA is an experience like no other' – Srinivas Mohan- Life at MYRA Business School. Read here
IIM Calcutta External Relations Cell speaks to their Alumni Rahul Chhabra- IFS 1987. Read the interview here
What makes S P Jain School of Global Management stand out from the crowd? Read this piece from SP Jain Global here
Kaushik Bandhopadhyay on the ICC T 20 World Cup 2014. Read here
Read all the gyan about BITCOIN here
Anne Mary Sebastian from IIM Indore UAE on Gold v/s Real Estate- The better investment option. Read here
Another Entrepreneurship story from SPJIMR. Read it here
The story of painter XLer. The Business of Art 
31st March 2014
We had a great LIVE discussion with Dhiraj Bajaj, Director at Bank of America Merill Lynch on Sunday. The transcript is now available here
News from IIM Indore : Pre-convocation photo shoot stage collapsed on Saturday, 29th March at IIM Indore and a few students had to be rushed to the hospital. IIM Indore Chairman KV Kamath has ordered an investigation and a report within 2 weeks. IIM Indore has decided to bear all costs of the treatment of the affected students.
27th March 2014
While FMS Admissions office says that the PI shortlist will come out in April 2nd week, here is this year's Placement Report. This is an unverified version. Make your decisions wisely.
Jasmine Makkar's aother powerful article on Reservations in the Private Sector. Read it here.
25th March 2014
PPO Tips from NITIE Alumnus Alex Joseph, Group Manager- India Logistics, Proctor and Gamble. Read them here. 
24th March 2014
'We'd like to see students from different nations and not India alone at IIM Indore UAE' – Prof.Rishikesha T. Krishnan, IIM Indore's New Director on his plans on the IIM Indore RAK Campus. Read here
Shreyas Recommends– PwC Consultant Shreyas Panse curates the best on the web that students and professionals must read this week. End your Sunday evening with some nuggets of insight and knowledge. Read it every week here
23rd March 2014
"'Dandi March' was one of the best examples of social entrepreneurship but the term wasn't coined then!" — Prof. Madhukar Shukla, XLRI
'Simple,yet powerful! Its all in a word!' – Vishnu Hosagrahar, IIM Indore UAE. Read this piece
here
22nd March 2014
An article on the Airline Industry. Why is it so Unprofitable? Read it here
21st March 2014
IIM Udaipur bids Farewell to the Batch of 2014. Fare-thee-well!
XLRI comes out with the First Issue of Magis
20th March 2014
Sonal Sapale shares her Business to Business Market experience in the FMCG Industry. Read here
19th March 2014 
A well-researched article on the BRIC Nations- The Future of the BRICs: Are they headed for a comeback.
18th March 2014
IIM Lucknow's 28th Convocation held on 15th March 2014. Click here to see the brightness on the faces of the graduating batch.
Meet some faces of MDI Gurgaon- Batch of 2014 here. They decipher Why MBA?
We revive our series of Know your Leaders. This time it is Apoorv Sharma, Vice- President, NITIE. Read it here
Some stories from IIM Indore Dubai Campus. Industrial Visit to Coca Cola Factory, Guest Lectures by Barclays and Azure Infotech, Motivaluate Consulting and Zomato
17th March 2014
Happy Holi!
14th March 2014
17:00 hrs– IIFT final list of selected candidates declared for both Delhi and Kolkata campuses. Click at the city names for the list.
13:00 hrs– SP Jain declares its Admission Offers and Waitlist for the Batch of 2016. Check if you got through here
12th March 2014
Read about TEDx IIM Indore here. 
The Story of the Failed Generational Contract in India by Jasmine Makkar, SP Jain. Read it here 
Celebrating Mini India within XLRI. A story by Akriti Gupta, XLRI. Read it here
The 2Cs of a B-School- CGPA and Career. Story by Nadeem, XLRI
11th March 2014 
InsideIIM is capturing the opinions of the young  bright population of the country on the Lok Sabha General Elections 2014 through InsideIIM Opinion Poll 2014- General Elections . Cast your Opinion with us.
Golden advice from Deepali Naair- LIVE Chat transcript- Women's Day Special- See it here 
10th March, 2014
Stories told on InsideIIM
IIM Ranchi Summer Placement Report for the batch of 2015.
SIBM Bangalore's Management Day
IIM Udaipur's First Alumni Meet
6th March, 2014
17:00 hrs- IIM Trichy Summer Placement Report for the batch of 2015. Read it here 
12:00 hrs– Barleen Kaur talks about another out-of -box pedagogy of IIM Indore- Industrial Visits. Read it here.
5th March 2014
16:00 hrs– Dev Bhattacharya, Executive President, Aditya Birla Group addresses IIFT. Read it here
11:30 hrs– Considering BJP as a company, Modi is the product they are trying to sell to the consumer: The Indian Voter. Applying Marketing Kotler's 4Ps, Strategy Porter's 5 Forces and HR Guest Model to Narendra Modi. Read it here 
4th March 2014
19:00 hrs– Akriti Gupta, BM student of XLRI writes on Samarthya, the counselling initiative by XLRI students. Read about it here.
IIM Udaipur releases its Summer Placement Report for the batch of 2015. Read it here.
16:00 hrs– Nadeem Raj from XLRI reflects on the rising debate of diversity in B-School Admissions. Read it here
3rd March 2014
16:00 hrs- Siddhant Kedia, a 2nd year student of MISB Bocconi accounts his MBA Experience in Mumbai and Milan, Italy. Read it here 
11:00 hrs– Read what Rev. Jesse. Jackson, American civil rights activist and Baptist minister has to say at IIM Calcutta. Read it here
Raghavendra, PGP student from MDI gives his perspective on how to market Low Budget Films. Read it here
28th Feb 2014
On the Last Day of February, we bring to you Final Placement Report 2014 of IIFT. Read it here.
News just pouring in- IIM Ahmedabad completed Final Placements 2014 for the 41 students of PGP-ABM
Also, we have an exciting new opportunity with a startup called VENTiT for Business Development Head and Online Marketing Executive
27th Feb 2014
19:05 hrs – News Burger for today has been uploaded. Read up a very insightful piece about the political compulsions behind the success of Maruti 800, and a case study on the innovative practices of an American mobile carrier. Read here.
12:00 hrs– FMS Admissions Office says that the shortlist for the MBA programme 2014 will be out in the end of March
11:00 hrs– You can see IIM Ahmedabad's Final Placement Report 2014(Unverified) here.
26th Feb 2014
20:30 hrs- NewsBurger has been updated for today. Read up to follow the latest on the Indian e-commerce industry, the expected pay rise in corporate India, and the resentment caused by the growth of technology firms. Read it here.
24th Feb 2014
15.30 hrs– IIM Ahmedabad achieves 100% Placements for 2014 after 3 clusters. Accenture Strategy Consulting is the biggest recruiter, making 18 offers. Other leading recruiters include BCG (15), and Amazon (15), followed by HSBC (9)
14.00 hrs– Stories told on InsideIIM
Sasi Kanth, a first year from MDI, writes his views on Big Data- Demystifying Big Data, Analytics & Data Science: How it matters for an MBA
IIM Lucknow's Debalina Halder on Learning from Mahabharata at IIM Lucknow
Team InsideIIM's annual feature- How many graduates from the class of 2012 changed jobs within 18 months after MBA?
12:00 hrs– TISS Mumbai running one of the best HR programmes in the country is out with its Final Placement Report of 2014. 2 days, 35 recruiters, 56 students placed, with a median salary of Rs. 15 lakhs. Read it here
20th Feb 2014
16:00 hrs– XLRI's Final Placement Report 2014 is out. 3.5 Days, Median Salary-16.25 Lakhs. See the whole report here
19th Feb 2014
18:00 hrs– Find IIM Indore UAE's Final Placement Report of 2013 here 
18th Feb 2014
19:30 hrs – News Burger for today has been uploaded. Read it to find out about the Telangana controversy, the fate of India Post's banking ambitions, and a review of an extremely controversial book. The news burger can be read here.
17th Feb 2014
19:15 hrs – News Burger for today has been put up. Find out the latest about the Budget, mergers and acquisitions in the telecom space, and the definition of an entrepreneur.
18 : 35 hrs – GD Monday is back! Get ready to practice your debating skills. Today's GD is about the anti-corruption movement of the Aam Aadmi Party. You can go to the link from here

18 : 15 hrs – Have you read IIM Shillong student Apurva's piece on MBA and Marriage yet? Read it here
11 : 55 hrs – The Finance Minister has just announced moratorium on student loans taken upto 31.3.2009. So all outstanding interest upto 31.12.2013 will be paid by the government. It is likely to help 9 lakh students and government will pay over 2000 crore to the banks.
11: 15 hrs – Whatay weather in Mumbai! It's been a strange February for sure.
Meanwhile a few hundred kilometers away in Ahmedabad, the 2nd cohort has concluded. Amazon, Reliance and EXL had made the highest offers in the cohort – 8 each. FMCG majors mentioned in the release were HUL, Nestle, ITC Ltd.  It is not clear yet if P&G participated in the process (They had not participated during the Summers). To read the release click here
IIM Bangalore has made a release in the Economic Times which is interesting. It is the first time in recent history that IIM Bangalore has released placement figures. They claim the mean salary to be 19 lakhs. Now, 19 lakhs is only possible if you take into account the international figures. In any case, this shift in placement reporting strategy is confounding. You can read about it here.
14th Feb 2014
12:00 hrs– How to stay fit in your busy schedule of studies. 5 Ways from Fitternity India on how to use your Hostel room for a work-out. Read it here
New Job on InsideIIM- Greencart.in in search for a Head of Channel Sales and Business Development. Location- Mumbai. Prior experience: atleast 1-3 years sales/brand activation experience in FMCG & Consumer Durables sector. Apply here
13th Feb 2014 
13:00 hrs– IIM Calcutta adds another story to insideiim.com, an interview with Prahlad Kakkar, the Ad Guru, film director and a social entrepreneur, he says "Art of War is to Win, and that is what Business is", read what he has to say more here
12th Feb 2014
13:00 hrs– IIM Indore's new director Prof. Rishikesha T. Krishnan in conversation with IIM Indore Media Committee. Read on what he has to say about India's role in today's world, challenges and his vision for the institute  here
11th Feb 2014
18:30 hrs–
Stories told on InsideIIM– IIM Ahmedabad Alumnus Shivram Apte speaks to IIM Indore students. Find it here.
Ratan Tata visits TAPMI Manipal. Find his interaction with the students here
TEDx IIM Ranchi- 18 STORIES , 18 FIELDS , 18 MINUTES. Find it here
New Jobs at InsideIIM- Greencart.in Brand Activation Manager- Apply here.
10th Feb 2014
19:30 – Today's News Burger has been uploaded. You can read here to find out about the latest round of corporate results, an assessment of the initiatives taken by Raghuram Rajan, and some advice for entrepreneurs trying to launch a new product in the market. 
12 : 45 – A flurry of activity on the IIM Lucknow page over the last few days.
11:15 hrs : IIM Ahmedabad starts off with its Final Placements for the Batch of 2014. Accenture Strategy hired the highest number of 18 students in the first cluster held on 9th February 2014. Find the press release here
9th Feb 2014
11:45 hrs :  Must Read Stories at InsideIIM this week :
1) This Election is about JOBS says Ankit Doshi
2) Derek O'Brien's candid interaction at IIM Calcutta. Must Read
3) Why Amazon and Google are fearsome! – by Shyam
4) Making a White Globe – Exchange Students at IIM Lucknow
5) The ISB-MBA experience!
8th Feb 2014
18:15 hrs – Read today's News Burger for Arvind Panagariya's analysis of the 2014 voter. Also find out which one of India's favourite cars has gone out of production, which new state is going to be formed and what does Tim Cook think about the present, and future of Apple. Read the news burger here.
15 : 30 hrs –  'I hope at least I left you guys with some thoughts and insights. If I only came here and bored you guys by brainwashing about Trinamool Manifesto, then the credibility is lost. So I tried to share what my experience was and not to give you any fundas.'
– as usual IIM Calcutta comes up with another cracker of an interview. Does any B-School do interviews better than IIM C at the moment? Read the entire piece here
7th Feb 2014
18:40 hrs- Today's News Burger has an article debunking yesterday's theory about Indians having special qualities that make them CEOs. Also find out who's the new MD of Tata Motors, and the struggles faced by fashion apparel brands as they navigate the fickle Indian consumer landscape.
6th Feb 2014
19:45 hrs – Today's NewsBurger has an interesting take (written by a foreign journalist) on what makes Indians a popular choice as CEOs (as compared to Chinese, Russians or Brazilians) of multinational corporations. Also read about the actions of large pharma companies, the spectrum auctions etc in today's news burger here.
19:15 hrs– Is this election only about Jobs? Should political parties make employment their primary agenda? Find out through Ankit Doshi's lens here.
5th Feb 2014
12:00 hrs- IIM Grad? Have an IIM call? Show some humility. Read this piece by Ankit Doshi here
4th Feb 2014
17.30 hrs– News Burger has been updated for 4th February 2014. Read to find about the spectrum auctions, the latest recipients of the Bharat Ratna and expert opinion on the emerging markets crisis. Read the newsburger here.
17.30 hrs- New opportunity with Fullerene Solutions- Market Research/Analytics Intern. See it here
10.00 hrs– MDI Gurgaon releases its GD/WAT/PI Calls. Check it here.
3rd Feb 2014
20:00 hrs – News Burger has been updated for 3rd Feb 2014. Read about the emerging markets crisis, the challenges faced by brands in today's age of sceptical customers and other important news articles.
18.30 hrs– A new interesting article from an IIFT Student on the social sector. Read it here.
18.00 hrs– Intern with Team InsideIIM. Applications invited for Editorial Intern, look at the opportunity here.
31st Jan 2014
18 : 40 hrs – It seems the link isn't working. We would recommend that you try after some time.
18:00 hrs- IIM Indore releases its WAT/PI shortlist. Check here.
17:45 hrs- Read our new addtion to Kaptains of IIM Kozhikode- Somya Barpanda- the Inquisitive Orator. Read here. You may also want to read Gems of Joka and Icons of IIM Indore
30th Jan 2014
18:05 hrs– SP Jain out with its score based shortlist. Check here
17.45 hrs- IIM Indore Flagship PGP Programme, a final admit was not possible below 95 percentile for Class of 2014. The threshold has gone down to 90 percentile for Class of 2015 (RTI Query). You can find the detailed stats here

11:50 hrs– We have now released the Stats for IIM Indore Dubai Campus for the Class of 2014 and 2015.(RTI Query). Read it here.
Stay tuned for similar stats on IIM Indore Flagship PGP Programme.
29th Jan 2014
19:20 hrs- What it takes to get into IIM Indore Mumbai Campus- Stats for Class of 2014 and Class of 2015.(RTI Query) Read here
18:00 hrs- New Internship Opportunities at InsideIIM.com. DiGyan– Marketing Intern, Fitternity India– Research Intern and Content Intern. For more opportunities, look at our Jobs/Internship section
28th Jan 2014
18 : 30 hrs – VGSoM (IIT Kharagpur) has self-published their 'interim' placement report. Have a look here
18 : 00 hrs – The average performance on this GD was considerably better. Did you check your score? 'Modi wants an IIM in every state. It is a bad idea. Discuss'
13 : 00 hrs – News is that Mckinsey & Co. visited XLRI along with ISB for Final Placements this year. Both schools didn't have summer interns. The others IIM ABCL have their students being offered PPOs. Hence, they won't be visited.
12 : 10 hrs – New agency to replace Prometric to conduct CAT is our own TCS reports Lajwanti D'Souza on Pagalguy
11: 15 hrs – RBI has unexpectedly raised the benchmark Repurchase Rate to 8%. You guys must use today to go deep into CPI, WPI, Repo and Reverse Repo. Absolutely necessary for you guys to know it before going into any interview.
27th Jan 2014
21 : 00 hrs – IIM Kozhikode's shortlist for WAT/PI is out. Please check it here.
To see admission stats for the Class of 2014 and Class of 2015 click here. To see our analysis of the IIM K criteria, click here
11: 30 hrs – We have some fantastic internship options for MBA grads and highly driven undergrads for this summer. The Label Corp, One Life Travel Concepts, The Bombay Hemp Company, Blacksoil Advisory, Euphoriq and many more. Do have a look and tell your friends. Check them out here
10 : 30 hrs – Sobering news all round this morning. Stock markets are down. News from various campuses is that this is going to be one of the worst years again in terms of career choices for candidates during final placements. While the IIMs and other top schools will do better numerically (after last year's shock), students will have to do with fewer avenues and career choices. There are big names who are just not turning up or aren't opening up preferred profiles on top campuses in India. Also, a lot of campuses are just banking on giving PPOs after summer placements. Few visit campuses in Jan-Feb these days.
By the way, in case you haven't read about the Argentina devlauation yet, please do so now. You can start with this article here
25th Jan 2014
20 : 30 hrs – IIM Ahmedabad alumnus Kenneth Serrao feels India's content problems have been solved by Arnab Goswami and Arvind Kejriwal! Read on to know more.
19: 00 hrs – The Free Press Journal has shamelessly copied our analysis verbatim from the following article.http://insideiim.com/deconstructing-iim-indores-shortlisting-criteria-for-the-class-of-2014-16/ They haven't even bothered to change the language or sentence construction.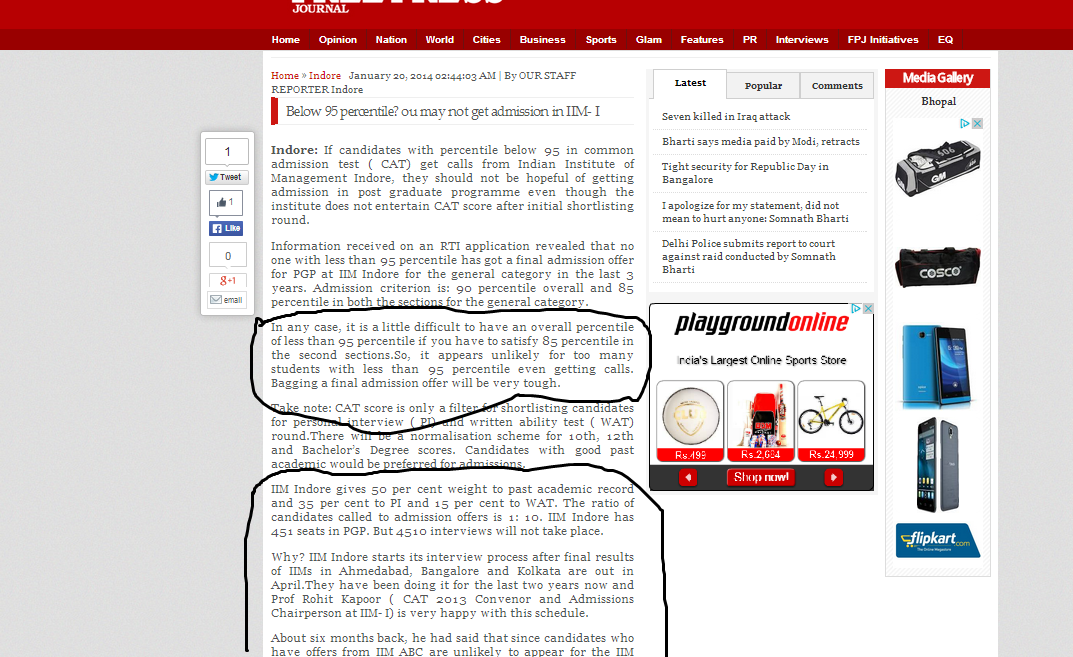 24th Jan 2014
Re-evaluation of CAT 2013 : IIM Indore sends scores of 700 students to Pro-metric. Find the story here
This week Company Interviews on InsideIIM.com-
Monday– Unilever, Tuesday– Deutsche Bank, Wednesday– Goldman Sachs, Thursday– ITC, Friday– Cadbury
14 : 30 hrs – For General Category Students : 63 Percentile in QA/DI and 62 in VA/LR was enough to get admission in IIM Kozhikode. Last year, the threshold dropped to 48 Percentile for QA and 41 Percentile for VA/LR reveals RTI Query. Read more here.
23rd Jan 2014
18 : 30 hrs – Have you eaten today's News Burger? Consume Now! Here it is
17 : 30 hrs – The XLRI BM and HRM Cutoffs are extremely low compared to earlier years. 94 – BM, 88 – HRM
16 : 25 hrs – XLRI Shortlist out. Check here
16 : 20 hrs – Stuff About Business Schools, By the Business Schools!
11:40 hrs- Shortlist out for XLRI General Management Programme. Check with your XAT/GMAT IDs here
22nd Jan 2014
12 : 00 hrs – Mckinsey & Co. is not visiting any IIM this year for finals as all their requirements may have been met by issuing PPOs. They will visit ISB because there are no summer interns from ISB. Batch day has been cancelled.
11 : 55 hrs – We have access to priceless data on what it takes to get into IIM Ahmedabad based on a RTI Query. Please read it here
11 : 15 hrs – New IIMs are likely to release their shortlist on 26th Jan 2014. And yes, XLRI cutoffs are expected tomorrow and not today.
9 : 30 hrs – Good morning folks! We wait today for the XLRI Cutoffs and Shortlists. We also wait for a possible interview shortlist from IIM Kozhikode!
21st Jan 2014
18 : 30 hrs – This week's GD Topic is here – 'Modi Wants an IIM in every state. It is a bad idea.' – Discuss
16 : 30 hrs – As promised, we bring you the story of Harmeet Singh Hora. An IIT-IIM alumnus who worked at BCG and now is the EA to CEO of Ten Sports. Please meet him here
13 : 30 hrs – The news coming in is that Mckinsey & Co. has cancelled the batch day process this year. This means that only students of IIM ABCL and ISB will get an opportunity to join Mckinsey this year.
11: 45 hrs – Two news points from the Economic Times worth your time.
Congress plans private sector Jobs quota for SC/ST
Ashish Nanda's global Blueprint for IIM A
20th Jan 2014
18 : 50 hrs – XAT Results are out now. Check you results here.
18 : 30 hrs – This week's GD has been evaluated. The top scorer got a 8/10. Better performance as compared to previous GDs. See the results below each argument here.
17 : 30 hrs – Today's News Burger delivered! Today's News Burger looks at the possible outcome of a failed India Shining Campaign. It also looks at the trust level of people on governments across the world. You cannot miss the piece on Google which is slowly turning into the new GE. Read this stories here
13 : 45 hrs – Venu Merh from IIM Kozhikode writes on the Deeper Essence of B-Schools.
13 : 30 hrs – A wonderful chat session was concluded. 150+ queries in 1 hour. By the way, in 4 hours evaluation for last week's GD Monday will start. Participate now if you haven't given a response yet. Rapists should be given Capital Punishment
10 : 40 hrs – We are doing another whatsapp chat at 12 pm today. If you have not registered yet, please do so now to be able to ask us questions! Register here
10 : 00 hrs – It is a lovely morning in Bombay. Sun is out but the temperature is perfect! We are back to helping you and bringing interesting stories for you. For immediate questions, you can go to InsideIIM LIVE or ask us a query on Whatsapp. Please note that we only answer queries of those who have registered on our site here. We may not answer all queries due to high volume. It takes between 2-12 hours to add you to our Whatsapp.
19th Jan 2014
21 : 30 hrs – Tomorrow, we resume normal service. We also bring you an interview with a former BCG consultant. Meanwhile, all of you still looking for high quality interview preparation can get in touch with us. We have two products on offer – An in-person one-on-one preparation module with Deepali Naair. You can read about it here. The other product is with alumni of IIM/XLRI/ISB on Skype/Google Video/ Call – Details here.
Please participate in the GD. Evaluation happens tomorrow. Only 18 hours to go. Participate here
15 : 30 hrs – Have you read Barleen's latest article on InsideIIM? Read it here – Welcome to the Boat Building Exercise – IIM Indore!
13 : 00 hrs – One of our partners and probably the most creative school of India, MICA is holding a webinar today. Find out more about it here.
17th Jan 2014
18 : 00 hrs – A male candidate needs 99.6 Percentile or 292/450 to get an IIM Calcutta PGDM call. Some analysis can be done by going through this. A female candidate in the general category with acads 81+ in 10th and 12th needs at least 269/450 to get a PGDM call.
17 : 45 hrs – IIM Bangalore's Call for Interview List is out. You can check it here
12: 55 hrs – As shortlists come in, it is a good time to read this. Raheel Shah (IIM Ahmedabad alumnus) writes a story on 'Scorecards and Achievements'
11: 55 hrs – The official announcement has been made and the shortlist is out. You can check if your name is there in the list here
11: 00 hrs – Another day of wait. Although we put up the IIM C shortlists link yesterday, it seems it wasn't released officially. So, we will re-post as soon as the link is released again officially. We hope IIM B shortlist will be out today too.
16th Jan 2014
18: 15 hrs – Some people are reporting issues in accessing the IIM C Shortlist link.
17: 25 hrs – IIM Calcutta shortlist for the PGDM and PGDCM Class of 2016 is here.
14: 30 hrs – The News Burger is back! With the Final Placement season on and preparation for business school interviews also starting, we resume our curation of useful content that will help you in your interviews! Check it here. Follow it religiously every weekday with us and ensure your preparation is well-rounded and unique.
12: 30 hrs – A lot of you have been writing to us about the CAT Re-evaluation. Well, this isn't the first time after the online CAT was introduced that there have been such discrepancies. Given the past experience, it is unlikely too many petitions will help. We haven't known the IIMs to change scores. Others who think their scores won't improve even after re-evaluaton could read this : CAT Results – Didn't make it? Fight and Resist
15th Jan 2014
23: 00 hrs – Still waiting for IIM B and IIM C shortlists? Well, you can pass your time by reading everything about IIM Calcutta here. You can read everything about IIM Bangalore here
18 : 45 hrs – Quick promotion from our side. Please have a look at Deepali Naair's programme for students who are in Mumbai or can come down to Bombay. See it here. Her students have a conversion ratio of between 90-95% of their preferred calls. If you cannot come to Mumbai, please consider our online coaching product. See it here.
17: 45 hrs – Is it possible to get calls from the new IIMs without attempting a single question? The answer could be Yes. Read here
14 : 30 hrs – IIM K registration link for people who qualify their minimum percentile cutoffs of 80,80 and 90 are out. This is NOT a shortlist. If your name is in it does NOT mean you have an interview call. See it here
12: 30 hrs – IIM Lucknow shortlist for the PGP Class of 2016 is out. Check it here. You can read our deconstruction of IIM Lucknow's criteria here. It has a few test cases for you to understand how calls are given out.
11 : 00 hrs – IIM K website says – "PGP Admissions 2014: Registrations link will be active on Jan 15 2014 after 2.00 p.m." However, that does not mean that IIM K shortlist is out. Everyone who qualifies the minimum cutoffs stated in their admission policy document will be asked to register and provide some more details. The shortlist will be out in the last week of Jan when IIM I's shortlist is released as per last 2 year's trend. This year the IIM Indore shortlist will be out on 31st Jan 2014. To read our analysis of IIM K's criteria, please click here
14th Jan 2014
20 : 40 hrs – New IIMs shortlist cutoffs released on IIM Trichy website. See it here. 96.82 overall and 70.xx in the sections for the general category.
20: 30 hrs – IIM Shillong shortlist can be seen here
16: 55 hrs – 117,458 Engineers applied to IIM Ahmedabad. The next highest academic discipline that applied to IIM Ahmedabad was Business and Commerce with 32,917 candidates. Only 2460 candidates from Humanities/Arts applied to IIM Ahmedabad.
16 : 30 hrs – If one analyzes the IIM A's explanation document of how they have shortlisted candidates carefully, some facts are very intriguing. If 25 candidates make 1% under AC-2, it means either only 2500 people from the 1.9 lakh odd applicants to IIM A are from Arts/humanities, Law, Education and Rural studies or only 25 students from this academic discipline satisfied the basic filter of 85 Percentile in each section and 90 Percentile overall.
If the first case is true, that is a surprisingly low number isn't it? It means that the IIMs have never really tried to reach out to that class of students and encouraged them to take the test. Numbers for a test like GMAT are unlikely to be in the same order.
If the second case is true, then people from this academic discipline are seriously ill equipped to take this test.
Given the fact that the minimum percentile at which someone from AC-2 has been called is 94.29 Percentile, we believe it is more likely to be the first case.
13. 30 pm – IIM Ahmedabad has given a detailed explanation of how they have shortlisted candidates here. 685 General category candidates have been shortlisted ( more than last year). To increase diversity top 50 or 1% whichever lower were called by virtue of their CAT Percentile and finally we may see humanities candidates getting representation with a candidate with 94+ percentile being called.
12.30 pm– IIM Ahmedabad Shortlist Out. Check the shortlist here with your Test Registration No. and Email ID.
11.20 am – Our Live WhatsApp chat will take place today from 12 pm to 1 pm. Please register herefor it. All answers are one on one and your query will not become public. We may not answer more than 2 queries per person due to volume of queries.
10 am – Shortlists will start pouring out soon. Expect IIM A,B, C, L in the next 2 days. IIM I and K will announce in last week of January. FMS will also release later in Jan or early Feb.
9:15 am – Scaled score of 292 gives you a percentile of 99.61 %ile as per the score of a user on Pagalguy in CAT 2013. Last year, as per our data the percentile cutoff for Males at IIM Calcutta was a whopping 99.65%ile.
9: 10 am – CAT 2013 Results have been declared. You can find them here. To interact with us real-time you can follow InsideIIM LIVE
CAT Result Day – Must Read Content
How can I get a call from IIM A?
Deconstructing selection criteria of IIM K
Deconstructing selection criteria of IIM I
Deconstructing selection criteria of IIM L
GD Monday 2013-14 Season – Get scores and evaluation from experts
10 Worst Career Goals Essays – Updated with inputs from Deepali Naair
Why do BSchool use Personal Interviews and Group Discussion to admit candidates? Watch video
CAT Results – Didn't make it? Fight and Resist
For Live Chat with us and fellow candidates, please login to http://insideiim.com/insideiim-live