Celebrating 'Little Feet, Big Strides' | Utthaan 2015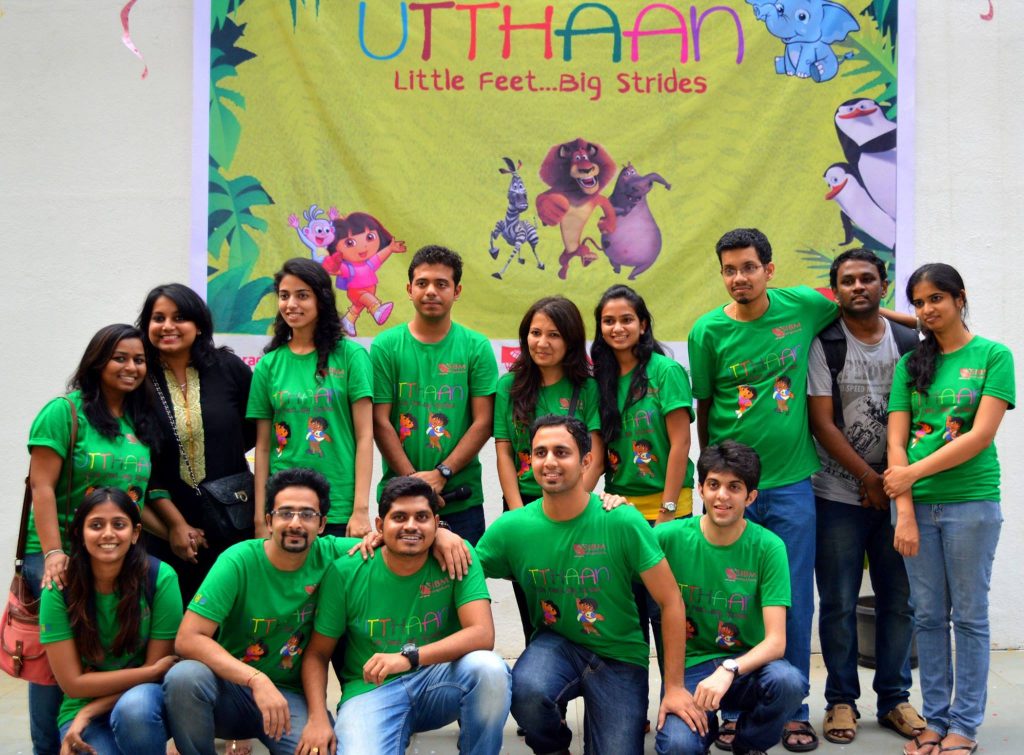 Bengaluru , August 30th, 2015: Symbiosis Institute of Business Management, Bengaluru organized Utthaan-2015 Little feet, Big strides, an annual CSR event. It was a huge success with a jungle book based theme. An Initiative taken by the Social Responsibility Committee of the institute, the main focus was to have a day full of entertainment, fun and frolic for the children from six orphanages from Bengaluru and thereby encourage them towards a positive future. The campus was lit up by children from Sada Shreya Charitable Trust(Electronic City, Phase II), Makkala Jivo Daya(Madivala), Gasper, Anatha Shishu Nivasa(Bull Temple Road), Shanti Niketan and Belaku Shishu Nivasa. Around 122 children participated in the event, enjoying the challenges various games proposed, organised by the institute.
The event was inaugurated by Rotarian Sameer Hariaini along with Rotarian Subramaniam and Rotarian Sanjay Srivastava. The function commenced with a performance by Jhankaar, The dance club of SIBM Bengaluru, followed by a talent show where heart melting performances were delivered by the children. Raghava, from Shantiniketan gave a graceful recital of Bharatnatyam. The fun continued with a drawing competition with children showcasing their creative instincts. There were educational videos played and traffic rules taught. The day was packed with endless games like twisters, memory flip, balloon phuss and bucket sponge, to name a few. The kids were overwhelmed every time they won and the winners were honoured with treats and stars.
Ms.Lakshmi of Anath Shishu Nivasa quoted, "Children are enjoying the games and the dance. We would definitely want to attend this kind of events". The event was thoroughly enjoyed with children seizing each moment with enthusiasm.
Mr. Srinivas of Belaku Shishu Nivasa was pleased and said "The children got a place to showcase their talents" The event ended with children slurping on noodles as they sat intrigued by an outstanding magic show performed at the end of the day. Goodie bags were distributed amongst the children with story books to inspire them for a bright future.
Prof. Lakshmiah Botla, the Faculty Co-ordinator of Social Responsibility Committee, SIBM Bengaluru said, "Having a day dedicated to children is a true source of happiness. The event enlightened with the message that how sharing a little happiness of our life can bring a lot of happiness in the lives of small blossoms."
Pratik Pote, the Student Co-ordinator of Social Responsibility Committee, SIBM Bengaluru said, "It's a proud moment to see the event succeed with such fruitful results and to be the reason behind the smiles across their faces. Utthaan is very close to my heart and it gave me immense pleasure to organise it"
SIBM Bengaluru
Ever since its inception in 1978, SYMBIOSIS has been synonymous with progress. The trend of progress has been continued by setting up of SIU's first campus outside Maharashtra at Bengaluru in 2008. SIBM Bengaluru is now one of the leading B-Schools of the country. The focus, now, is on matching global standards of management education. SIBMB instills a work culture which is unparalleled among various institutions. It provides a holistic approach to management which goes a long way in creating a dynamic identity. Vibrant student associations and committees complement the program with a number of activities involving institute-industry interaction.