Challenge To Change | IIM Visakhapatnam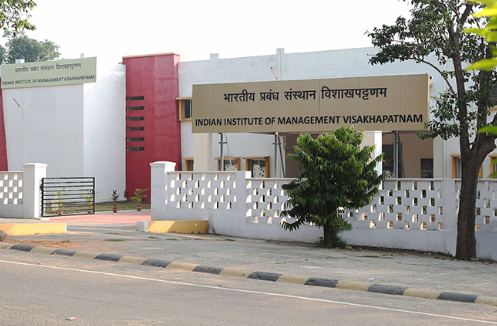 Why did you choose to join IIM Visakhapatnam?
Choosing an MBA college has been one of the toughest decisions of my life so far. I converted IMT-Ghaziabad (PGDM-Marketing) and 5 of the newer IIMs (Bodhgaya, Jammu, Sambalpur, Sirmaur and Visakhapatnam). I always wanted to be in an institute that can provide me the stage to announce myself to the world. IIM Vizag under the guidance and mentorship of IIM Bangalore, provides me exactly with this opportunity. A fresher and having no corporate experience, I always wanted to learn about corporate experiences. IIM Vizag follows a case study based learning approach which provides me with these experiences. I also get an opportunity to brainstorm along with one of the best minds of the country who have quality years of work experience behind them. I hope that this good peer group will help me set a clear career goal, and the stress involved in IIM academics will help me in managing time, goals, achievements, temper and anger. Add to that the clean and beautiful city, the pedagogy from one the top two IIMs in the country, the top infrastructure, I feel lucky to get an opportunity to study in the same.
My choice to pursue a career in management from the Indian Institute of Management Visakhapatnam (IIMV) stems from the potential of this course to teach me about the emerging business environment and also the varying opportunities available to a graduate of IIMV. MBA from IIMV will teach me how various businesses are organized, how do they earn and spend money. It will also teach me how to give realistic solutions that are long lasting for real life business problems. While studying, I will also develop a network that will be there whenever I need help or advice. I, as a person, will also benefit from the programme. An IIMV PGP will make me challenge my ideas every day and teach me how to work under pressure and out of my comfort zone. Such a vast pool of knowledge and opportunities is rare to come by and IIMV's facilitative environment is a perfect place for me to acquire knowledge to stand on my feet.
Which ABG company would you want to work for and why?
Having a background in Chemical Engineering, I would like to be a part of Hindalco Industries Limited due to its leadership in the aluminium rolling industry. Here, I can best utilize my skills from engineering and management education both. Aditya Birla Group (ABG) would serve as a perfect platform to showcase my leadership abilities and gain a well-rounded learning experience. I really want to have this experience that will challenge my learning and will teach me how to best apply my learnings to solve the problems for a bigger organization. ABG has been instrumental in transforming budding managers to young leaders and I'm looking forward to being one among the exemplary lot.