Cherishing The Moments – IIM Kashipur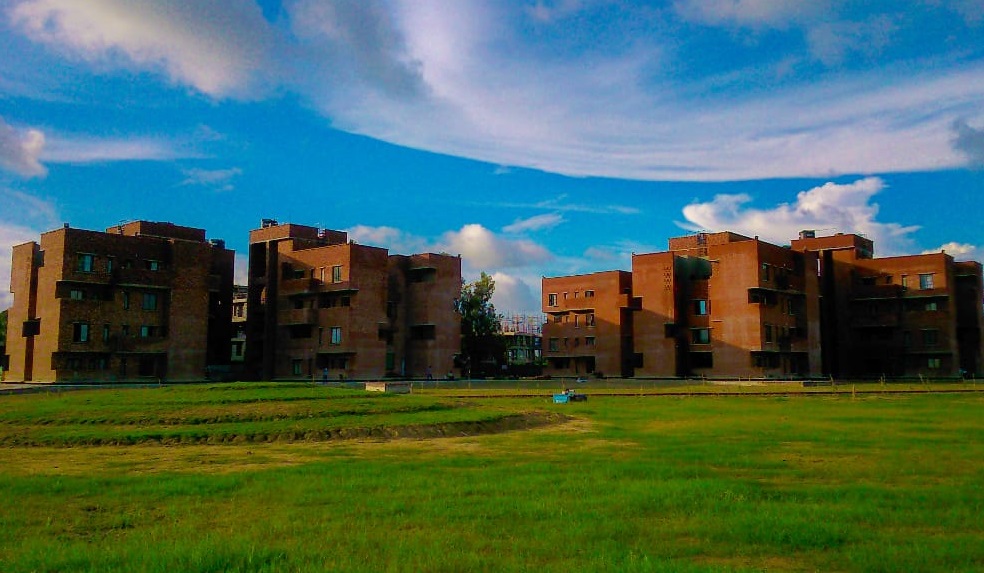 IIM Kashipur, encompassed beautiful green fields & have a campus with an ambience of tranquillity, while the magnanimous infrastructure helps in its proper utilization. IIM Kashipur has modernized classrooms with facilities like audio and visual aids that enhance the learning experience. Apart from that, it has a conference room, library, computer centre, cafeteria, Hostel Flat blocks, sports grounds & auditorium. Not only facilities but a vast area in which the whole campus is located provides an overall learning experience.
Hostel blocks are located less than a kilometre from the college and houses students in spacious single and double occupancy rooms. There are 5 hostels with a capacity of more than 400 occupants. These rooms have an air of residency rather than a hostel, with each set of blocks having common ground. A common air-conditioned reading room and classroom are available in each hostel which is used by students for discussions, meetings, projects and other activities. Apart from the basic amenities like bed, chair, table, closet, hostels are also equipped with Water cooler/heater, RO water purifier for safe drinking water, Automatic washing machines to wash clothes, oven for hungry nights, plus every hostel block's each floor has its own separate Wi-Fi for internet connectivity.  IIM Kashipur has total 3 food points, with 2 mess, which are managed solely by the students, and a contracted canteen.
Sports facilities like Table Tennis, Carom, Chess and Badminton. Cricket, Football, Basketball & volleyball grounds are available in the campus. One of the hostels also houses a modest gymnasium for fitness conscious students. Every year IIM Kashipur holds KPL (Kashipur Premier League) where the students are auctioned off to the highest bidder based on their skills and acumen. Every now and then one can witness Senior v's Junior matches.
The information needs of the faculty members, students, staff, and research scholars are completed by LRC (Learning Resource Centre), with numerous books & e-resources on Management & other important areas. It has also many printed documents such as books, reports, theses, standards, atlases, patents and back volumes of journals. The non-book collection includes material like audio-visual cassettes and CDROM discs. It has been subscribing e-journals of Springer Link, Emerald, EBSCO Host, and various digital libraries. LRC is also a member of Developing Library Network (DELNET) for sharing the resources among its member libraries. With all most, all activities of LRC being computerized, including smart ID cards and separate On-line Public Access Catalogue (OPAC) terminals, helps in knowing the status of books anytime need. The LRC has implemented an integrated electromagnetic security system with RFID for the safety of LRC material.
Considering all these parameters, IIM Kashipur campus is not just good actually it is a fantastic place to get an MBA experience. An experience, not in noisy city area but among secluded place, where students can concentrate on their learning in natures lap and winter experience at IIM Kashipur, with dry & cold fresh air with freezing nights are unforgettable. IIM Kashipur campus has everything it needs to be one of the coolest destinations.
ABG company I would like to work with
I would like to work for Aditya Birla Retail Limited. ABRL has Supermarkets, Hypermarkets with their own retail brands is probably one of success destination for retail business. It is also first ever Indian food and grocery retailer to receive the FSMS (Food Safety Management System) certification. ABRL follows the best industry practices in order to unlock the full potential of its staff through its world-class learning institutes — the Aditya Birla Centre for Retail Excellence and Gyanodaya. Such steps taken shows the commitment of the group to expand its retail business. I am a retail enthusiast, so I would like to work for ABRL.
– Lav Patel
IIM Kashipur