Coffee With SIBM – An Organiser's Experience

Symbiosis Institute of Business Management, Pune is known all over the nation for its student-driven nature. Be it admissions, public relations, guest lectures, placements, co-curricular activities, entrepreneurship sessions, alumni meets or sports— the student councils ensure that they keep the SIBM's pride flying high.
Aspirant Relations Team (ART) is one of these student councils and from the resolution of doubts and queries of aspirants and teaching them tricks of the trade, especially SNAP, to organizing admissions and ice breaking programs once they arrive at the campus, ART assists in every phase of an aspirant's journey, finally culminating in becoming a student of one of India's most prestigious B-schools. In the initiative of helping aspirants, ART conducts its flagship event 'Coffee With SIBM' every year to help aspirants crack SNAP and make their way into SIBM Pune.
Last year, in its 10th edition, I had the opportunity of being the part of the organising team of this huge event. From the logistics to creatives, digital marketing, vendors, videos, budget, and content everything was handled by the seven-member team that we were a part of. We were working round the clock, paying attention to every small detail while following a strict deadline. We were looking at covering 17 venues across 15 prominent cities of the country.
The first agenda on our to-do list was passing the budget, because, without it, we were sitting blanks. Drafting the budget was in itself an intensive task as we had to map out every little detail and get the most appropriate budget. Once this was passed, we went forward with the logistics, vendors, videos and digital marketing. Google analytics were "the" tools for us. Our extensive digital marketing resulted in us trending twice on twitter with #cwsquiz and #CoffeeWithSIBM2015 across India.
During the main event, which included the seminar, our team travelled all over India to tackle the doubts and queries of the aspirants. We also provided the aspirants with mock tests and preparatory kit, which was shared with them on cloud. The success of the event can be gauged by the fact that the entire endeavor as lauded by Prof. Ravi Handa, founder of Handa ka Funda, and Prof Nayapati Gautam, TIME institute, for the innovativeness and the creativity put in by the Aspirant Relations Team (ART) of SIBM Pune to make the event the huge success it was.
Although tiring, this event helped me learn a lot. It gave me an opportunity to conduct an event of such huge scale and I learned a lot from this. We not only learned various concepts of digital marketing, vendor & logistics management, but we also came to know about the virtue of team work, its importance in managing, and handling an event or project. We also learned the importance of time management as we were attending regular classes while organising this event and sticking to those stringent deadlines. To sum up, this event helped me learn a lot and taught me what it takes for "LIVING THE ART LIFE…"
————
About the Author: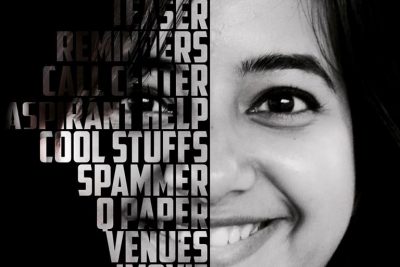 Trupti Wanare is a student of MBA-II Marketing and a Senior Member of Aspirant Relations Team, SIBM Pune. Hailing from Nagpur, she loves to sing, cook and explore makeup, specifically nail art. She is also on a constant quest to find the most delicious desserts. She is a graduate in Electronics and Communication Engineering.