How much does the IIM tag actually weigh?
Debates ranging from short-term benefits and long-term benefits to the privileges of being a part of the so-called leagues of IIMs, the actual value of an IIM tag still eludes the aspirants. Some questions like whether one should join the new IIMs or instead go for established non-IIM brands like MDI, IIFT, etc. perpetually perplex the aspirants. When to draw the line between choosing a top-notch non-IIM school and any of the 19 IIMs?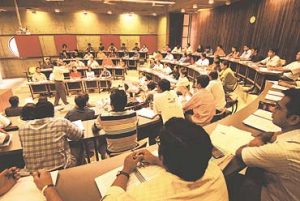 2 Answers
Best Answer
Hello, Abhinav! 
With a plethora of IIMs sprouting all over the country, the Brand IIM has been severely diluted It is no more restricted to just the three letters 'IIM', but is now defined by what follows these three letters. The holy triumvirate of Old IIMs is a league apart, not just with regard to the placement scenario but the general culture, pedagogy & peer mix. The older IIMs, XLRI, FMS, MDI swiftly catching up. The new IIMs and baby IIMs are nowhere close. The tag of being in an IIM (what if new or baby) might bloat them up with pride, but they know the grim truth of stark differences deep within. Not just them, but the recruiters know it too. 
Even if you look at the bigger picture, your college and its tag will only help you leapfrog to your first job, beyond which your company and your job defined you. 
Good Luck!. 
The actual value of an IIM tag depends on the IIM from which you are graduating. It is certainly not constant across all IIMs. IIM A I feel has the strongest brand value and rightly so. It has produced maximum number of CXOs and public personalities. IIM B and IIM C are close behind while IIM L continues to strive to enter the same league. IIM K and IIM I are also pretty good.
Now coming to the new IIMs established in 2010-11 and the baby IIMs established in 2015-16. As far as I know baby IIMs are struggling and do not match up to the standards set by IIFT, MDI etc. They will take at least 20 more years to be even close to the well established colleges.
With regards to new IIMs like Ranchi, Rohtak etc. I feel one should still go for MDI, IIFT etc for the following reasons – 
Non existent alum base: It takes at least 25 years to build a solid alumni base, something which new IIMs lack. Alums play a crucial role not only in driving on campus placements but also after a student graduates from the college  and is searching for a job.
Placements: From what I have heard and seen, placements at older colleges are still better than new IIMs.
Infrastructure issues: Many of the new campuses until recently did not have their own campus.
Connectivity: New IIMs are established in small towns while MDI etc are based out in Delhi. Location also plays a major role in attracting companies.
Brand Value: By virtue of being old, colleges like IIFT etc have a good brand value and respected by recruiters. Many of the B-School competitions also as a result are open to these colleges also but not to new IIMs.
Due to all these reasons, I think colleges like MDI, IIFT etc should be chosen over new IIMs
-----------
I am a soon to graduate second year student of IIM Lucknow
Your Answers