Indian News Channels Are Deteriorating – WAT Wednesday
Welcome back to another WAT – Wednesday!
Topic:
Indian News Channels Are Deteriorating
Background:
Recently, renowned actress Sridevi passed away at the age of 54. Since then, news channels have been producing over-the-top reports regarding the circumstances of her death, which have been slammed by celebrities and other Media Houses for being insensitive.
Does this indicate that, gradually, the quality of news that Indian news channels produce is deteriorating? Is it appropriate to conclude that Indian news channels are concerned only with TRPs and not the quality of news and reporting?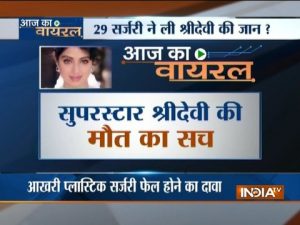 Points to remember:
Please bear in mind that there is no right or wrong answer for it. That's an opinion. However, the reasons for that opinion may be right or wrong.  And that's what is important – the process of reaching the conclusion rather than the conclusion itself.
This is how it will work:
1) Users can post their essays in the comments section below by logging in through their http://www.insideiim.com User id.
2) You can write your essay on the topic for the entire week. You can even challenge your friends and make it more interesting!
3) The thread will be moderated by Team InsideIIM to ensure the discussion is kept relevant and is not abusive.
4) On Saturday, experts and industry professionals at InsideIIM (all ex-IIM, XLRI, MICA only) will rate each essay on the thread on the scale of 10 with some guidance.
This exercise may not replace the practice that you may need daily to master WAT but it will definitely help you to shape your line of thought. We will ensure that if you go through these next few weeks with us on this thread you will markedly improve your content. Hopefully, there will be more substance when you actually write an essay/WAT after going through this exercise.