WAT Wednesday – Is The Statue Of Unity A Waste Of Public Money?
Welcome to WAT Wednesday, where we give you interesting and trending topics for you to break down, analyse and provide an opinion on.
This exercise will test your ability to think on your feet and present your opinions in a well-articulated, cogent manner.
Topic – Is The Statue Of Unity A Waste Of Money?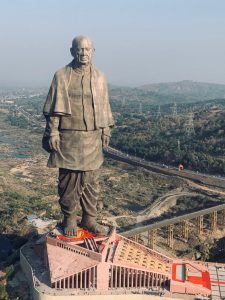 Background – The Statue of Unity, the world's tallest statue, was inaugurated in 2018 by Prime Minister Narendra Modi. The overall project that was undertaken by L&T cost the country close to Rs.3000 crores. Since the time the BJP has come into power, India has taken loans worth approximately $100,000 million. Keeping these two facts in mind, was an investment of financial resources in the Statue of Unity justified, or could these resources have been used for other pressing matters such as access to education, malnutrition and disease, infrastructure and R&D etc.?
What will be the ROI of this investment, and are there benefits within the layers of this move that the general public cannot yet see?
Write a 300 word op-ed on this topic, justifying your stand on the topic with reasonable explanations.
Rules –
To make this simulation as realistic as possible, please refrain from searching about the topic on Google. You won't have Google in the interview room.
Please refrain from making vague points, and present your facts crisply.
This is not a debate or a group discussion – respect other opinions on this thread.
3 Answers
Best Answer
The influence of the move can be understood by the title of the work done: "World's tallest statue- Statue of Unity". I think where other variables like education, malnutrition and disease, infrastructure and R&D etc. are constantly being worked upon, investing money in this project could create subtle but impactful ramifications in terms of
capital that would be collected via tickets, 
food and other entertainment ventures that would get established around the statue, generating revenue for small or large scale businesses,
an overall increase of tourism in the state of Gujrat might also be observed after some time due to the statue,
and lastly, it definitely adds to the reputation of India as a country proving its potential of creating a world-class masterpiece in front of the entire globe.
I also feel that even if the government could have used such a huge amount of money in other areas of concern, these kinds of "structures/sites" have to be there if a country is ever-imagining its position on a global scale.
So, even if I have to agree with someone on the use of money in some other areas, I'd still be waiting for such kind of initiative to "show" the world our supremacy as a country and to send out a message of "unity" from such a "diverse" country. Also, India has been a source of spiritual and scientific knowledge for the entire world since time immemorial and it is time to give the world, a gentle reminder!
-----------
I have written my original ideas and I haven't used any other source for writing this. Also, these are my personal opinions based on the limited information I have on the topic.
I would like to start with some of the facts about the statue of unity.
Its total cost is about Rs 3000 crores, correct. But not all of that is borne by the Government of India.
GoI has invested only about Rs 500 Crores into it. The rest was invested by L&T itself.
L&T was assigned the contract on Built, operate and transfer (BOT) basis. This means L&T would build it, operate it, collect all the revenues coming from it till they recover there sum as well as the profit(as agreed upon in the contract) and then transfer it to the Government.
Not all of 3000 crores was exhausted in building the statue only. About 2400 crores were used in the building the statue and the rest were used for developing the infrastructures (gardens, bridges, etc.) in the nearby areas that could boost the tourism in the area.
Along with the above-stated facts and figures, I also agree with most of the points made by Anjali Raj in the previous comment.  We can see that the statue of Unity is attracting a huge number of tourists right from the beginning. This would, surely, increase the economic condition of the nearby areas and the foreign currency reserve too. It has also generated new employment opportunities in that area (though not very high-paying jobs).
I believe there already are various programmes for the welfare of the people of this country like MNREGA, Ujjawala yojna, etc. we just need to operate them efficiently. Blindly investing money in new schemes is of no good.
Thus, I think, there is no base in the argument that those 3000 crores could have been invested in some welfare program.
I thus conclude, based on the above facts, that "Statue of unity" is a strategic investment that would eventually boost India's growth.
-----------
This answer is based on the limited knowledge I possess. I would be more than happy if somebody corrects the facts I have presented, or the tone I have used.
The World's Tallest Statue-"The statue of unity" has been built around much hype with 3000 cr pouring in for the same. There have been ample discussions on whether the investment was a financially prudent one or not. On one side of the fence are those who say that it has made a mark in the world map and will boost tourism in India whereas on the other side are those who believe that this money could have been used for far more important issues such as tackling poverty, hunger etc.
In my opinion ,at a time when our nation is facing a brute economic crisis in terms of unemployment, agrarian distress, high inflation, investing money in something which is not benefiting the masses in general is a very regressive idea. Arguments about generating a lot of income via tourism seems valid but it further has to ensure a delivery mechanism whereby the generated funds can reach the neglected sections of our society.
If we look at the whole issue financially also, we will realise that the 3000 crore could have been used to generate immediate results and would have put our nation on the right track financially. India has already taken loans worth billions and this investment only adds to our woes.
If we leave aside the financial part, the whole irony of the situation lies in the fact that the statue is of Sardar Vallabhai patel-a personality who worked for the masses and wanted to be with them. He was not a personality who worked for glory or recognition, he worked because he wanted our nation to be free of all problems.
To sum up, the investment in building Statue of Unity is not at all justified and the money could have been used to tackle far more practical problems than showing our might to the world.
Your Answers