"Completing things ahead of schedule ensures quality of output and deliverables" – Ashish Gupta – 1st Year MBA Topper at IIM Indore – Mumbai Campus

This is a continuation of our series on First Year MBA toppers at elite b-schools. IIM Indore's Mumbai Campus is a new campus situated in the heart of India's financial capital. With the stellar bunch of candidates it attracts, topping the exceedingly competitive first year of MBA is no mean feat.
Ashish Gupta is a batch topper from IIM Indore Mumbai Campus. He spared time out of his crazy schedule and spoke to our student team about his first year in MBA.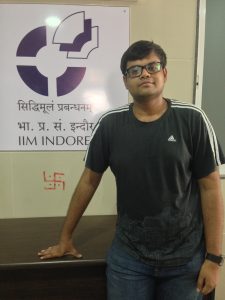 A Brief bio:
Ashish is an Electronics & Instrumentation Engineer from SGSITS Indore. He did his schooling from Nagda, Ujjain, a small industrial town situated on the banks of the river Chambal.  Before joining the MBA program, he was working for Reliance Power. Ashish loves to play table tennis and is also a keen follower of stock markets.
How and why did you decide to pursue a management degree?
After completing two years of my job I realized that a management degree was important if I wanted to take up leadership position in any organisation. I understood that managing a leadership position would be much tougher than merely reaching that position. So I needed to equip myself with the latest know-how of the business world.
How was your MBA Entrance exam experience?
I started my CAT preparation very late as I had a lot of professional commitments which needed to be fulfilled. Due to this, I had to put in extra efforts. I made comprehensive study plans and tried to stick to them. I was not at all worried about the outcome of CAT as I was satisfied with my job and could have tried other management exams if I failed to clear this one.
How has your IIM Indore- Mumbai Campus journey been so far?
The journey at IIM Indore has been transformative for me. It has changed my thinking process. The case-based pedagogy and peer learning are the most important factors. The class discussions on cases force me to think on various aspects of business and make me challenge my own assumptions.
What were your expectations before joining this college and how different has the experience actually been?
I am amazed at the sheer scope of management education. I never expected it would be so difficult to cover each and every aspect of an organisation, and never thought we would dive into such detail.
The first year of PGP is really hectic. How did you manage your time effectively?
We need to understand the priority of tasks and schedule them accordingly. Most of the concepts should be cleared during the class itself and nothing should be kept for later. Group and Individual assignments should be used to explore more about the subjects rather than considering them as drudgery.
Can you state a few qualities or habits that have helped you thrive in your first year?
I have always tried to complete my work ahead of schedule and deadlines. This gives you leeway to pursue your hobbies and do interest-club activities. Completing things ahead of schedule ensures quality of output and deliverables.
What aspects do you like the most about your college?
Being in Mumbai you get lot of opportunities in the form of consulting assignments, mainly in finance, marketing and strategy. My batch mates have provided consulting services to various start-ups ranging from business and marketing strategy to how to get funding. There is lot to learn from their experience.  Apart from start-ups there are established brands that are giving live projects to participants from our campus. The opportunities area numerous and huge, but the time is limited.
What were your favourite subjects/areas of academic interest in the first year?
Strategy is one of my favourite subjects. It is a very vast subject and I hope I will at least learn a bit of it before I complete my MBA.
How was your summer internship experience?
I did my internship in Bharat Petroleum Corporation – MAK Lubes division in the Marketing Strategy domain. I devised a strategy to increase sales through a particular channel in a specific region. It was a good experience and reinforced my classroom learning.
Any advice for our readers/other MBA aspirants?
My philosophy is to get insights about any subject which I learn. It is the real learning that matters a lot in life.