Concours – The National Level B-Quiz Of Revelation 2018 At SIBMB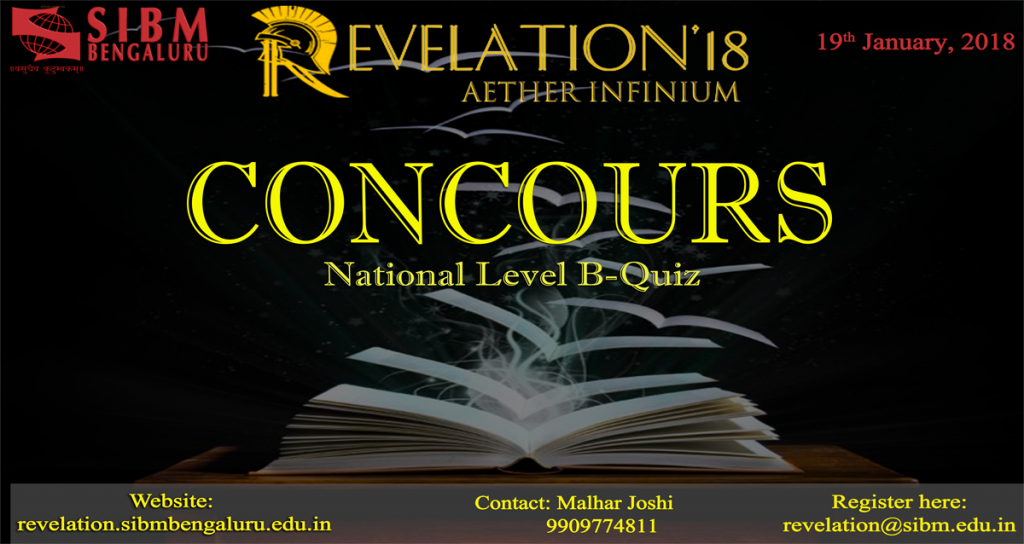 A contest, where questions contrive hints.
Hints incite curiosity.
The curiosity to answer it right.
Not to prove other's wrong.
But to prove oneself right.
Pressing buzzers will be like grabbing the opportunity.
And you must do it fast. Or others will take the chance.
There will be pressure. But the pressure is good for you.
You've got what it takes.
But it will take everything you've got.
This is Concours.
The one-day event, which was held on 19th January 2018, saw a huge number of participants with enthusiastic quizzers from all across the country like IIT B, IIT Madras, KJ Somaiya, Welingkar Mumbai, Christ University Bengaluru etc. Little Known, which is a famous trivia page on Facebook was the Knowledge Partner of the
event.
The finale was judged by Quiz Master Mukund Raghavan where the winner team Kavin Aadithyan and Balaji from IIT Bombay made a mark followed by the runners up from IIT Madras – Giridhar and Varun.
SIBM Bengaluru
Ever since its inception in 1978, SYMBIOSIS has been synonymous with progress. The trend of progress has been continued by setting up of SIU's first campus outside Maharashtra at Bengaluru in 2008. SIBM Bengaluru is now one of the leading B-Schools of the country. The focus, now, is on matching global standards of management education. SIBMB instills a work culture which is unparalleled among various institutions. It provides a holistic approach to management which goes a long way in creating a dynamic identity. Vibrant student associations and committees complement the program with a number of activities involving institute-industry interaction.