The Confused Child, A Transition Phase, And A Family For Two Years – IIFT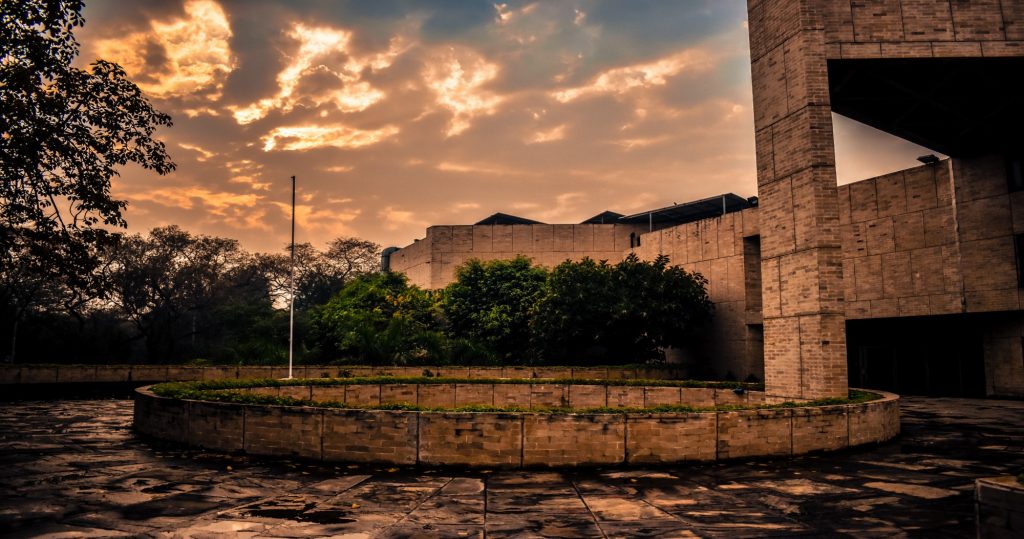 The Confused Child
My dream of pursuing an MBA was etched deep into my thought process when one day my Manager was talking some figures and when I couldn't understand he made a statement "You will not understand it's high-level stuff". These words have been deeply embedded in my memory and so I decided to pursue MBA from one of the most esteemed universities in the country. This is how my journey started at Indian Institute of Foreign Trade(IIFT), Delhi. The feeling when I was standing with my luggage at the gate of IIFT for the first time can't be described in words. No clue of what life holds for me inside and with a clean slate mind, I opened the gates and entered into a whole new world.
The Transition Phase
The first thing that caught my eye as soon as I entered was some angel like a statue with some funny wings and I thought to myself "It's cool but what is it". It is the Wings of Wisdom statue ebbing out the message that wisdom and knowledge are your wings to come out with flying colors. A confused child moved ahead and soon just about 2 minutes reached the hostel. I looked at it from bottom to top and thought "Home for 2 years". Searching my room, I entered and saw three people, crossed them saw the washroom and then entered another room with 2 people. A bit confusing is it!!This is our rooms in Old Hostel(OH) Block. Let me introduce you to my roommates. One is Soumyajit Paul: -The Machar Jhol Guy and the other the heartthrob of our batch: – (Drum Rolls) Rajat Channan(The Delhi dude). Wait a minute! Meet my loomies (Loo partners). Mr. Body Builder Ravinder (he likes to sit in front of the mirror always) and The Shy Guy Vishesh (Too much time occupied in washroom creating problem daily morning). Each of them is a part of set CRAZY FOLKS! Believe me! It's true.
Family For 2 Years
It's morning! Report to auditorium at 9.00 am. Mail received and it begins. Full formals for the first time gave me goosebumps that I was feeling so much professional. Introduction done: -college introduced, now came classes. We wanted to meet our batch mates!! All excited, I entered the class and glanced around at many curious new faces. The first guy that caught my eye was Ritesh: -A Punjabi guy just talking anything without making any sense. I was feeling like The Terminator because I was scanning the entire room and each and every person. There was one girl who was asking questions in every minute and I tagged her "The Question Bank": -Vedanshi. Next came a girl who I thought was somewhere in a wrong place because even though 21 she looked 16. She is none other than "The Odd One Out"-Mouli. Then came the elite first benchers! My mind was saying "Keep them happy because they will save you during exams!!"-Anjela, Vidushi, Vallamai, Rohit. Once I had stored their faces in my memory chip under the header "The Saviors", my eyes looked for soldiers who would go out with me in this battle: -The Backbenchers"-Milan (Celebrity cameraman of IIFT), Dhruti (The dentist whom I will never go to) Ankit (Caretaker who brings food for us in every class). Two girls sitting at the corner and murmuring in Telugu (which was all alien to me) were quite noticeable from far. They are the "Two Angels" of our class: -Meghna and Hema (You can tell them anything and be sure not a word will go out!!Trust them??NO!!!They will forget soon before you have completed your sentence!!) Database was piling up soon for me and then ears went (Yes right ears and not eyes) to the "Motabhai" of our class who was all giggling so loud that I felt as if he was the happiest person on the planet: -Ashaya. Then suddenly my eyes stopped wandering and I thought! Am I looking in the mirror: -This guy was so much like me to look and afterwards I realized so much not like me in behavior: -My almost identical twin: -Archit. Unique characters noted. My place spotted. Scanning complete!
Expect the Unexpected
Dreams are not what you see when you are asleep. They are the ones which keep you awake and make you going always. The stage is set. The student is prepared and with high hopes and great enthusiasm to fulfill all my desires, I look forward to these glorious amazing years at IIFT, Delhi: – Where knowledge is power and with great power comes great responsibilities!!!
Which ABG company would I want to join?
I would like to join Aditya Birla Capital Ltd as being a Finance Enthusiast I feel your esteemed company would be a great place to start my career with as it has deep roots in the financial world. Money has a huge potential in life and that can be unlocked by working for your company so that I can live a life I imagined for myself.